Challenge Anneka
1997 | United Kingdom
Forerunner to the multitude of 'makeover' shows that constantly occupy our screen time today, Challenge Anneka was devised by Anneka Rice and proved to be hugely popular with the British public, even though it was not without its problems. 
Rice (born Anne Rice in Wales in 1958) had started her showbiz career inauspiciously as a trainee for the BBC Home Service, and at 19 cut her TV teeth in Hong Kong on the English language station, TVB Pearl. In 1983 she landed a plum job as the jump-suited 'skyrunner' on the cerebral Channel 4 gameshow Treasure Hunt. The series proved to be one of the fledgling channels biggest successes (along with Countdown) and Rice was elevated to household-name status thanks her cheery personality and, in no small part, the figure-hugging jumpsuit that earned her a well-publicised 'Rear of the Year' award. Rice eventually left the show after she became pregnant and was off our screens for some time, but returned in great style with a 'challenge' for the 1987 BBC charity fundraiser Children In Need, in which she was tasked to get an orchestra to perform the 1812 Overture on the River Thames, freeze part of the river as a skating rink and organise a fireworks display; all in a few days and without spending any money! 
The success of the Children In Need project was the catalyst for Challenge Anneka which appeared later that same year. For the series, Rice would be sent to different parts of the country and be handed a sealed envelope with that week's challenge - usually for a charity or community project. Each task had a time scale, usually two or three days, and Rice had to rely solely on donations given by building material suppliers, contractors and wholesalers, and having acquired the tools for the job the next step was to find volunteers to help build the project. The larger materials were delivered either by the donating firms or transported to site by the huge Challenger truck while Rice herself would flit across country in an adapted beach buggy, accompanied by her personal cameraman Dave Chapman who became something of a minor celebrity himself.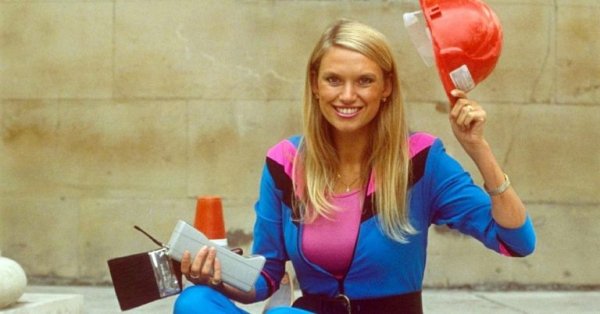 Because of the timescale allotted to each project they were not always completed on time and on several occasions further makeovers were required, and following one episode a children's playground had to be closed down shortly after it was built because it did not conform to Health and Safety regulations. However, these minor failures were outweighed by the successes and some of the more memorable efforts included a tape of popular children's songs sung by contemporary artistes to raise money for Great Ormond Street Hospital (produced by George Martin), a TV commercial to raise awareness for the Paralympics, and the renovation of a run-down Romanian orphanage that was home to 600 children living in appalling conditions. 
Rice was also given airtime by the BBC to make appeals to the public for help and the response was always overwhelming as the British public proved time and again that there were no limits to their generosity. 
In total seven series were produced between 1987 and 1995 and after 61 Challenges Rice took an extended break from public life to raise her children and study art before briefly reviving the Challenges in 2006 for ITV recording two 'specials'. The series was sold to the USA as Challenge America (ABC) and was hosted by Erin Brockovich. 
Published on December 3rd, 2018. Written by Laurence Marcus for Television Heaven.