It's Ulrika
1997 | United Kingdom
It's Ulrika was a brave move by the BBC, seemingly looking to capitalise on the success of Shooting Stars and the rapport that Jonsson had built with the writers and hosts
Review: Brian Slade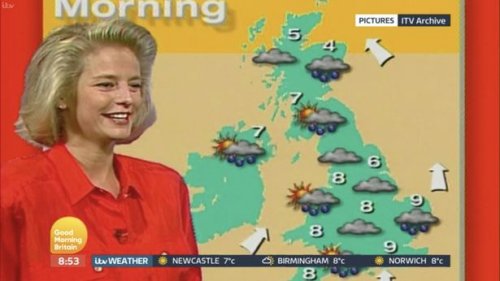 In 1989 TV-am, ITV's cosy breakfast television offering set up to rival the BBC's more news-focussed equivalent, welcomed a new weather presenter in the form of Ulrika Jonsson, an existing employee in its offices. In 1997, having tried her hand at a host of other television duties, the BBC gave her a one-off comedy special, It's Ulrika, written by Vic Reeves and Bob Mortimer and including Matt Lucas and David Walliams among its guest stars.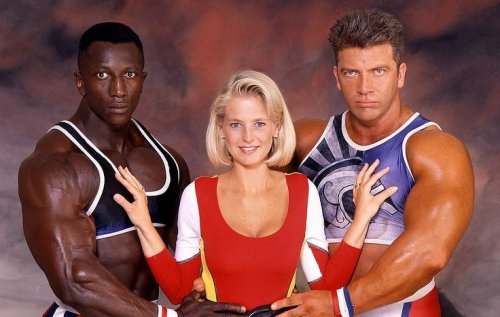 Since its inception in 1983, TV-am had undergone many changes, with a seemingly constant changing roster of hosting personnel. But the more relaxed style than the BBC's more heavy-handed approach meant that most of the segment talent became more involved in the show and therefore grabbed the public's attention. Such was the case for Jonsson, who by 1990 was given individual segments beyond the weather. Her departure in 1991 to pastures new promised a host of opportunities, and she capitalised with acting and presenting roles before settling in on ITV's Saturday early evening ratings winner, Gladiators. In 1995, she became a team captain on the comedy panel show Shooting Stars, a vehicle for Vic Reeves and Bob Mortimer at the BBC. Within the programme, guests were not simply answering questions but getting involved in comedy and impersonations. Perhaps it was no surprise then that Reeves and Mortimer progressed onto attempting to promote Jonsson's own entertainment skills with It's Ulrika.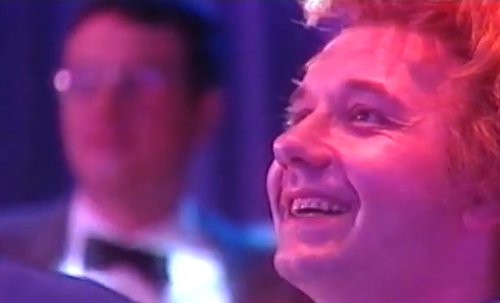 Reeves and Mortimer's comedy has always criss-crossed between anarchic slapstick and downright bizarre, and for the most part of its 45-minutes, It's Ulrika was no different to their other material. It opened with a selection of musical snippets as Jonsson moved from conventional singing to comedic singing impersonations, beginning with Music Was My First Love and travelling to a bizarre helium-induced performance of Ooh Aah Just A Little Bit as a Smurf. On her way to Smurfland, Jonsson did musical impersonations of increasingly biting nature, starting with Dusty Springfield, followed by Cher and finally a web-footed Phil Collins.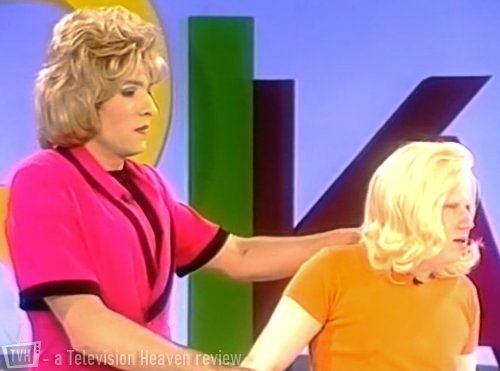 With the musical opening complete, Ulrika appears briefly simply as Ulrika herself as she invites one of her biggest fans onto the stage, seemingly accompanied by their mother. In actual fact, the child in question is a grumpy 42-year-old in a wig played by Matt Lucas, while his mother is played by David Walliams, who then proceeds to confess that she is actually Gloria Hunniford, before then deciding that she is Bruce Willis. Lucas subsequently confesses that he is in fact football manager turned pundit Jimmy Hill, of some coincidence since the show will later welcome the Jimmy Hill Chin Singers. It's a sequence that has seeds of Little Britain, while demonstrating just how bizarre Vic and Bob's comedy could get.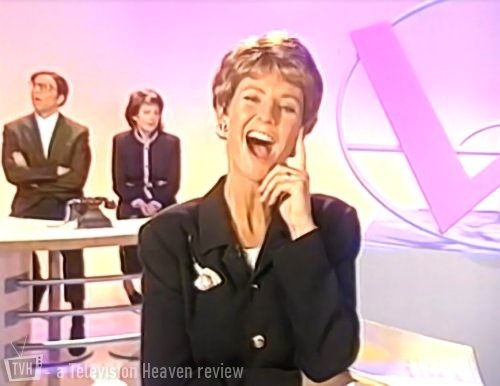 After a very British send-up of Baywatch at a near empty indoor swimming pool, Jonsson then steps into what is probably her most convincing role of the programme, impersonating Anne Robinson as host of consumer affairs programme Watchdog, critiquing her way through evermore surreal company scandals.
The Watchdog element is revisited at intervals, as is a fly-on-the-wall football element where Jonsson plays a football WAG. There are some questionable barbs from the football character in question as they hurl abuse at their mute adult son and Jonsson is quite convincing as a foul-mouthed looks-obsessed reality star.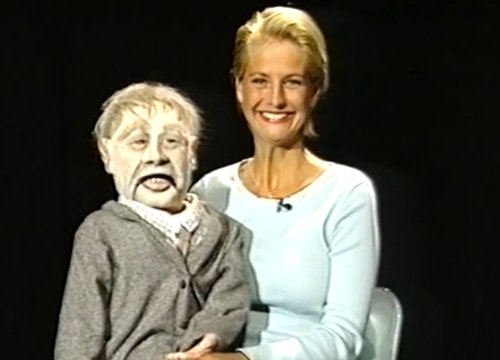 The bizarreness of the fare is never far away. Jonsson performs a silly walk to the theme from Steptoe and Son as she skirts around a small table with a pie and a pint. Among her later efforts include being a stripper whose performance induces slapstick happenings in her audience, appearing as a ventriloquist to a grey and grumpy dummy who absorbs a trumpet to try and play with his mind, inducing him to soil himself, and interrupting an appearance by the Lightning Seeds to try her hand at drumming, before she gets the drummer's stool permanently attached to her behind.
The most biting of segments is the send-up of TV-am. Jonsson takes the role of Anthea Turner alongside a variant of Eamonn Holmes, the pair bickering and eventually fighting as a reflection of the real life tension and rivalry that the pair experienced before Turner's axing from the show.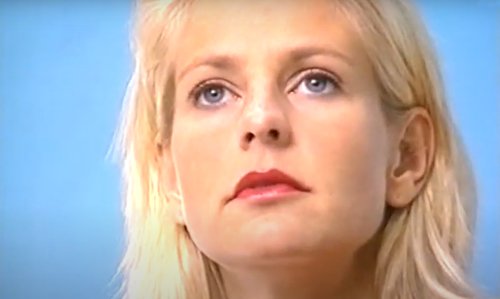 True to her word, the programme finishes as Jonsson sings Both Sides Now alongside the Jimmy Hill Chin Singers, with extensive chins on what can only be described as long wire wheelbarrows. It is a bizarre sight that somewhat encapsulates the programme.
It's Ulrika was a brave move by the BBC, seemingly looking to capitalise on the success of Shooting Stars and the rapport that Jonsson had built with the writers and hosts. In reality, while Jonsson clearly has singing ability and powers of impersonation, it's hard to know whether it was enough to headline her own show, or whether she was let down by the off the wall nature of the material she was given. In reality, the writing and the performance were both found lacking, but It's Ulrika is nonetheless an intriguing window into the fledgling Vic and Bob and Lucas and Walliams partnership, even if it didn't hit the notes that its star would have liked.
Published on February 14th, 2022. Written by Brian Slade for Television Heaven.