Mr Selfridge
2013 | United Kingdom
Based on the book Shopping, Seduction & Mr Selfridge by Lindy Woodhead, Mr Selfridge, adapted by Andrew Davies (Pride and Prejudice, Bleak House) the British period drama series set in London at the beginning of the 1900s, tells the story of the world famous department store, Selfridges & Co, and the flamboyant American entrepreneur behind it all.
In the opening episode, Harry Gordon Selfridge (Jeremy Piven - who for eight seasons of Entourage played brash and driven agent Ari Gold) visits a shop to make a purchase and is so disappointed with the rules and regulations in place that it inspires him to open his own store. When buying a pair of gloves, the shop assistant shows him only exactly what he has asked for, but Selfridge argues that he wanted to see a range of gloves as he wasn't entirely sure that what the assistant showed him was what he wanted. His view for his shop is to have as much on show as possible so that consumers can choose between different variations of clothing. Hence, Selfridges was born-a department store dedicated to browsing. The store was considered innovative when it opened amongst massive hype in 1909, changing the way people shopped, particularly women.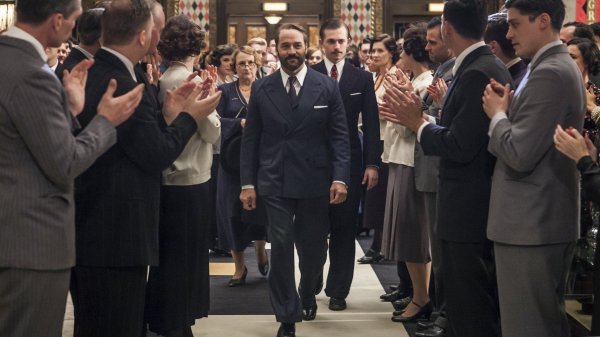 The show also records influential points in the store's history. Selfridges was one of the first UK retail outlets to bring the perfume counter to the front of the store. Considered "a woman's secret" some thought it was a risky move and that perfume should be hidden at the back of the store. Selfridges was also a leader in "off-the-peg" fashion. It was considered crazy that a woman should be able to walk into a shop, try on a ready-made dress and then leave with it on the same day. Yet Selfridges made that happen.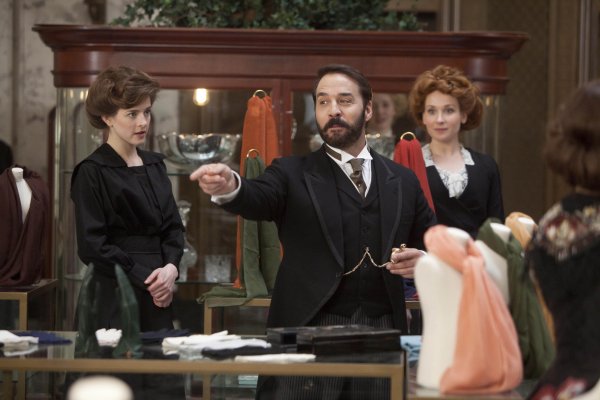 Although the programme documents the opening of Selfridges, the main focus is on Harry Selfridge and the staff he has hired to work in his department store. In the first episode, Selfridge comes across as a very likable character. He's enthusiastic and charming, excites most of the people he meets and remains cheerful and positive even in situations where others may have given up. But he also has a reckless behaviour which prompts early investors to pull out of providing the necessary funds to complete the building of the store, and his love of gambling and his constant womanising renders him a conflicted hero. Even without the capital required to fund his new business, he remains optimistic and even seems to be in denial about the situation.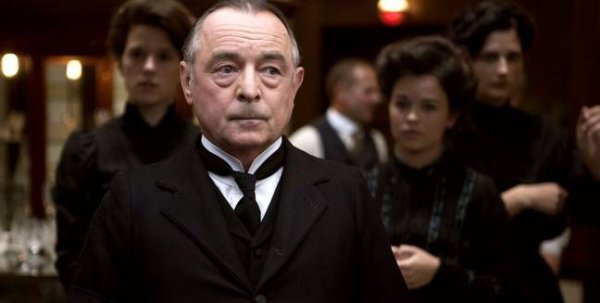 His ever-suffering Accounts Manager, Mr Crabb (Ron Cook), seems to have little insight into the actual financial position of the business, as Selfridge continuously fobs him off. Luckily Selfridge manages to make a few contacts, one of which, powerful socialite Lady Mae Loxley (Katherine Kelly), bankrolls him.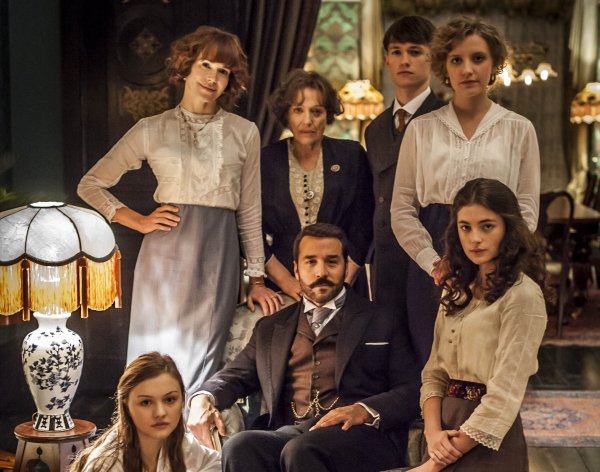 We get to see Selfridge with his family, seemingly completely besotted with his wife, Rose (Frances O'Connor) and his banter with his children seems very natural. He even brings his mother over from America to live with them. At first glance he seems like the perfect family man. So it comes as quite shock when Selfridge betrays Rose so early in the series, appearing to show no remorse over the affair and, even when challenged later in the series by her (clearly she has been aware of his philandering for some time), showing no sign of remorse or apology. And yet, he is devastated when, in later episodes, he discovers Rose's liaison with her portrait painter. Selfridge's need for control is obvious through his leadership of the shop and his family life. However, Rose Selfridge slipped, and although few would blame her, Harry Selfridge certainly does.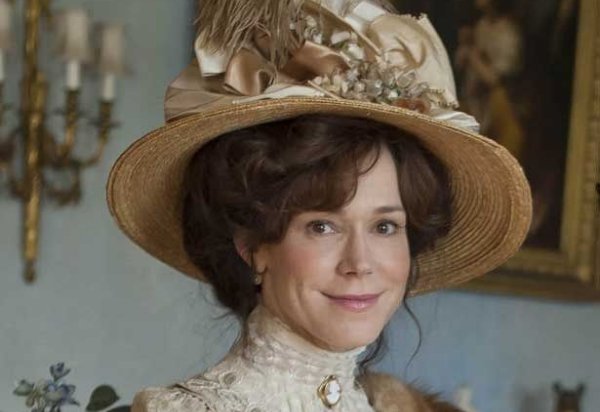 Most of the time, Rose seems mysterious and aloof, which is part of Harry's control over her and also part of the reason why he fell in love with her. Rose Selfridge is in complete contrast to Ellen Love (Zoë Tapper), the show girl who turns Selfridge's head in the early episodes and who he chooses as the poster girl to represent "The Spirit of Selfridges". She is more like Harry. Confident, cocky and very unsubtle, but she makes the mistake of trying to control as she has controlled other men in the past. When he decides he no longer wants anything to do with her, she completely loses control and overdoses. At the same time, Selfridge loses control through drinking. Their personalities are very similar.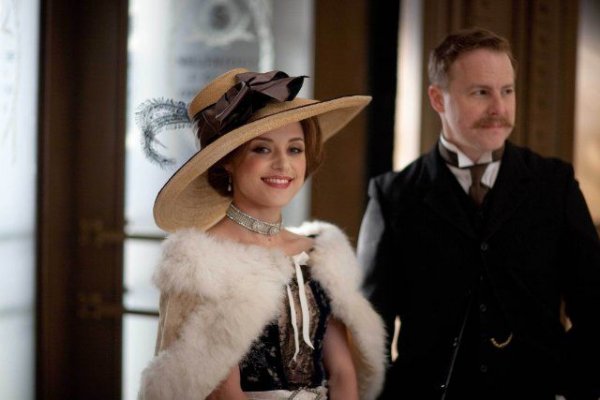 Harry Selfridges affairs were not entirely fictional, although Andrew Davies admitted that he had combined some of Selfridge's mistresses to create Ellen. "He was an exceptionally active man with the ladies," he said.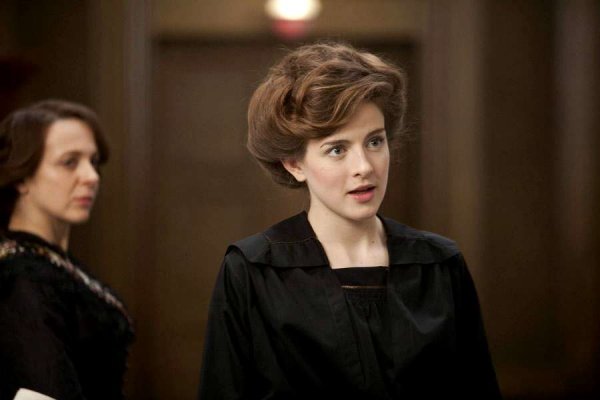 Perhaps the most interesting character is Ms Agnes Towler (Aisling Loftus), hired as an Accessories sales girl. Her story unravelled after Selfridge employed her in his shop. Struggling to be independent from her abusive father, Agnes' brilliant ideas and grace under pressure help her rise from Accessories to Women's Fashion to a career in design. The other members of staff dislike her due to her perceived favouritism with Mr Selfridge and her popularity with some of the male staff. But her own challenges at home and her desire to improve herself make her more than just another pretty face in Selfridge's life.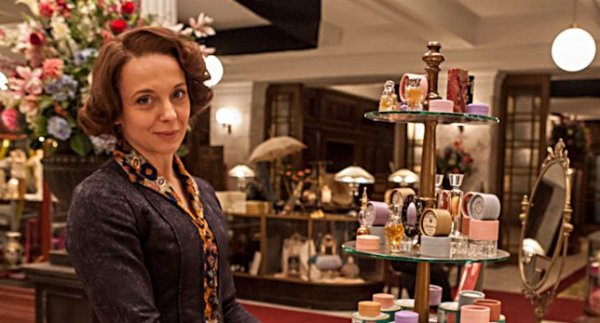 Hardworking spinster Miss Mardle (Amanda Abbington) is an extraordinarily hard-working staple member of staff even though no amount of effort can solve her complicated relationship with the married Mr. Grove (Tom Goodman-Hill), who is unable to free himself from his invalid wife.
The series is set in a time when women are starting to have a voice of their own. They are feeling liberated, although still slightly restrained, as proven when Miss Ravillious (Anna Madeley) starts to work at Selfridges wearing a skirt that rises above her ankles. Despite this, the women are certainly becoming more forward with their desires towards men and are enjoying working and having more freedom. Lady Mae is probably the best example of this, using her own fortune and her husband's title to choose younger lovers as she wishes.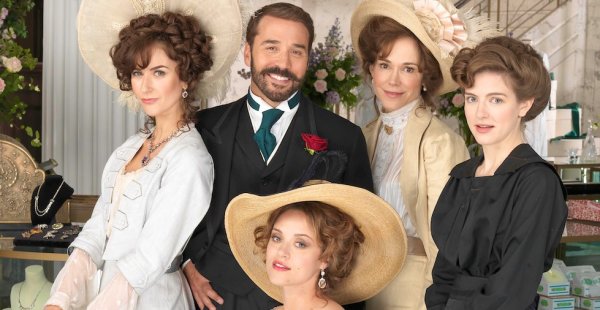 Sumptuously shot and full of period detail Mr Selfridge, dubbed Downton Abbey with tills, is a polished, lavish, very easy to watch period drama stocked with an abundance of upstairs/downstairs drama which provides some interesting insight into not only how the British used to live, but how they used to shop.
Published on March 19th, 2021. Written by Suzanna Hayes-Goldfinch and Malcolm Alexander for Television Heaven.