My Cousin Rachel
1983 | United Kingdom
Every year, for the sake of his health, Ambrose Ashley has wintered happily abroad. By chance, one year he meets a distant relation, the Contessa Sangalletti - his cousin Rachel - and tragedy strikes.
Based on Daphne du Maurier's gothic novel of suspicion, mistrust and murder, the story concerns itself with the affairs of Philip Ashley, a wealthy young man in 19th-century England who, having been orphaned at an early age, is raised by his benevolent older cousin, Ambrose, who delights in Philip as his heir. But their cosy world is shattered when Ambrose sets off on a trip to Florence where he falls in love and marries - and there he dies suddenly. In almost no time at all, the new widow - Philip's cousin Rachel - turns up in England. Philip immediately suspects Rachel - and goes on suspecting her even after he falls in love with her, giving her everything he owns, even though she refuses his entreaties of marriage. His suspicions revive, with catastrophic consequences when her lawyer arrives at the estate, and coaxes Philip into trying some of Rachel's tea. He soon falls ill, and it is whispered that Rachel has poisoned him.
This four-part BBC serialisation dramatised by Hugh Whitmore debuted on BBC2 on Monday 7th March 1983 at 8.30pm and starred one of the most famous names in cinema history. Playing the central role of the young widow Rachel was Geraldine Chaplin, daughter of the king of silent silver-screen comedy, Charlie. In an exclusive Radio Times interview dated 5th March 1983, Richard Beynon, producer of My Cousin Rachel, stated that Chaplin was perfect for the role due to the 'air of mystery' that surrounded her and 'an undeniable star quality' that effortlessly projected the secrecy contiguous with the young widow who 'impels disaster.' Beynon noted that she (Chaplin) had never worked in a television studio before, or on location with video cameras. But she leapt at the opportunity in spite of being struck by -what she herself called- 'hysterical nervousness.'
Richard Beynon recalled her once telling him that she was expecting the sack at any moment. But, in common with all her work, Geraldine said there was love as well as hate. "I got hooked on the rush, the pandemonium," she freely admitted. "Even changing your clothes, you have to run to your dressing room and back. And, unlike film, you can't do a scene again if you're no good. But the danger of it all became like a drug to me." Geraldine enjoyed immersing herself in the character of Rachel, a process she found particularly easy among the wild cliffs and roaring winds on location. "Cornwall was everything I expected from reading the novels of Daphne du Maurier. Romantic but darkly so." It wasn't just Cornwall itself that captivated Geraldine. Local people were employed on the production as 'extras'. "One man looked exactly like Heathcliff in Wuthering Heights," she recalled. "I couldn't take my eyes off him."
My Cousin Rachel had previously appeared on the big screen in 1952 and starred Richard Burton as Philip and Olivia De Havilland who returned to the screen after a three-year absence to take the role of the murderously attractive widow, Rachel. In this small screen version Christopher Guard played Philip and a strong supporting cast included Charles Kay as Rachel's lawyer, Rainaldi, and John Stratton as Nick, Philip's godfather who examines the letters that Ambrose posts home from Italy and declares them to have been written by a man of unsound mind.
My Cousin Rachel keeps the viewers guessing and the bitter-sweet agony of the drama is drawn out over confusion of Ambrose's will, as well as by hints that it was Rachel who poisoned him. It's a period drama that the BBC has a reputation for producing and is a superb example of how to transfer a classic novel into an enthralling four episodes of televisual production. 
Daphne du Maurier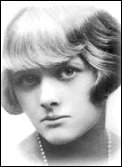 Daphne du Maurier was born in 1907, grand-daughter of the brilliant artist and writer George du Maurier, daughter of Gerald, the most famous Actor Manager of his day, she came from a creative and successful family.
She began writing short stories in 1928, and in 1931 her first novel, 'The Loving Spirit' was published. It received rave reviews and further books followed.
Then came her most famous three novels, 'Jamaica Inn', 'Frenchman's Creek' and Rebecca'. Each novel being inspired by her love of Cornwall, where she lived and wrote. 

Published on January 9th, 2019. Written by Laurence Marcus (May 8th 2005). Excerpts quoted from original Radio Times article. for Television Heaven.