New Scotland Yard
1972 | United Kingdom
"In the past there has been a tendency on the part of the television hierarchy to underestimate viewers" actor John Woodvine told TV Times magazine in 1972. "I think the viewing audience is very sophisticated now, and the success of programmes like Callan and Man at the Top has proved this. People aren't interested in corny stories any more."
What Woodvine may have been doing was taking a gentle sideswipe at the numerous tongue-in-cheek ITC shows of the early, mid and late 1960s. Viewers were no longer prepared to accept the naivety of programmes like The Saint or Jason King. Huge successes and vast money-makers that they were, there was very little realism in Roger Moore beating up a big heavy, walking away without a scratch, and immediately after, looking as fresh as a knitting pattern model – once he'd straightened his tie and brushed back his hair. And despite a large female following, Peter Wyngarde rarely pulled off any credibility as a master sleuth who, as a writer of pulp crime fiction, always seemed to be one step ahead of the police, no matter where in the world his globe-trotting exploits took him.
Granada Television had previously tested the water for gritty realistic crime drama with Big Breadwinner Hog in 1969, which was widely condemned at the time for its amorality and violence, which led to some regional channels removing it from their schedules after a few episodes. But the times they were a-changing, and, with 'Hog' breaking new ground, it was the adult viewing public who decided that they wanted to be treated…like adults. "What they are interested in," said Woodvine, "is the development of character." Something that was rarely seen in previous police procedurals (unless you count of George Dixon's promotion to Sergeant in Dixon of Dock Green).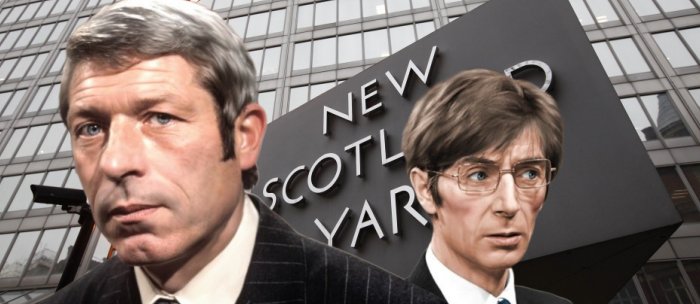 In New Scotland Yard, Woodvine was cast as Detective Chief Superintendent Kingdom of the Central Office of the CID. By working his way to the top, having started at a number of local divisions, Kingdom had gained great experience and when the series opened he was to be found tackling major crime in London, working on some of the capital's most serious, high-profile, and perplexing cases. The series also confronted some of the bigger social issues of the day such as the rise in political activism, which was featured in its very first episode: Violence flares up when a student protest meets a counter demonstration. A young demonstrator is killed by a blow to the head. The nearest person to the body is a mounted officer. Kingdom then faces a difficult case, where strong evidence accumulates against a fellow policeman.
The series presented an authentic portrayal of detective work in the increasingly violent London of the 1970s with storylines ranging from robbery to murder and even serial killings. It should have been a hit. It wasn't.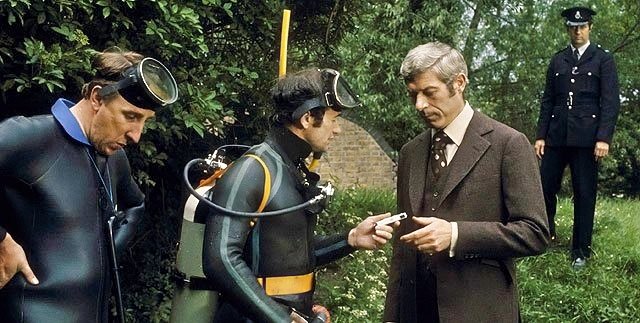 London Weekend Television, the makers of the series, took the decision to broadcast New Scotland Yard at 7pm on Saturday nights (from April 1972). Usually the reserve for family friendly light entertainment, it fit uncomfortably between The Rolf Harris Show and Saturday Variety hosted by Leslie Crowther. Meanwhile, the BBC went for a much more traditional alternative. Nevertheless, LWT were confident to commission a second series of 13 episodes for broadcast commencing October that same year. Seemingly having learned their lesson from series one, series two went out in a more suitable Friday night slot at 9pm. The rating improved. Then, inexplicably, for series three it returned to Saturday night.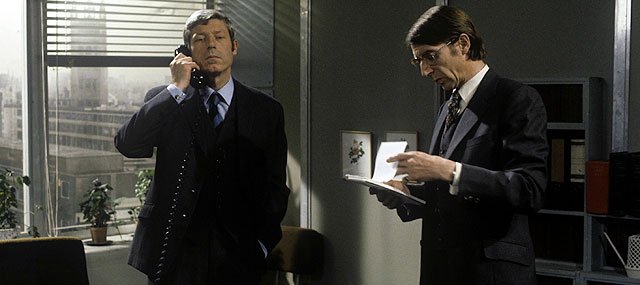 Alongside Woodvine, actor John Carlisle played Detective Inspector Alan Ward, who, at the start of series three has been demoted, following a disciplinary hearing, down to the rank of Detective Sergeant. Carlisle would have been familiar to audiences at that time as the actor who played a resident physician in over 200 episodes of the popular medical drama Emergency-Ward 10. Woodvine had a long and distinguished career but said he had to think long and hard before taking on the role of Kingdom, having spent nine months playing Inspector Witty in Z Cars a few years before, and accepted that there was a danger of being typecast. "I think I've done a good enough variety of things to weather any possible danger." He told the TV Times in 1972. That variety included the part of Bloody Delilah in The Dustbinmen, experience on stage which included his own one-man show at the Greenwich Theatre, and a vast array of characters on television which included playing Aramis in The Further Adventures of the Musketeers and four appearances as different characters in The Avengers. At the time of writing, Woodvine, who was awarded the Laurence Olivier Theatre Award in 1988 (1987 season) for Best Comedy Performance for The Henrys, is still acting at the grand age of 93.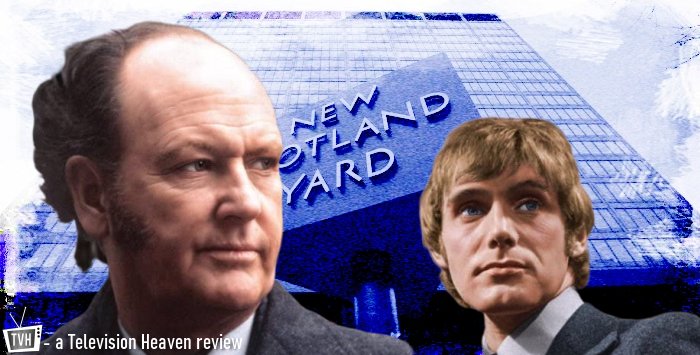 Possibly due to its erratic broadcasting history, New Scotland Yard never built up the following it deserved. It was a ground-breaker in terms of accurately depicting an unflinching and authentic portrayal of detective work in London during the rapidly changing 1970s. This was helped with advice from a former Scotland Yard superintendent, Frank Williams, a headline maker himself when he arrested great train robber Buster Edwards. Even more confusing than its erratic schedule, was the fact that when the series returned for a fourth and final time, both Woodvine and Carlisle had been unceremoniously replaced by Michael Turner and Clive Francis as Detective Chief Superintendent Clay and Detective Sergeant Dexter, respectively.
The series boasted top class writing talent of the calibre of Robert Banks Stewart, Lewis Greifer, Peter Hammond, Tony Hoare, John Lucarotti and Victor Pembleton. Guest stars included a wealth of British talent; Michael Elphick, Don Henderson, George Baker, Rudolph Walker, Tenniel Evans, Julian Glover, Bob Hoskins, Sam Kydd, Philip Madoc, Mark Eden, June Brown, Alum Armstrong, Windsor Davies, Hugh Manning, Tony Selby, Carmen Silvera, Jacqueline Pearce, John Rhys-Davies, and Dennis Waterman, who would go on to star in the series that would eclipse New Scotland Yard and become one of the best remembered British crime series of all time. An Armchair Theatre production, Regan, was just about to go to full series as The Sweeney. And ultimately, that may have been the reason New Scotland Yard never returned to our screens.
Published on July 22nd, 2022. Written by Marc Saul for Television Heaven.