Quick Before They Catch Us
1968 | United Kingdom
Children's action/adventure series that was very much a product of the swinging sixties having more in common with The Avengers than The Famous Five. 
It was actually about an unfamous three, each of them bringing with them their own unique skill to help solve the unlikely adventures they managed to get themselves into. Kate (Pamela Franklin), the youngest of our heroes, had a photographic memory and was also a talented artist, quite handy when on the trail of villians. Johnny (Teddy Green) was a technology student and quite handy at whipping up any manner of surveilance equipment, and Mark (David Griffin) was the nerdish brains of the outfit, also a gifted photographer. 
All the actors went on to long TV careers, Franklin moved to the USA where she often cropped up in numerous prime-time series such as Hawaii Five-O, Police Woman, Fantasy Island (four times) and Vega$. Green most later appeared in Holby City and became a regular in Hi-De-Hi! as Squadron Leader Clive Dempster DFC before appearing as Emmet in Keeping Up Appearances. 
The series theme tune was performed by the Brian Epstein managed group Paddy, Klaus and Gibson (Klaus being none other than Klaus Voorman, designer of The Beatles 'Revolver' album cover) but the musical trio split up before the TV trio had even started their adventures.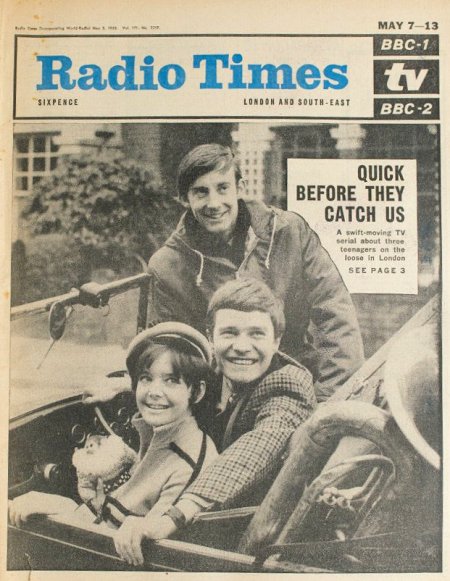 Published on January 24th, 2019. Written by Noel Onely for Television Heaven.