Sportsview | Sportsnight
| United Kingdom
On 8th April, 1954, the BBC began its first regular sports programme, Sportsview, which had been suggested and devised by Paul Fox, later to become Controller of BBC1. It is fair to say that sport, at that time, was not high in the BBC programme planners list of priorities mainly because of a resistance to sport on television by the various sporting bodies.
Before the BBC's programming hiatus during the war years it had never paid for the rights to televise sports events, it had merely turned up, paid a fee for the use of facilities and broadcast what it wished to. But in 1946 the Epsom Granstand Association refused permission for the Corporation to televise the Derby, which it had done in 1938 and 1939. The Epsom authorities formed APCS (Association for Protection of Copyright in Sport) which argued that the same copyright laws covering books and music should be extended to sports events. As the ACPS grew it was joined by the Jockey Club, the British Boxing Board of Conrol, the All-England Lawn Tennis Club, the MCC, Rugby Football (League and Union) and the RAC. One-by-one all the major sporting events were becoming barred to television. This continued un-addressed until July 1950 when the then Postmaster General, Ness Edwards, ordered the formation of the Television Sports Advisory Committee to assess the effects of telvision on sports. However, the committee proved to be ineffective and it was only when it seemed inevitable that the BBC would be faced with the rivalry of Commercial Television that they climbed down from their refusal to pay for events, and began to negotiate agreements for exclusive television rights.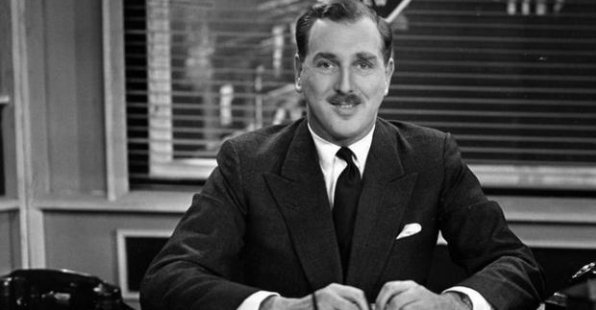 The man charged with bringing the first regular sports magazine programme to British television was former presenter and now new Assistant Head of BBC Television Outside Broadcasts, Peter Dimmock. Although he fought hard for a thirty-minute slot he was allowed a mere twenty on a Thursday night, then the night of the Sunday Play repeat, when the BBC deemed "most people would be at the pictures." However, only a month into broadcasting the show had its first sporting scoop when (on May 6) it filmed Roger Bannister as he became the first man to run a mile in under four minutes. The BBC had apparently recieved a tip from Ross and Norris McWhirter (of Guinness Book of Records) otherwise they would not have covered a minor meeting at Iffley Road, Oxford. Sportsview was extended to half-an-hour by October and grew to an hour in length on 21 September 1955. Sportsview soon became the BBC's flagship sports show and until 1968 it continued to experiment with new techniques such as the use of a teleprompter or placing a camera inside a racing car. The show also spawned a younger viewers version, Junior Sportsview (1957-62) as well as the famous Sports Review of the Year. Presenters following Dimmock included Billy Wright, Kenneth Wolstenholme, Brian Johnson and Frank Bough.

In 1968 Sportsview was replaced (a week after its last edition) by Sportsnight With Coleman hosted by David Coleman (who Dimmock recruited in 1958 to be the presenter of the new Saturday afternoon sports programme Grandstand) with the intention to create more of a magazine style rather than just a sports reel and offered interviews, reviews and previews. By the Seventies, Coleman had become the predominant figure in BBC sport; he was on screen more than any other broadcaster, but in 1972 he chose to leave Sportsnight which continued (the 'With Coleman' part of the title being dropped) until 1997 and was hosted by Frank Bough, Tony Gubba, Harry Carpenter, Steve Rider, Des Lynam and Ray Stubbs.

Peter Dimmock
Speaking some years later, Paul Fox paid tribute to Peter Dimmock "...the man who pushed the idea through and made the programme work. He was an amazing operator. Only 34 years old, assistant head of outside broadcasts and a great presenter and commentator, who had just made his name with his work on the Coronation. He'd been a commentator on racing and ice hockey and was just perfect on Sportsview." Dimmock wasn't so sure: "Paul Fox would send me the script around 4.30pm and I would do my best to re-write it in my own words. I really didn't know what the hell I was doing at the time."
Resources used: The Television Annual 1957. The Guinness Book of TV Facts and Feats. BBC Sports Personality of the Year - 50th Anniversary by Steve Rider
Published on January 31st, 2019. Written by Laurence Marcus (July 5th 2010) for Television Heaven.