Studio E
1957 | United Kingdom
Children's magazine programmes have been a staple of British television since the 1950s. As the decade began the BBC moved away from broadcasting puppet led shows to keep the country's infants amused and began experimenting with programmes that they perceived as the next age group - 9 to 14 year olds. In 1950 two new 'magazine' programmes appeared on our screens. 
Whirligigand Telescopewere broadcast on alternate Saturday's but were still very much aimed at juveniles. Telescope was replaced in 1952 but Whirligig continued until 1956. When it finally came off the air it was replaced by Studio E, the first true magazine programme and the forerunner to Blue Peter.
Studio E launched on 7 January 1957 and the corresponding Radio Times introduced the series with the following article:
'STUDIO E' is a name that is likely to become familiar to younger viewers in the coming weeks. It is in fact a studio at Lime Grove from which a number of children's programmes are transmitted, but this Monday sees the launching of a new style of general interest 'magazine' in which, in the words of the producer, 'anything can happen.
Vera McKechnie, taking time off from her normal duties as an announcer, will introduce the programme and guests, who this week include George Cansdale, with some animal visitors; ace test-pilot Neville Duke who will be asking the more air-minded to build him an airport; actor and storyteller John Slater telling a strange story about the theatre; and a group of singers and dancers from the Austrian Tyrol. And for Bengo fans, Tim will again be in the studio to draw some adventures of the Boxer puppy.
Bengo the Boxer Pup was a children's story written by Dorothy Smith and illustrated by William Timym (Tim) and was the programmes link between Studio E and Whirligig, where it first appeared. Tim would go on to illustrate Bleep and Booster, a regular story on Blue Peter. Vera McKenchie's voice would also be familiar to the young audience as she was the storyteller on Andy Pandy. In 1952 she went on to present the first television show for the hearing impaired which was rather crudely titled For Deaf Children, before it was replaced by the more tastefully titled Vision On. In the 1960s, McKechnie appeared as a storyteller on Play School but thereafter gave up television to become a teacher, spending 15 years at Roedean School and then in Broadstairs, Kent then St Margaret's School, Bushey. She made one last television appearance in 2007 in Children's TV on Trial, a study of television programmes made for children from the 1950s to the present day.
Studio E landed something of a coup in a 1958 edition when David Attenborough greeted royal visitors Prince Charles and Princess Anne onto the show and introduced them to a cockatoo named Cocky. I kid you not and have photographic evidence!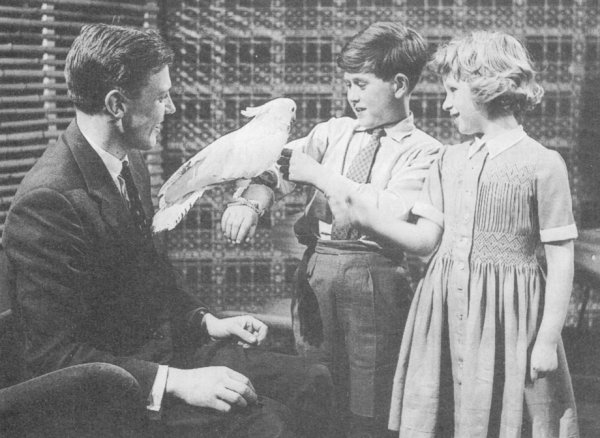 Unusually for a programme of this type the BBC devoted a whole 60 minutes of broadcasting time to the show. Airing from 5.00pm to 6.00pm it was the first show of the late afternoon schedule and led into the one-hour 'Toddlers' Truce' - a sixty-minute hiatus that was part of the BBC's scheduling policy, which required transmissions to terminate for an hour each weekday between 6.00pm and 7.00pm so that young children could be put to bed.
Studio E ran until 1958 but whether or not it was deemed a success is unclear as there is very little information available. However, in the BBC's Blue Peter 50th Anniversary book by Richard Marson, the author observes; The feeling (at the BBC) was that five- to eight-year-olds were being short changed - too old for Watch With Mother but not quite old enough for programmes like Studio E.
Studio E went off the air after the 28 July 1958 edition and in October of that year Blue Peter debuted. Blue Petermay well have been aimed, initially, at that 'in between' age group of youngsters, but as it developed it appears to have followed the format created by Studio E - a series now long forgotten but very much deserving of a place in the history of the development of British children's television. 
Published on July 20th, 2020. Written by Laurence Marcus for Television Heaven.