That 70s Show
1998 | United States
If Happy Days sent 1970's viewers on a nostalgic trip to the tranquil 1950's, That 70's Show did likewise for viewers of the late 20th century and the new millennium. The difference was that it parodied a decade that saw energy crises, the resignation of a president and the end of a bitter war. (The 70's also brought us Pet Rocks, bell-bottoms, the Ford Pinto and disco music.) But the show's core cast and emphasis on love and friendships transcended all decades. And more often than not–especially in the early years–it was actually funny.
That 70's Show was created by the husband and wife team of Terry and Bonnie Turner (who also came up with 3rd Rock From the Sun and wrote the screenplays for Wayne's World and The Brady Bunch Movie); their obsession with the decade led to this series.
Eric Foreman (Topher Grace) was a nice if a bit geeky high school junior who hung out with his friends in the rural town of Point Place, Wisconsin, circa 1976. There was next-door neighbor Donna Pinciotti (Laura Prepon), the sensible, redheaded girl who was secretly in love with Eric. Steve Hyde (Danny Masterson) was a smart-aleck wannabe hippie who saw government conspiracies in everything; and hunky but clueless Michael Kelso (Ashton Kutcher) who was dating upscale, spoiled and snobby Jackie Burkhardt (Mila Kunis). Also a part of the gang was Fez (Wilmer Valderrama), a foreign exchange student from an unknown country who had a way with the ladies.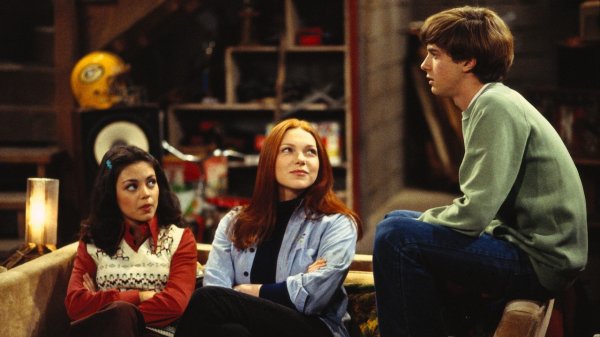 Eric lived in a typical suburban home with his parents. Stern and rather humorless Red Foreman (Kurkwood Smith) was working part time at the fast-growing Price Mart discount store after being laid off from the town's main manufacturing plant; wife Kitty (Debra Jo Rupp) was a slightly off-center mom and part-time nurse. Also living at home was Red and Kitty's college-age daughter Laurie (Lisa Robin Kelly), a young woman of dubious sexual virtue who never passed up an opportunity to get Eric into trouble. Red owned a Japanese Toyota Corolla, which like many Americans, bought in response to the energy crisis of a few years earlier. Eric ended up driving the family's other car–a large, gas-guzzling Oldsmobile Vista-Cruiser station wagon. Eric and his friends usually hung out around the Vista-Cruiser, or in the Foreman basement, which contained old furniture, an avocado green Maytag washer-dryer and a outside door. It proved to be the perfect place to take a few "tokes" of pot. 
Speaking of marijuana, the premiere episode of That 70's Show caused controversy when it aired on August 23rd, 1998: The teens were seen drinking beer and smoking weed. (Fox kept the scenes intact but aired an anti-drug public service announcement after the show aired!) And there were plenty of other symbols of the 70's–from the gosh-awful fashions to the short-lived fads of the era. But there was also plenty of personal and romantic complications as the series progressed. Eric finally realized Donna was smitten with him; the two "made love" but were caught by their parents. (They later broke up but remained friends.) Kelso and Jackie's relationship ended when Kelso started sleeping around with Laurie; Jackie later decided she was in love with Hyde–who could barely stand her. And so on and so forth, as the seasons continued. During a few of those seasons, Hyde worked at a photo developing store; his boss was played by none other than Tommy Chong of Cheech & Chong fame, the ultimate "stoners" of the 70's!
That 70's Show helped boost Ashton Kutcher's career; he was able to star in several hit films including the moronic Dude, Where's My Car? (He also became a successful television mogul as host and creator of the MTV reality show Punk'd and the WB's brains versus body series Beauty and the Geek.) The comedy was popular with younger audiences and Fox used the series as a battering ram against shows on other networks, or filler when a new series bombed.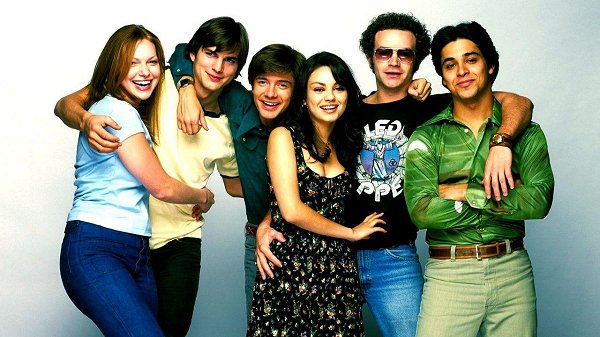 The 2005-06 season was to be the last for That 70's Show–which by then moved into the more conservative 1980's. (Its best-known stars, Topher Grace and Ashton Kutcher, are no longer regulars.) But it wasn't renamed That 80's Show. That's because the Turners actually came up with another comedy–That 80's Show–which centered on a group of older young adults heavily into Culture Club and MTV, complete with the stereotypes of the era–including a regular bisexual female character. That 80's Show was launched in January 2002 but proved no match for its parent; it didn't make it to a second season.
The show's theme song, In The Street ("That 70's Song") was written by Alex Chilton and Chris Bell, and performed by the group Big Star.
That 70's Show was powered by nostalgia but proved to be breezy, lighthearted fun with a nice group of characters in a rather strange decade. Sure, the show became more hokey and cliched in the later years. But then, so did the 1970's. 
Published on November 19th, 2019. Written by Mike Spadoni (2005) for Television Heaven.