The Muppet Show
1976 | United Kingdom
Seen in more than 100 countries by an estimated audience of 235 million dedicated viewers world-wide between September 1976 and its final edition in 1981, The Muppet Show was the grand tradition of variety given a green felt twist and a foam rubber punch courtesy of creator Jim Henson's manically misfit band of phenomenally popular puppet performers.
The genesis of the Muppet's lay in Jim Henson's life long love affair with the art of puppetry which had began with his childhood fascination in such early US Shows as Kukia, Fran & Ollie and The Baird Puppets. Henson went on to create his own early short-lived TV puppet show for a local station in Maryland, while still a high school senior. In 1955, as a freshman at he University of Maryland, he and his future wife, Jane Nebel, teamed up to present a regular show for local television station WRC-TV Washington, called Sam and Friends. It was also at about this time that the young Henson coined the phrase Muppet to describe his unique combination of marionette and puppetry. 
Sam and Friends soon led to his doing commercials and from there to making his national network debut on shows such as Tonight, Today, The Ed Sullivan Show, Jimmy Dean (where Muppet pianist Rowlf was a regular), and The Perry Como Show. But it was on Steve Allen's Tonight Show in 1957 that Henson's most famous future star made his first appearance as the then one year-old Kermit the Frog sang 'I've Grown Accustomed to Your Face' to a purple monster named Nebel, which was so overcome with emotion that it proceeded to eat its own face and then attempt to follow that up by eating Kermit to boot.
But the Muppets true lasting impact was sealed by the creation of the legendary pre-school learning programme, Sesame Street, which they have featured in since 1969. Despite their popularity in the series and Henson's firm belief in his creation's potential, the concept of a wider audience based show of their own was rejected by the network officials, who deemed the Muppets appeal as being limited strictly to children. However, a means of wider exposure was granted to Henson in the larger than life form of legendary British TV mogul and showman, Lew Grade, who stepped in and offered to back the puppeteer's concept for a syndicated series. As had so often proved to be the case in the past, Grade's keen instinct for quality and potential assured the birth of a series which would ultimately prove to be a much bigger hit than many of the networks' own shows.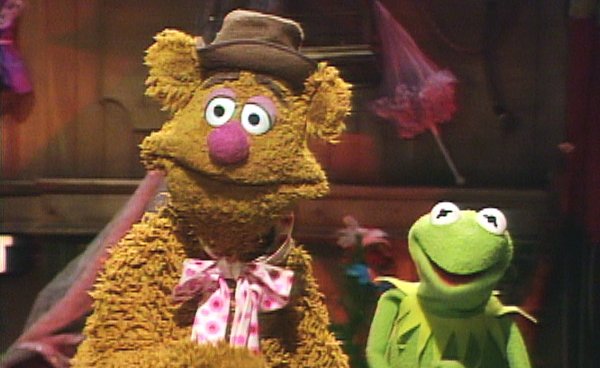 Kermit, as host, attempted to maintain control over a weekly half-hour of chaos and confusion as his motley cast of unruly animals, monsters, out of control humanoid compatriots and an often bemused human guest star, threatened to reduce every big production number into a chaotic shambles. Regulars included the loud and karate chop inclined wannabe star Miss Piggy, Rowlf, the shaggy canine piano-player, comically challenged stand up comedian Fozzie Bear, Dr. Teeth and the Electric Mayhem -the resident band which included the coolly spaced-out guitarist cum Sax player Floyd, and the homicidally monosyllabic drummer, Animal. Also amongst viewer favourites were the maniacal and totally incomprehensible Swedish chef, Gonzo, the...whatever, who always tried to open the show with a trumpet fanfare only to see his efforts stymied as the trumpet would break, explode, or perform in a totally unexpected, non-musical way, and Dr. Bunsen Honeydew, the short, balding, crackpot scientist who held the distinction of actually being modelled after the show's Sir Lew Grade himself. Observing the on-stage antics with a vocal mixture of scorn and disdain from their box seats were the two old geezers, Statler and Waldorf.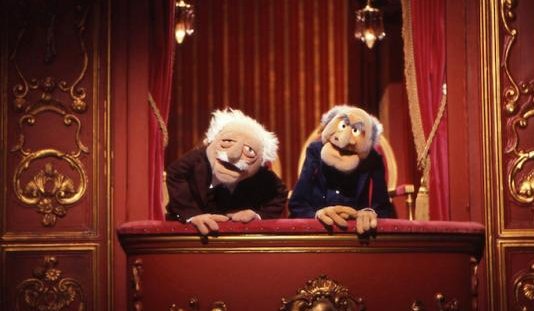 The Muppet Show attracted a plethora of genuinely top flight guests during the course of its 130 episodes ranging from George Burns, Zero Mostel, and Steve Martin to Rudolf Nureyev, Roger Moore, Elton John, and a memorable appearance by Peter Sellers as respectively, a mad German chiropractor who tied a pig in knots, and a pompous actor reciting lines from 'Richard lll' while squeezing a clucking chicken tightly under each arm.
The real secret of The Muppet Show's success lay not so much in the anarchic humour or the big production set pieces, but rather in the almost human warmth, wit and charm of the Muppet characters themselves. A genuine tribute to Henson and his skilled team of performers, who's own personalities were memorably reflected by their puppet counterparts. The series spun off multiple feature films and on the wave of its success also spawned a television sequel, Fraggle Rock (1984-89), and then in 1996, six years after the untimely death of Henson, the show was revived as Muppets Tonight! Which saw the introduction of several new characters. An internet series featuring the Muppets was in development as of February 2018 and in July 2018, the cast performed a series of live shows at London's O2 Arena, their first outside of the United States.

Funny, frenetic, wild and almost wilfully witty, The Muppet Show stands not only as a great example of great televisual entertainment, but more importantly as a warm and enduring reminder of the inspired inventive genius of the late and sadly missed Jim Henson.
Published on January 9th, 2019. Written by Laurence Marcus & SRH (2000 & 2019) for Television Heaven.