Vanity Fair
1967 | United Kingdom
The launch of Britain's first official colour television service on BBC2 on 2 December 1967 included a visit to Billy Smarts Circus, a new series featuring globetrotting reporter Alan Whicker, and the first colour drama series; Vanity Fair. 
Hot on the heels of her success in The Forsyte Saga, Susan Hampshire was cast as the manipulative, selfish and deceitful Becky Sharp, the anti-heroine of Thackery's 19th century novel ('Vanity Fair: A Novel Without A Hero'), which is set in the time of the Napoleonic wars, and is itself based on an idea by John Bunyan (in his allegory 'Pilgrim's Progress'), where he created a mythical fair in the city of Vanity, which had been established by Beelzebub. Thackery's inspiration is taken from the description of the fair being a place that never closes and where all manner of temptations are on offer, including titles, kingdoms, pleasures and lusts. 
Originally published as a serial before being sold in book form; 'Vanity Fair' was printed in 20 monthly parts between January 1847 and July 1848 and was meant as a satirical look at a sophisticated and materialistic society in early 19th-century England. It was the first work that Thackeray published under his own name, and was extremely well-received at the time although in some quarters it was heavily criticised for having structural problems with accusations that Thackeray sometimes lost track of the huge scope of his work, mixing up characters' names and minor plot details.
The story opens when Amelia Sedley (Marilyn Taylerson), the kind hearted but sheltered child of a rich city merchant, invites Rebecca (Becky) Sharp, the penniless orphaned daughter of an artist and French opera dancer, to come home for a visit. The two sharply contrasting characters had been resident at Miss Pinkerton's Academy for young ladies, where Amelia's student fees were paid by her father and where Becky paid for her education by teaching French to the other girls. Becky is portrayed as a strong-willed and cunning young woman determined to make her way in society and was based in part on Thackeray's maternal grandmother who abandoned her husband and children when she eloped with an Army captain. 
With her eye on the Sedley family assets Becky tries to force Amelia's oversized brother into a marriage, but when she is unsuccessful she turns her charms on Sir Pitt Crawley and becomes governess to his children. Becky becomes a favourite of Pitt's rich and capricious sister, Miss Crawley. When the old man's wife dies he proposes to Becky who then has to admit that she is already married to his younger son, Rawdon. The young couple immediately fall from favour with Miss Crawley, and have to learn to live on Becky's wits. In the meantime, Amelia's lifestyle takes a downturn when her father loses all her money and her engagement to the vain and shallow George Osborne (Roy Marsden) breaks down as a consequence. William Dobbin (Bryan Marshall), who is George's friend and who is secretly in love with Amelia, persuades George to defy his father and go on with the marriage. This he does and is summarily disinherited.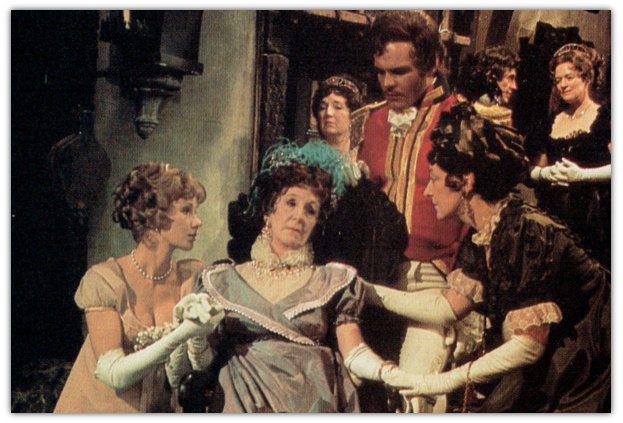 George, Rawdon and William are all in the army and when news reaches them of Napoleon's escape from exile, they are called to duty in Brussels, where Becky has an affair with George and quickly becomes the toast of the town. This leads to arguably the big scene of the entire series, where the Duchess of Richmond arrives in Brussels for a great ball. The scene is recreated by the BBC in a way that is entirely representative of their deserved reputation for lavish costume drama during this golden television era. The scene is brought to an abrupt end by the sound of cannon fire and the news that Napoleon's army is at the gates.
For those looking for the moral in this story there is a disappointment. There is no moral, no hero and ultimately it is the untrustworthy, self-centred and scheming Becky who triumphs. And whilst the compassionate Amelia finally marries Dobbin, by the time they come together his love for her has lost much of its intensity. The series was shown in the US under the Masterpiece Theatre banner in 1972 and Susan Hampshire won a deserved Emmy Award for Outstanding Continued Performance in a Leading Role, Drama/Comedy Within a Limited Series. Eve Matheson starred as Becky in a 1987 remake and yet another version, starring Natasha Little, appeared in 1998, each by the BBC. In 2018 ITV and Amazon Studios produced a seven-part adaptation starring Olivia Cooke. 
Published on February 11th, 2019. Written by Laurence Marcus (January 2004 updated February 2019) for Television Heaven.