Worst Week of my Life
2004 | United Kingdom
We've all had days in our lives where we've just felt like the world was conspiring against us. On those days, the old adage of 'anything that can go wrong, will go wrong' seems to come to the fore and you wish you had hit the snooze button and stayed in bed. But what if those days pile up into an entire week? The Worst Week of My Life was a short-lived sitcom from the BBC that shows exactly that.
Ben Miller plays Howard Steel, a publisher who may not be getting the success in his career that he wants, but has been lucky enough to find his perfect partner in Mel (Sarah Alexander). With a week left before his wedding, he still hasn't won over his in-laws, the wealthy combination of Dick and Angela Cook, played by Geoffrey Whitehead and Alison Steadman. As he tries to deal with the stresses that the big day begins, all the while trying to ingratiate himself with his sneering new family, Howard's well-meaning efforts meet with nothing but disaster – from hospitalising his fiancé's grandmother to scooping the family dog into a cement mixer!
Season two gets no better for Howard. Having somehow managed to navigate his way to married life, he now faces fatherhood with the same doomed misfortune. Having been forced to descend upon Dick and Angela's glorious home courtesy of making their own new home uninhabitable with cut-price workmen who blow it up with a dodgy boiler, Howard now faces sexual accusations, spills Mel's grandmother's coffin to the floor at her funeral and tries not to 'out' Dick's brother Fraser – all while trying to plan a party to celebrate Dick's receipt of a CBE.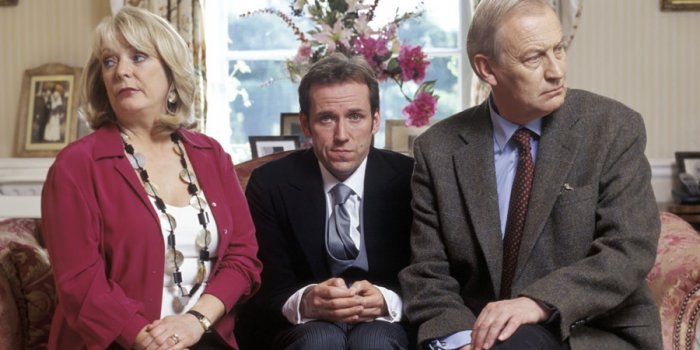 Worst Week of My Lifeis a hysterical farce-like take on the premise of Some Mothers Do 'Ave 'Em. Howard is every bit as keen to be a success as Frank Spencer had been in the classic 70s comedy, and just like the hapless Frank, his best efforts are doomed to failure. The written humour is a bit more full on, with double entendres abounding, and the slapstick visual gags are on a grand scale. And where Spencer's classic character was set in broken down terraced homes, most of the comedy takes places in the grand surroundings of Mel's family home, with money no object.
The difference in class, settings and scenarios doesn't detract from the comedy. Whitehead is superbly dry with his disapproving approach to his buffoon of a son-in-law, never better than when he occasionally believes Howard may not be as bad as he first thought, only to have his original concerns fully reinforced. Steadman plays a variation of Hyacinth Bouquet, always trying to minimise Howard's impact on the family's social standing, but trying desperately to like him for the sake of her daughter.
Ronald Pickup and Janine Duvitski, just before her huge success as Jacqueline in Benidorm, offer excellent cameos throughout the series, never more so than in the three episode Worst Christmas of My Life that brought an end to the show.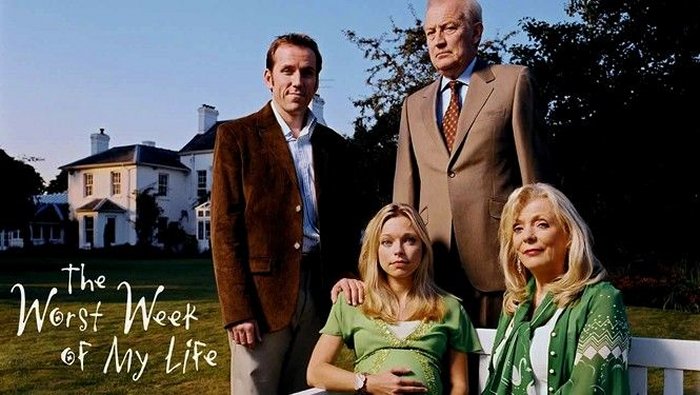 It's surprising that the series stopped when it did, given that viewing figures and critical appeal were both positive. There are elements of Some Mothers, Norman Wisdom and even Mr Bean in its more physical comedy, and in amongst the hilarity it's impossible not to feel for the unfortunate Howard, played expertly by Miller. Offering absurd slapstick, clever wordplay, excruciatingly uncomfortable scenarios and top quality performances from its full cast, Worst Week of My Life was an all too brief nod to a more simplistic sitcom. In the days of box set binge watching, it is a glorious piece of comedy that deserves to be watched in comfort, if your sides can avoid splitting.
Published on May 14th, 2019. Written by Brian Slade for Television Heaven.