Danger UXB
1979 | United Kingdom
13-part World War Two drama series based on the true-life exploits of bomb disposal expert Major Bill Hartley, whose book, 'Unexploded Bomb', recounted his continual death-defying ordeals in the face of extreme danger, whilst carrying out one of the most hazardous tasks on 'civvy street.'
Anthony Andrews starred as Lt. Brian Ash, a young officer who is assigned to the 27th Tunnelling Company, only to discover that his unit has been seconded to the Bomb Disposal Unit of the Royal Engineers. The day before Ash's arrival, his predecessor had been killed trying to disarm a bomb, and so Ash finds himself quite literally in the firing line, learning his job 'on the hoof', a particularly deadly apprenticeship in a job where one wrong mistake could be the last one you'd ever make. 
Ash is billeted with other officers of his unit at Mrs Baker's house, where he soon discovers that among the amenities on offer is the landlady's daughter, Norma (Deborah Watling), who becomes sexually aroused during air raids. Having been informed by his unit that his life expectancy is about seven weeks, Ash soon avails himself of Norma's generosity. However, as the series progresses, Ash becomes more steadily involved with Susan (Judy Geeson), the married daughter of explosives boffin Dr David Gillespie (Iain Cuthbertson). Fresh-faced and naive at first, Ash soon wins over the respect of the men in his unit and aided by the experienced Sgt James (Maurice Roeves), grows in confidence with each mission, which culminates in an open-ended explosive final assignment. 
There was to be no second series, though, and the 13 episodes made by Thames/Euston Films and shown in 1979, stand today as a perfect example of edge-of-the-seat drama. And bearing in mind the true-life subject matter it is hardly surprising:
Although there were very few bombs dropped on Britain in the first few months of the Second World War a War Office report to the Cabinet, in May 1940, recommended steps that needed to be taken when heavy bombing began. By July Britain was suffering intense bombing raids and by the end of August 2,000 UXBs (Unexploded Bombs) remained to be dealt with. 
To find the necessary personnel to deal with them seven general construction companies and 4 quarrying companies of the Royal Engineers were converted. The "Bomb Disposal Section" consisted of one officer and fifteen other ranks divided into two sub-sections; one for "removal" and one for "sterilization". Training for the bomb disposal units was very scant at best as no information was available as to the types of bombs the enemy might use or of the nature of the mechanism of their fuses, and the 'disposal experts' had to largely rely on their own commonsense. 
Once a UXB had been confirmed the unit moved in and started work. Very often considerable excavation was needed before the bomb could be reached as it could have penetrated up to sixty feet into the earth, requiring casing and timber to be used to steady it and reach the fuse. Any violent disturbance might set the bomb off, and even if it didn't there were other hazards. Once the bomb was reached, its type and probable performance had to be determined by inspection. It might be fitted with a delay action fuse which had not run its allotted time, it might be a simple contact fuse which had not operated, or it might be that the delay action mechanism had been put out of gear by the shock of landing, in which case any disturbance might set it in action again.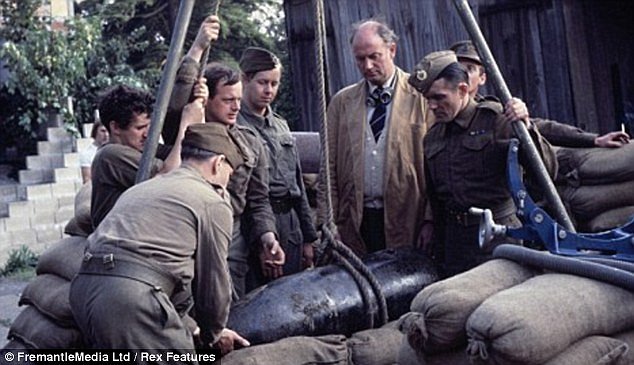 Having uncovered a UXB, a decision had to be taken whether it should be destroyed or whether the fuse, possibly of unknown performance, should be extracted. Whatever the choice there was always the danger that tampering with, or moving the bomb would cause it to explode without warning. Later the enemy added all sorts of complications, most serious being attachments to the fuse which caused the bomb to detonate if attempts were made to withdraw it. Many of the delay action fuses were operated by clockwork and stethoscopes were used to hear if they were still ticking, or if the disturbances caused by the work set them in action again. 
Thirteen members of Bomb Disposal were awarded the George Cross in the United Kingdom during the war for especially hazardous work in a particular incident, or for continuous devotion to duty dealing with UXBs. In all, 55 Officers and 339 men were killed in action from 1939 - 1945 serving in Bomb Disposal. It is not surprising that in the face of such danger, the cold-blooded heroism displayed by the brave men of the bomb disposal units, should have captured the admiration and affection of the public, in both reality and in this tense drama series, which was dedicated to the memory of these true-life heroes.
Published on December 6th, 2018. Written by Laurence Marcus for Television Heaven.