Devil in the Fog
1968 | United Kingdom
"In the beginning this tale tells how I, George, eldest born son of Master Salathiel Treet, strolling player and man of genius, came to have greatness thrust upon me." 
When writer Leon Garfield submitted his first book-the pirate novel Jack Holborn to a publisher, an editor saw its potential as a children's novel and persuaded him to adapt it for a younger audience. It was published in 1964 and was followed two years later by Devil in the Fog which won the first ever Guardian Children's Fiction Prize, an award that has been given annually ever since for works of children's literature by British or Commonwealth authors. 
Two years later Devil-in-the-Fog was dramatised for television by Stanley Miller. The series tells of the adventures of the Treet's - a family of 18th century strolling players who travel around England entertaining at various hostelries. One night a stranger visits the head of the family, Salathiel Treet, with a message. One of Salathiel's children is not a Treet at all, but in fact the son of a nobleman, Baron Dexter. With the old Baron dying it is time to tell George that he is heir to a baronetcy. George returns home but is soon entangled in a bitter family feud which threatens his very life.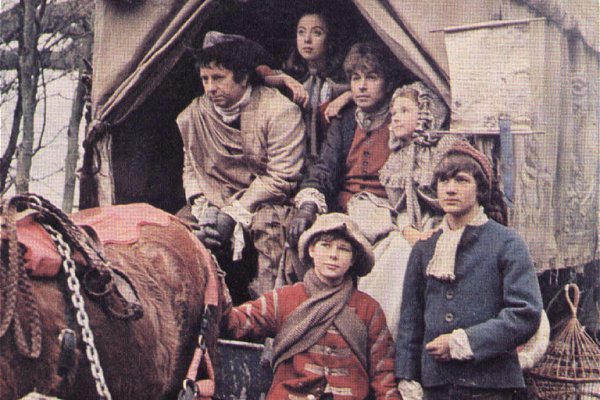 The story includes scenes in a manor house, which had to be so old it could have been inhabited in 1750. But finding such a place to order presented producer Michael Currer-Briggs with a headache. For days he toured Sussex but the ideal place eluded him. Just as he was despairing of finding a suitable place, he read of Ightham Mote, a 14th century manor house near Sevenoaks, Kent. "I'd been motoring since dawn," said Michael, "then the fog came down. I was lost...suddenly, after an hour of circling aimlessly through swirling mists I spotted Ightham Mote. It was empty and deserted looking. It's eeriness sent chills through me. Immediately I knew this was it." 
Apart from Devil-in-the-Fog many of Garfield's books (all of which have a historical setting) have been adapted for film or television: His next novel, Smith, was made in 1970; The Strange Affair of Adelaide Harris was made into a 6 part BBC serial in 1979 and Black Jack was made into a feature film by Ken Loach. Devil-in-the-Fog was first broadcast on Friday 21st June 1968 at 5.20pm. 
Published on December 7th, 2018. Written by Laurence Marcus for Television Heaven.