6 Dates With Barker
1970 | United Kingdom
This was Ronnie Barker's second series of six individual comedies in which he played a different character in different situations. The earlier series, The Ronnie Barker Playhouse, had produced, from a single episode, a new character that was developed for a full series; Lord Rustless. It was hoped that this series might also produce a new starring vehicle for the versatile Mr B. Ultimately, it produced two spin-offs for him. 
Each episode was set in a different time period (the six dates in question). Episode one was set in 1937. On Coronation Day Mrs Vaile and her daughter are preparing to move from their fashionable London home. But first, their belongings need to be packed away and transported to Southampton. A simple enough task for any removal man - just as long as he is not so short sighted that he can't see beyond his own nose. Enter one Ronnie Barker Esquire in the form of myopic removal man Fred. This episode, written by Hugh Leonard, was the basis for Clarence, RB's final TV series which was made 17 years later. And whilst 'Clarence' wasn't the most celebrated of Barker's work this particular episode 'The Removals Person' finds him, and co-star Josephine Tewson, in fine form.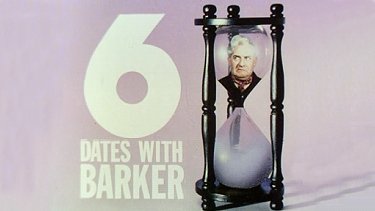 Episode two is set in 1899 and was redone by Barker and his Two Ronnies partner, Ronnie Corbett, just a few years later in episodic form as part of the two Ron's series. The Phantom Raspberry Blower Of Old London Town is probably one of the more disappointing episodes from this series. It is written by Spike Milligan and in typical Goonish style flits between straight comedy and the surreal-but it doesn't always work. Like a lot of Milligan's television material the story has moments of sparkling wit and high comedy followed by long periods when - well, it just doesn't work. Milligan fans (and a number of Barker fan's, too) will probably love it, though.
Episode three is by far the highlight of the series. The Odd Job sees Barker as Arthur Harriman, a man who, every Friday without fail takes a nice bunch of flowers home to his wife. However, the predictability of her husband (daffodils every Easter, chocolates every birthday and a sensible nightie every anniversary) has left Kitty Harriman (played by the wonderful Joan Sims) driven to the point of no return. As she packs her bag and leaves him, Arthur threatens to kill himself. But the poor man has no idea how to go about it. It's at that point that the odd-job man knocks on the door. Clive is played by a future king of comedy. David Jason produces a show-stealing performance as the inept assassin that Barker hires to do the dirty deed. But as incompetent as he is, when Arthur changes his mind, he can't find a way to call Clive off. 
The script by Bernard McKenna was later adapted for a 1978 movie, which starred Graham Chapman (of 'Monty Python' fame) in the Barker role. Mr McKenna was kind enough to email me and tell me: "In 1969 I was a humble Script Associate for LWT and had also contributed sketches to Hark At Barker. I was at a writers' meeting when all the ideas for 6 Dates With Barker were being discussed and there were a couple of gaps and I tentatively mentioned an idea I had. They loved it and as you say Ronnie & David were superb. It was my first full length 30 minute comedy and it quickly opened the doors for me to start co-writing the Dr series (Doctor In The House & Doctor at Large) for 7 years! I was fortunate to be at a lunch party at Ronnie B's the year before he died and David Jason was also there and with all his backlog of work suddenly people were remembering The Odd Job! "
Episode four is set in 1915. Lola is really a typical British farce. Set during the First World War it features Barker initially in the role of Fritz Braun, shorthand typist to head of German espionage Captain Otto von Diesel. When Fritz is fired from his job his boss orders his execution (because he knows too much). In order to stay alive Fritz pretends to be a missing German spy - the only problem being that the spy is a female - Lola. This is of course an excuse for Barker to don drag for the remainder of the episode as he is sent on a secret mission behind enemy lines. Not the best in the series, although it features guest appearances from Freddie Jones as a randy but bumbling British Major and Valentine Dyall as Lord Kitchener. The episode pokes fun at the wartime Germans and the British in a way that 'Allo, 'Allo would do to greater effect a few years later.
Episode five is set in 1971. Come In And Lie Down features Barker as a psychiatrist who is awaiting his first patient of the day. The patient is late but the gasman is waiting to read the gas meter. So Barker lets him in and it soon becomes clear that the gasman has certain problems of his own. Well he would do-he is actually the late patient who was too worried to come in as himself for fear of being tagged 'a loony.' Mr Matty is being followed by a small man who wears a raincoat, a Robin Hood hat and is holding binoculars through which he watches him. The problem is - nobody else can see him except Matty. That is, until he appears from behind the back of a settee in the psychiatrist's office. This episode is written by John Cleese and is something of a forgotten gem. Both performances by Barker and special guest star Michael Bates (as the patient) sparkle from start to very unexpected finish, and within Bates' character one can detect the maniacal mannerisms of one Basil Fawlty. 

Episode six is set in 2774 AD. In All The World's A Stooge we are transported to a time in Earth's future when all religion has been replaced by comedy. Any event and every event is accompanied by a joke and a smile. Even death. Barker plays Prince Boffo, who takes over as head of state when his father passes away during a televised death scene (but not before one last joke). The old man may die laughing but when Barker begins to shed a tear for his dearly departed the television audience are at a loss to explain why their future leader is 'leaking from the eye'. Clearly this is a society where any emotion, apart from laughter, has long since been banned. It's an interesting subject for a half-hour comedy (in the 1980s Doctor Who visited just such a world in 'The Happiness Patrol') and its message becomes abundantly clear by the last scene. The script for this one is credited to Gerald Wiley. It was still a few years before anyone knew this was the pen name for Ronnie Barker.
6 Dates With Barker ably showcases the talents of the late lamented Ronnie Barker and is essential viewing for fans of RB and British comedy in general. It has been released by Network DVD in its entirety and is available on its own or part of a set with Hark at Barker, the series featuring Lord Rustless.
Published on January 30th, 2019. Written by Marc Saul (October 10th 2008). Special thanks to Mr Bernard McKenna for Television Heaven.