Fanny's Kitchen
1955 | United Kingdom
Phyllis Craddock and her third husband Major John Craddock (the second 'd' in Craddock was dropped for professional purposes) were quickly poached from the BBC's Kitchen Magic in 1955 to present ITV's first cookery programme, whereas Fanny and Johnny they quickly established themselves as the country's leading experts on all things culinary. 
They were not the first television chefs. Phillip Harben had first appeared in 1946 with his twenty minute Cookery series of programmes, which guided housewives on the best way to make the most of their ration book allowance. But by 1955 with food restrictions lifted, Fanny, who replaced the standard chefs apron for an evening gown, hanging earrings and pearls, was able to introduce gourmet cooking to a waiting (and one suspects hungry) British public in the style of her Daily Telegraph column, 'Bon Viveur.'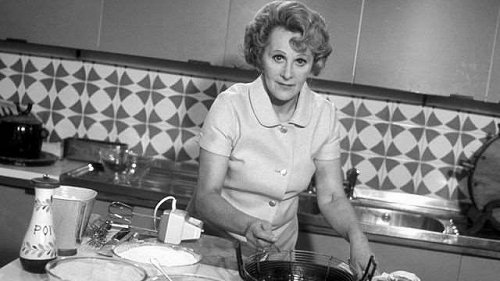 Although they always appeared as a couple it was clearly the lady who was in charge, gruffly ordering her husband around the kitchen in a style that later led to many a parody from the likes of Benny Hill, who would take great delight in presenting Johhny (usually played by comedian Bob Todd) as a rollicking drunk knocking back the wine and creating all sorts of kitchen disasters. Joke or not, Fanny and Johnny enjoyed a hugely successful TV career that endured until their retirement in the 1970s. 

During the course of their career they were ever present on television in series such as Fanny's Kitchen (1955, 1957, 1961), Chez Bon Viveur (1956), The Cradocks (1962), Giving A Dinner Party (1969), Fanny Cradock Invites (1970) and Cradock Cooks For Christmas (1975). They even had a regular spot, 'Happy Cooking' on the children's programme Tuesday Rendezvous (1961-63). Johnny passed away in 1987, Fanny survived him by 7 years. 
Published on December 11th, 2018. Written by Laurence Marcus for Television Heaven.