Fleabag
2016 | United Kingdom
Fleabag is a British comic drama written by and starring Phoebe Waller-Bridge , which first appeared on BBC Three in July 2016. The story concerns itself with the eponymous Fleabag (who is not addressed by any other name for the show's entire duration), a twenty-something female living in London with a sideways view on life. This vista becomes literal at multiple moments in the show, as Fleabag glances askance at the camera and conspiratorially deconstructs the fourth wall, inviting the audience to laugh along with her at the peculiarities of modern life. It was produced by Two Brothers Pictures in conjunction with Amazon Studios and ran for two seasons (the second of which aired in March 2019), after which Waller-Bridge announced that it had reached its conclusion.
At first glance, Fleabag's existence seems to be a fairly unproblematic and pleasant one. From a firmly middle-class background, she is an intelligent, independent and fiercely funny woman who has successfully established her own guinea pig-themed café. With a penchant for promiscuity, she has a liberal and liberating attitude towards sex, a pastime which she indulges in frequently. However, as we come to learn more about her life, it's revealed that she's a deeply unhappy and confused woman suffering from a double dose of grief. Still not over the loss of her mother, she harbours a dark secret concerning the death of her best friend and former business partner Boo (Jenny Rainsford). Humour and sex appear to be merely her chosen methods of masking the damage that these two losses have done to her psyche.
Fleabag's other problems are more commonplace and mundane. Her father (Bill Paterson) is emotionally frigid and unable (or perhaps unwilling) to help his daughter and the woman he has chosen to replace his late wife with is an insufferable snob (Olivia Colman) who alternately patronises and belittles Fleabag without a single ounce of shame. Her sister (Sian Clifford) is a highly successfully but incredibly uptight businesswoman who is locked into an unhappy marriage with an alcoholic misanthrope (Brett Gelman) and his creepy son (Angus Imrie). Fleabag's milksop boyfriend (Hugh Skinner) recently left her for the umpteenth (but final) time and the string of men she goes through in his wake are two-dimensional bores, while her guinea pig café is floundering financially and she can't seem to convince the bank to loan her the money she needs to turn things around, leading to an existential crisis about what she is doing with her life.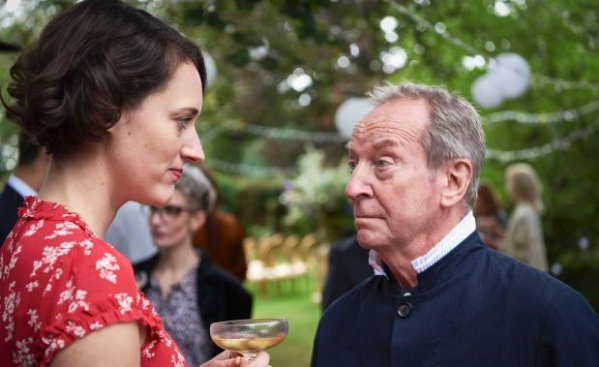 The banality of these issues makes them all the more relatable to the audience, since most people have surely experienced similar stumbling blocks with regard to family, relationships and career at some point in their lives. However, it's Fleabag's incisive wit and endearing personality (bolstered by superbly snappy writing and an impeccable performance from Waller-Bridge) which adds meat to this gristle, allowing the audience the chance to laugh at the banana skins that occasionally trip us all. In particular, it's the moments of confidentiality with the camera that give the show its defining feature and make it stand out from the crowd, as Waller-Bridge successfully draws us into Fleabag's world. This edginess and inclusiveness also sets it apart from other comedies focusing on middle-class subjects (The Good Life, Keeping Up Appearances, My Family), as the gags aren't afraid of lying down in the gutter and inviting us to laugh with (not at) those looking at the stars.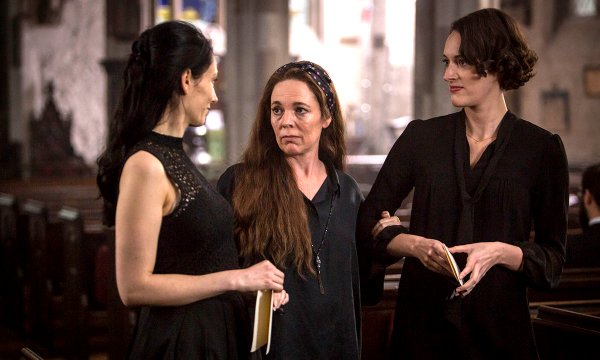 However, it's far from being just a throwaway comedy. The darker themes of bereavement and its attendant anguish give the piece gravitas, turning it from a light and fluffy quirkfest into something with a little more heft. The slow revelation of Fleabag's involvement in and guilt regarding Boo's death is particularly well-handled, luring the audience in and divulging its details incrementally to achieve the desired effect at its pay-off. It also paints her humorous interjections and sexual misadventures in a new light, giving them both a background (and perhaps a justification) as more of a coping mechanism than merely the wanton whims of an adult who has never quite grown out of adolescence. The character arc displayed in series two builds upon this idea and adds depth to Fleabag's personality, making her far more than just a figure of fun.
On the other hand, that's not to say that the writing is completely without flaws. The supporting cast of characters – especially the males in the first season – are often very loosely sketched, representing mere caricatures of one "type" or other. This could, of course, be an intentional gambit aimed at highlighting the paucity of well-drawn female characters created by male hands, but even so, the existence of so many implausible individuals detracts from the enjoyment of the show as a whole. This is addressed in series two with the addition of a more fully-rounded personage who plays a greater role in Fleabag's development, thus boosting the show's enjoyment factor and increasing its credibility as it matures.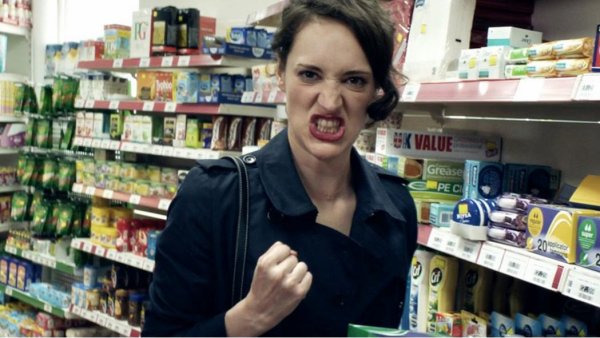 However, there is a similar problem which manifests itself in the relationships of those with whom Fleabag surrounds herself, and it's one of which doesn't exactly evolve as the series deepens. For example, both her sister's crumbling marriage and her father's impending one appear to be both bereft of real emotion and superficially simplistic. Again, it may well be the point of the show; that all human relationships are nothing more than mere husks upon which we hang our own insecurities and frailties. If so, it's a bleak message delivered in a cynical fashion, but it does make for darkly entertaining viewing that allows viewers to poke fun at the absurdity of their own human interactions and experiences, some of which they may well see reflected in Fleabag's onscreen struggles.
Despite such minor criticisms, it's an exquisitely written, hilariously funny and surprisingly profound piece of television which has had critics and fans falling over themselves to pile plaudits onto Waller-Bridge. She already has a BAFTA, a British Screenwriters' Award, a Broadcasting Press Guild Award and a Writers' Guild of Great Britain Award under her belt for the first season and is being tipped for many more for the second. Meanwhile, although Fleabag itself may have come to an end, Waller-Bridge has drawn similar praise for her semi-comic spy caper Killing Eve and has even been drafted in to liven up the next James Bond release. As such, it's clear that Waller-Bridge's talents will be put to good use for many years to come.
Published on April 22nd, 2019. Written by Jonathan Sweet 2019 for Television Heaven.