Foo Foo
1959 | United Kingdom
Foo Foo was created for ABC Television in the UK by Halas & Batchelor, who had been producing films since 1940. John Halas and Joy Batchelor met in Paris in 1932 and moved to London just before the outbreak of the Second World War. 
They initially made a living illustrating posters, books and magazines and later found work with the J. Walter Thompson advertising agency, which set them up in their film unit at Bush House, London. They founded Halas and Batchelor Cartoon Films and married shortly after. By 1950 the studio had produced over 100 films. In animation terms Foo Foo was simplicity itself.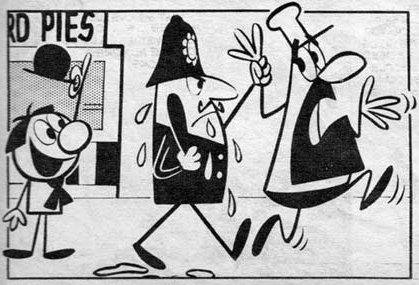 The character had a square body with a large round head and bulbous nose. Arms and legs were simple straight lines. The charm of the cartoon came from the characterisation. Foo Foo had a love interest called Mimi, but a rival for her affections in the shape of Gogo. The series proved enough of a hit to be sold for syndication to the USA becoming the first British animated series to be sold to America. The studio was sold to Tyne Tees Television in the early '70s, resulting in Halas and Batchelor making popular Saturday morning cartoons like The Jackson Five (1972) and The Osmonds (1973).
Published on December 13th, 2018. Written by Laurence Marcus for Television Heaven.