Hammer House of Horror
1980 | United Kingdom
From the mid-fifties to the mid-seventies, Hammer Films were one of the leading lights of the British film industry, dominating the horror film scene with their reinventions of Dracula, Frankenstein, The Mummy et al. Their films were the first to present these well-known works in full colour and the Hammer brand became a trademark for horror films that were very English, gothically rich and with a pervading undercurrent of sexuality provided by a string of glamorous actresses.
However, after almost twenty years of being fed this diet by Hammer, the public were, by the beginning of the 1970s, tiring of the Hammer style of horror. New films like The Exorcist were presenting new, darker, more psychological types of horror. Michael Carreras bought the company from his father, James, and continued making the same types of films that Hammer had become known for – lavish gothic horrors and feature film versions of popular tv sitcoms such as On The Buses and Man About The House, but behind the scenes he was actively seeking new avenues and hired writer Don Houghton to develop various television projects.
Previously, Hammer had only cautiously entered the domain of television. Firstly, they had embarked on an American-backed series called Tales Of Frankenstein in 1957 which never progressed beyond a pilot, then a decade later Hammer had made an anthology series that had again been financed in America, this time by Twentieth Century Fox and the ABC network. This series ran for 17 episodes and was called Journey To The Unknown. The various television ideas that Hammer floated included a new Robin Hood series plus a rather ambitious plan to remake all their best feature films as 50-minute teleplays in a series called 'The House Of Hammer'. Also mooted was another anthology series, like Journey To The Unknown, but with more emphasis on the traditional Hammer elements. Finance could not be raised though – no potential backers were sufficiently interested in the ideas and the Hammer studio itself was by now in dire trouble, with its most recent feature films failing to make money. Carreras tried once more to get ABC in America interested in backing a tv project, this time a far less ambitious one called 'The Halloween House Of Horror', a three-part documentary which could be broadcast around Halloween and present both original film clips and behind the scenes material in a new framework. Yet again this failed to get off the ground.
In 1979 Hammer had to call in the receivers, but two former Hammer board members, Brian Lawrence and Roy Skeggs, who had formed their own production company Cinema Arts, assumed new control and the pair immediately began looking at ways to revitalise the company. This again led to serious consideration of the television projects and the only one that seemed at all viable was the anthology series, though Lawrence and Skeggs knew that if it was going to get any backing and also find a favourable audience, it would have to be new and contemporary rather than just be a rehash of the old Frankenstein and Dracula ideas. Finance was sought not from America but closer to home and was found in the form of Lew Grade's ITC, the commerical wing of ATV. They wisely decided that any television project would have to be at least partly developed by someone who knew the tv industry well so they drafted in experienced writer Anthony Read to act as script editor, a role he had just been performing for Doctor Who. The existing scripts were looked at and it was decided that only one had any potential for inclusion in the new series which initially was titled 'The House Of Hammer.' Read wrote a script himself and drafted in several writers he believed would be able to produce the kind of material that was required. A few of the final scripts also came from freelance submissions. 
Skeggs and Lawrence needed a new base of operations and so purchased Hampden House in Buckinghamshire which had previously been a private school. Most of the production of the new series, including the editing, was overseen there but there were no studio facilities – the new series would be shot entirely on location, on 35mm film. Assembling their crew, the two men unsurprisingly drafted in a number of former Hammer employees whom they trusted to do a good job. These included directors Peter Sasdy, Alan Gibson and Don Sharp plus visual effects man Ian Scoones. Production of the new series was quick – the scripts were written in a shorter time than was desirable and each of the thirteen 50-minute episodes was shot in two weeks, totalling approximately six months filming. Some of this took place on the grounds of Hampden House itself, much of the rest of it was done in the local area, in particular the nearby church and the village of Great Missenden. 
When the series, finally titled Hammer House Of Horror, debuted on 13 September 1980, there was considerable media interest thanks to the reputation the Hammer Horror films still had. The thirteen stories presented were a varied bunch of horror ideas, covering voodoo curses, devil worship, werewolves, witches, and body snatchers to less fantastical ideas such as cannabalism and serial killing. All of the episodes seemed to have a footing in contemporary rural England, were generally played straight and, interestingly, each seemed to finish on a downbeat ending, often with the forces of evil triumphant. Writers included Anthony Read himself, David Fisher, Gerlad Savory and David Lloyd amongst others whilst some of the acting talent was top drawer with names like Diana Dors, Denholm Elliot, Paul Darrow and Anthony Valentine gracing the cast lists. The name that drew everyone's attention, however, was that of Peter Cushing, a veteran of many of the Hammer Horror films. Cushing admitted to agreeing to appear out of loyalty to the Hammer studio and played the role of an ex-Nazi whose experiments on the effects on animals in captivity begin to go a little too far when he extends them on human beings in the episode The Silent Scream. Probably the best remembered episode is The House That Bled To Death with many people recalling the scene when a childrens' party is interrupted by a fault with the plumbing – a pipe spurts out blood over all the screaming children.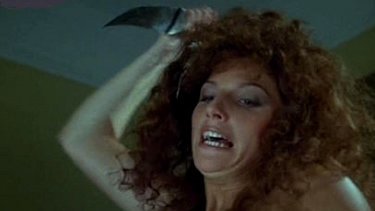 The series was well-received both in the UK and around the world. It enjoyed several re-runs including some in 'double'feature' format. The effective theme music, a composition by Roger Webb, was released as a single. The series titles were shots of Hampden House at nightfall, apparently quiet and deserted save for an unidentifiable figure extinguishing a candle in an upper-storey window. Naturally Hammer hoped to repeat their success and Anthony Read wrote a script in anticipation of a second season. However plans stalled when ITC hit financial problems following the disastrous film Raise The Titanic, with Jack Gill's directorship coming to an end. After the dust settled, Hammer found that the new ITC were not prepared to finance a second season, so were forced to look elsewhere for a backer. It was to come once more from an American source but with conditions, one of which was for any new series to tone down the horror elements. So, Hammer House Of Horror was no more, eventually re-materialising as Hammer House Of Mystery And Suspense in 1984.
Related Article: Hammer House of Horror - Episode by Creepy Episode
Published on December 20th, 2018. Written by David May (September 2005) for Television Heaven.