Hay Fever
1960 | United Kingdom
"I'm an enormously talented man, and there's no use pretending that I'm not." - Noël Coward
Born in 1899, Noël Coward was raised as a working-class boy in London. His parents were what would be considered in the Victorian age as 'unremarkable,' father was an unsuccessful piano salesman with little personal ambition, and this often resulted in the family having to struggle with their finances.
But it became apparent that from a young age that Coward, an avid reader with an insatiable ambition to learn, was possessed with a natural intelligence. His mother had more ambition for him than his father did and sent him off to a dance academy at a young age. Coward entered the professional world of theatre at the age of 12. He quickly flourished and gradually became acquainted with a different class of people.
His breakthrough in play writing came at the age of 25 with the controversial 'The Vortex', which featured drugs and adultery among the upper classes. Considered shocking in its day it became a sensation in London and made Coward a star. The success of 'The Vortex' in both London and America caused a great demand for new Coward plays. In 1925 he premiered 'Fallen Angels' followed by 'Hay Fever'. It was the latter of these two plays that was to go on to be described as a classic.
Hay Fever, which Coward had written in 1924 was a comic play and was inspired by the writers' first visit to New York City in 1921. During that visit he had befriended the playwright Hartley Manners and his wife, the actress Laurette Taylor. It was their flamboyant and exaggerated lifestyle that was his inspiration. He wrote the entire play in three days.
The play opens one Saturday afternoon in June at David Bliss's house at Cookham in Berkshire, by the River Thames. David is a novelist, his wife Judith a retired stage actress with a predisposition towards exuberant absent mindedness. Longing for the glamour and excitement of the stage she compensates her loss by dramatising her life, fully aware that the rest of her temperamental and egotistical family will play up to her magnificently. Also in residence are the couple's children, brother and sister Simon and Sorel. Unbeknown to all four of them each has invited a guest for the weekend.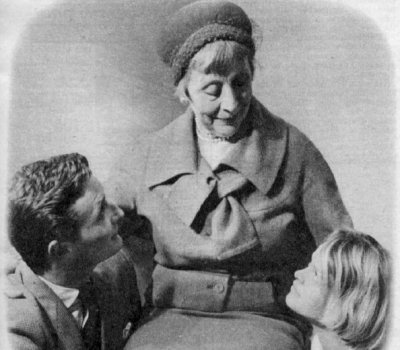 Judith has just announced that she has decided to return to the stage in one of her old hits when the first guest arrives. Sandy Tyrell is a fan of Judiths from her theatrical days. Soon after, the second guest arrives - the vampish Myra Arundel, whom Simon has invited. The other two guests arrive together: Richard Greatham, a diplomat, and Jackie Coryton, a brainless but goodhearted young flapper. As the evening unfolds Judith flirts with Richard but when he kisses her she theatrically over reacts and threatens to tell David, Sandy and Sorel are caught kissing by Judith, and David and Myra indulge in a flirtation - only for Judith to walk in on them, too. Pandemonium breaks out which results in Judith falling to the floor in an exaggerated faint.
The following morning at breakfast another row breaks out, but this time its as the result of David reading the final chapter of his latest novel. As the family begin hurling insults at each other their guests slip out unnoticed and it's only when the argument subsides that they realise they are alone again. Judith comments, "How very rude!" and David adds, "People really do behave in the most extraordinary manner these days."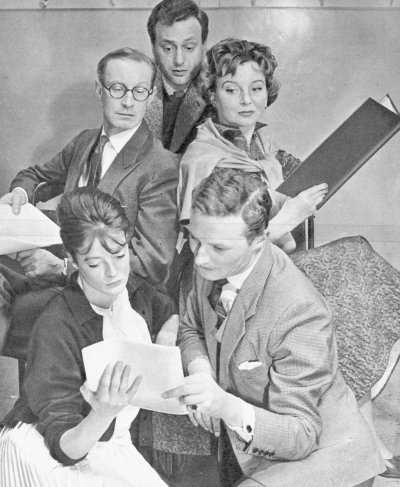 Hay Fever was broadcast on 24 May 1960 as part of ITV's anthology series ITV PLay of the Week. The cast included Dame Edith Evans as Judith, Pamela Brown as Myra, George Devine as David, Richard Wattis as Richard, Judith Stott as Sorel, Paul Eddington as Sandy and Maggie Smith as Jackie.
Interviewed by TV Times in 1960, Evans said of the play "I think it will go on reflecting one aspect of the 20's for many years to come. Coward is a brilliant writer and Hay Fever is still an amusing, volatile and inconsequential entertainment." Coward, who attended the early rehearsals said "I enjoyed writing and producing it and I have frequently enjoyed watching it. I couldn't have hoped for a finer cast. I've long been an admirer of Dame Edith and I was delighted to hear she was doing it." 
Critically the play was received positively with The Times reviewer calling Hay Fever "Mr Noël Coward's best play…one of the most perfectly engineered comedies of the century." Unfortunately the recording is now lost, and so too is a BBC production from 1968 which starred Celia Johnson, Ian McKellen, Dennis Price, Richard Briers, Charles Gray and Anna Massey. However, a later recording by the BBC from 1984, starring Penelope Keith, Patricia Hodge and once again Paul Eddington (this time as David) is still believed to be held in the archives. The most recent stage production was in 2014 at the Theatre Royal, Bath. Felicity Kendal played Judith.
Link: A Choice of Coward 
Published on April 14th, 2020. Written by Laurence Marcus for Television Heaven.