Ivanhoe
1958 | United Kingdom
Roger Moore in his TV series debut starred as Sir Walter Scott's 19th century hero Wilfred of Ivanhoe. Moore has since stated how much he hated this series, but it was his first step to immortality as one of the biggest international stars on television. 
Returning from the Crusades to find that the evil Prince John (Andrew Keir) has seized power from his absent brother King Richard, Ivanhoe frees two doomed serfs, Gurth (Robert Brown) and Bart (John Pike), before setting about righting wrongs and helping those in distress. This type of swashbuckling historical series was a staple diet of ITV in it's early days and this series, aimed at younger viewers, followed the standard format of rousing swordplay and excellent stunt work, most of which the star of the series insisted on doing himself. Guest stars on the series included Christopher Lee and John Schlesinger and Ivanhoe's executive producer Peter Rogers went on to develop the 'Carry On' series of films.

In December 1956 Columbia approached Roger Moore to play the title role in an intended 39 episode adventure series for transmission in both America and the UK. In early 1957 the series went before the cameras in fields around Beaconsfield in rural Buckinghamshire. The series began on UK television in January 1958 in the late afternoon Children's Hour and continued shooting until that summer. With only fleeting references to Sir Walter Scott's original, Ivanhoe the television series was full of swirling swords and derring-do.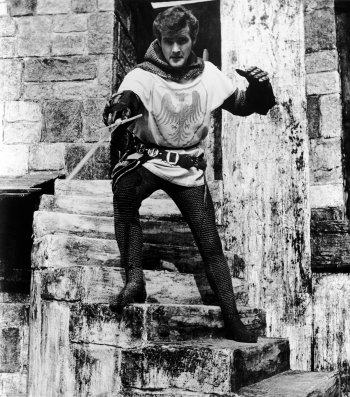 Moore threw himself into these with so much fervour that he ended up being kicked by his horse, cutting his hand on his broadsword, suffering three cracked ribs from an over enthusiastic extra and his lance, and being knocked unconscious when the flat of a battleaxe collided with his (fortunately) helmeted skull. "I felt a complete Charlie riding around in all that armour and damned stupid plumed helmet," he said. "I felt like a medieval fireman." The dangers were not just confined to the set either, as Moore wrote in his diary: "I stepped from a car at the stage door where a mob of teenagers surrounded me with autograph requests. I was smoking a cigarette and to have both hands free I stuck it in my mouth. Suddenly a teenage cockney voice said "'Ere Mate, let's 'ave a souvenir," and my cigarette was pulled out of my mouth taking a lump of lip with it. At the same time I felt a button go and a hand on my fly. My proudest possession was about to be produced for public examination. I hollered and fled." 
At thirty years of age Moore was worried that the series might typecast him and in spite of the growing adulation he was receiving from fans of the series when Warner Brothers offered him a role in a movie called The Miracle he was more than happy for them to obtain his release from Columbia. In July 1958 Roger left the muddy fields of Beaconsfield for the glamour of Los Angeles. Although The Miracle was not a great success (both Richard Burton and Dirk Bogarde had turned down the part) Moore's charismatic charm brought him to the notice of US producer Roy Huggins who employed him to replace James Garner in the popular series Maverick, when Garner quit over a contract dispute. Moore was not over enthusiastic about Maverick, either, and by the time he joined it's best years were behind it. At the end of his run he swore he'd never do another television series. Within a year he was offered The Saint and television immortality beckoned.
Published on December 23rd, 2018. Written by Laurence Marcus for Television Heaven.