The Jack Jackson Show
1958 | United Kingdom
According to the 1958 ATV Show Book "no world of jazz and pop fantasy was ever more fantastic, more unexpected, funnier or, when it needs to be, pleasingly sentimental than this thing called The Jack Jackson Show." 
Jack Jackson was a bandleader and trumpeter who gave up his musical career in the late 1940s to compere a BBC radio series called Band Parade. In June 1948 he was given his own late-night record show called Record Round Up and over the next twenty years his unique style made him a household name and influenced a generation of radio disc jockey's, not least of all Kenny Everett. 
Jackson's trademark was his lightning cuts between comedy extracts and mock-interviews utilising quick soundbites from popular radio and television programmes of the day such as The Goon Show, Hancock, Benny Hill and (later) Steptoe and Son and Till Death Us Do Part. All this between the musical hits of the day. He was one of the first DJ's to try and transfer the same format to television (Everett did this more successfully with his 'Video' show in the 70s and 80s), and although he received a huge amount of fan mail, the ATV series, which ran on Saturday night's in 1958 was seen as something of a failed experiment.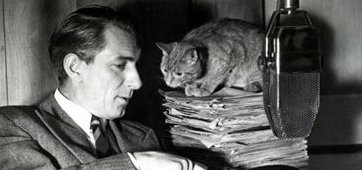 Rehearsal's for the show were done at a small studio in Foley Street in London's West End, and passers by would have seen a whole host of stars wandering in and out of those premises on any given day of the week. Those stars included Alma Cogan, Paddy O'Neil and her husband Alfred Marks (although the latter was not a regular), a very young Judy Carne, Libby Morris, Bill Haydn and Glen Mason. It is said that Sean Connery, a close friend of Mason's would also drop in and say "hello" once in a while. The format of the TV show was similar to the radio series with quick-fire comedy and soundbites but with Mason, O'Neil and Joan Savage miming to the snippets of dialogue. The series was produced by Peter Glover. 

When Radio One was launched in 1967 Jackson transferred from The Light Programme to host Record Roundabout which lasted until June 1968. He passed away in 1978, just short of his 72nd birthday. For a time one of radio's forgotten heroes, Jack Jackson was hugely influential and is now recognised in the Radio Academy Hall of Fame where some sound clips are available.
Published on December 24th, 2018. Written by Laurence Marcus for Television Heaven.