Variety Parade
1954 | United Kingdom
A show of which very little is known. It doesn't appear on IMDb and there does not seem to be any reference to it elsewhere - except the accompanying photograph from The Television Annual for 1955. From what we can make out Variety Parade, a BBC series, was steeped in the old music-hall tradition and was a showcase for stars of stage, television and radio. Its intention was to recreate and reinvigorate that same music-hall spirit which had dwindled over the previous thirty years.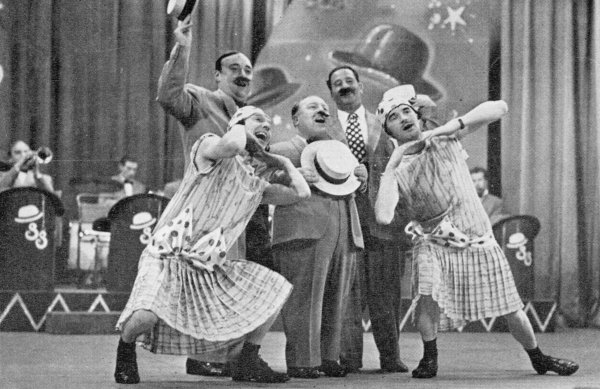 Variety Parade was produced by the prolific Bill Lyon-Shaw, the man who produced and directed Sunday Night at the London Palladium in 1956, was credited with discovering Benny Hill and became head of light entertainment at the BBC. He later became the programme controller of Tyne Tees Television in the North-East and passed away in May 2010 at the grand old age of 96. Lyon-Shaw intended to work as a surveyor but went into repertory and ran his own company at Margate. He joined TV after working as production manager to Jack Payne. "When I produced Sunday Night at the London Palladium we had 18 million viewers. Now there are hundreds of channels, not 18 million between the lot of them," he said in 2009, adding, "Now it's (television) ceased to be an entertainment industry and become a business." 
Published on February 11th, 2019. Written by Laurence Marcus for Television Heaven.