Get it Together
1977 | United Kingdom
TV producer, Muriel Young, came up with the idea for a new TV pop music programme to follow on from her successful shows, Lift Off with Ayshea, the Bay City Rollers Shang-a-lang and The Arrows TV show.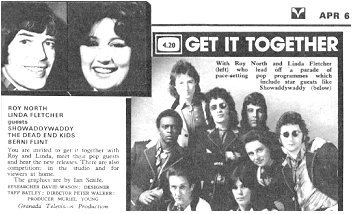 Named Get it Together, it was filmed at Granada TV Studios in Manchester and shown weekly, all around the UK ITV network (with the exception of Wales) on a Tuesday at 4.20pm, just as everyone got home after school. 87 episodes were filmed between 1977-1981, with the first episode shown on April 6th, 1977. Co-hosted by actor/presenter, Roy North (fresh from his work as sidekick to Basil Brush) and singer Linda Fletcher (who was spotted by Muriel when she won New Faces in November 1976). When Linda decided to leave the show in mid-1980, presenter Megg Nicol took over until the last episode was screened on December 22nd, 1981.
The programme went through many format changes over the years. The early episodes were filmed in front of a loud, enthusiastic, young teenage studio audience and included a studio quiz (boys versus girls). The show included live studio performances from top chart acts and young energetic bands getting their first TV exposure. The co-presenters also sang songs live each week - Roy singing fun songs and Linda singing the current hits and pop classics. Later, the format changed to include live guest performances and pop video's, with a resident dance troupe, the TSD's (Teri Scoble Dancers) and filmed without the studio audience. Requests were sent in to the show and the main emphasis was on the music.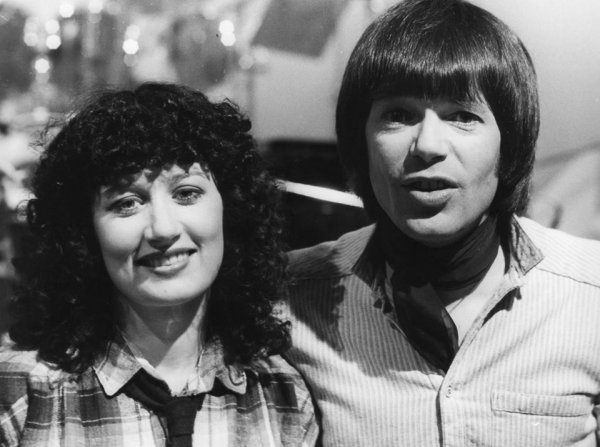 The studio house-band, with Mike Moran as Musical Director and including top session musicians, backed the visiting artists and co-hosts live in the studio. Mike Moran, an extremely successful composer/performer/musical director, also represented the UK in the 1977 Eurovision song contest with Lynsey de Paul with the song 'Rockbottom'. The band included session drummer, Barry de Souza, top session bass player Alan Jones who was also bass player touring with the Shadows. Guitarists Laurence Juber/Wings, Kevin Peek/Sky band, Ray Russell/top session player/song writer, organists Ritchie Close and Brian Ibbetson, percussionist Dave Hassell and the programmes Musical Arranger was Gerry Allison. The backing singers were Victy Silva, Val Stokes, Lynn Garner, Susie and Lavinia Rodgers. 
In mid-1980, having gone through many format changes, the IBA suggested that it had become more popular with an older age group and the decision was made to appeal to younger viewers. Wally Whyton's feathery friend 'Ollie (the Beak) Owl' was added to the cast, hoping to appeal to a younger audience. Unfortunately for Linda, a singer and constant giggler, not an actress or presenter, it proved impossible for her to talk to 'the Owl' without falling on the floor laughing. With an upcoming European tour with her band ahead, she decided to sadly leave the series and Megg Nicol took over for the remaining episodes.
The show had memorable wonderful live performers in the studio, including 2 appearances by Marc Bolan, a Bay City Roller Christmas Special and a Blue Special (the original band Blue). Slade appeared on a 'football themed' episode and many appearances by fun acts such as Chas & Dave and Showaddywaddy. On one early episode, Paul Nicholas was almost lost in the crowd while singing 'Dancing with the Captain' and there was an early career performance by U2, appearing live in the Get it Together studio in November 1980!. With the advent of the new 'pop music video', it became possible to also include performances by acts such as Abba, The Police and the Rolling Stones.
The programmes were directed by many fantastic directors over the years including Nicholas Ferguson, Peter Walker, David Warwick, Eugene Ferguson and a few episodes directed by ex-Monkee, Micky Dolenz.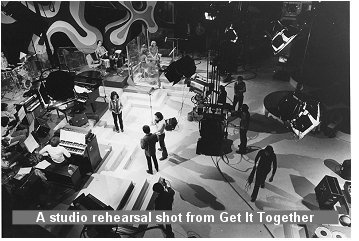 Muriel Young loved to include new young bands that had tremendous energy and ambition. Many appeared on Get it Together for their first TV performances. Made at a time when there were few opportunities for new young bands to find TV exposure, the programme was made for youngsters of the era. Filmed long before the era of slick manicured performances, digital vocal tuning effects or karaoke had been invented, the addition of a live studio band meant it had spontaneity and energy. Obviously, when compared to similar programmes today, it would seem dated but it was a fun 1970's pop programme made for 1970's youngsters. It was like having a youth club in their living room and with many memorable performances to remember fondly.
There's a Get It Together Facebook page at facebook.com/GetItTogetherTVprog
Published on December 18th, 2018. Written by Television Heaven (with special thanks to Linda Fletcher) for Television Heaven.