Take Hart
1977 | United Kingdom
Forget your Bansky's and your Hockney's. For several generations there was one artist whose inventiveness and creativity made a substantial and original contribution to art education in Britain and in the process inspired artists, animators, graphic designers and teachers. Whether using paints, clay, textiles, foodstuffs or materials that were inexpensive and readily available, Tony Hart had the magical ability to produce competent, entertaining pieces of work, easily, quickly and in an unpatronizing fashion.
Norman Anthony Hart was born in Maidstone, Kent on 15 October 1925 and became interested in art at an early age. In 1943 he was turned down by the RAF due to a slight deficiency in his eyesight. After following in his father's footsteps in the British Indian Army and then having a spell with the Territorials during the Korean War, he returned to civilian life and studied art in his home town. In 1950 he graduated and worked as a display artist in a London Store before turning freelance. His break into broadcasting came in 1952 after a meeting with a BBC children's producer at a party. After demonstrating his skill by drawing a fish on a paper napkin, he was engaged as the resident artist on the BBC/Children's tv programme The Saturday Special.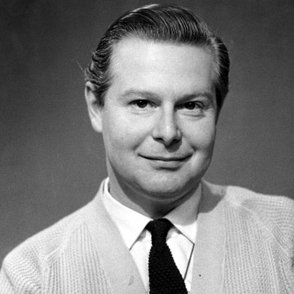 Without any formal television training Hart was pretty much thrown in at the deep end on 'Saturday Special', but he progressed gradually from only his hands being visible as he drew his illustrations, to appearing in front of the camera. When 'Saturday Special' was replaced by Playbox, Hart became the resident artist on that show, but by now he had developed his own laid-back soft voiced style and adopted the attitude that children were more likely to be inspired by art if you show them rather than tell them.
It was this approach that inspired children to send in their own artwork to be displayed on "The Gallery" in the ground-breaking series for the hearing impaired, Vision On. By the time that series finished, Tony Hart was a confident co-host and presenter and it was only natural that the next step would be for him to present a series of his own.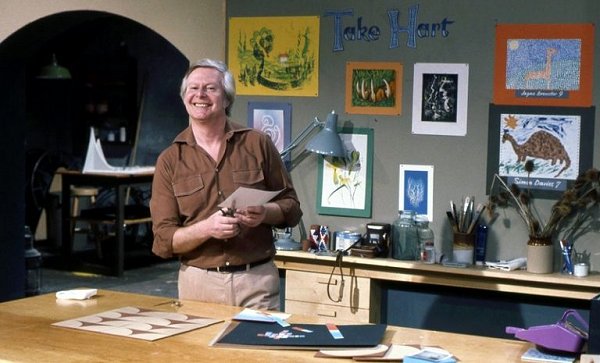 Take Hart retained a number of elements from 'Vision On' as well as adding some of its own. Unlike 'Vision On' which was obviously studio based, 'Take Hart' was set in a modern penthouse kitted out like Hart's own private workshop. For occasional company there was a janitor Mr Bennett (Colin Bennett) who would pop in from time to time to discuss problems like the heating boiler or missing buckets, all of which served to break the programme into segments and provide some link to items. But there was one other companion who would become a star. The character of Morph, a shape-changing plasticine creature who lived in a box on Hart's desk, that could mould itself into mimicking shapes, objects and creatures, was one of the more surreal parts of the series. The amorphous creature created by Peter Lord and David Sproxton (who later formed Aardman Animations) was an instant success with viewers.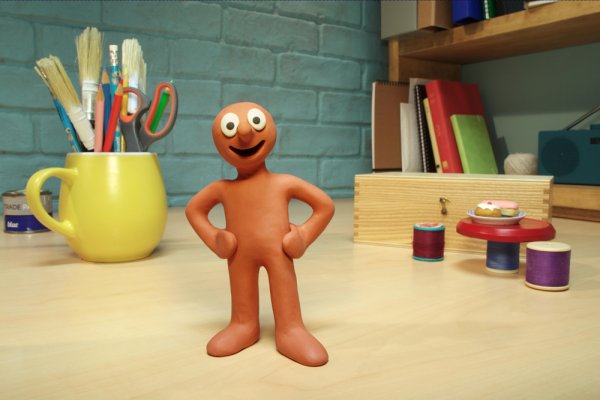 When 'Take Hart' was broadcast on Tuesday afternoons in 1977, it achieved viewing figures in excess of five million and it was estimated that no less than half the children in Britain aged between five and 14 were avid watchers. They sent in up to 8,000 items each week. By 1979, 'Take Hart' was being screened every morning. By that time, it had won Hart his first BAFTA for 'Best Children's Series.'
Tony Hart's vivid imagination and artistic genius was not confined to the studio flat either. Later episodes saw Hart take his work outside and his open-air artworks became a thing of television legend. Executed on beaches, in fields and even in deserted car parks, Hart would be filmed close up creating his latest massive masterpiece while the viewers were left guessing what it was, until the final reveal from a crane-mounted overhead camera.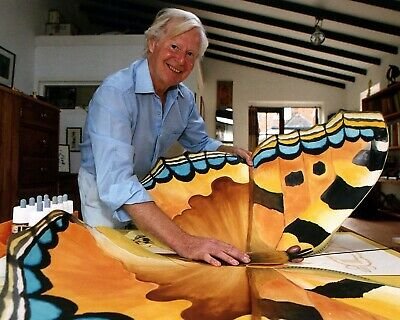 Unparalleled in its scope and originality, 'Take Hart' ran from 1977 until 1983. When it ended, Tony Hart moved on to other series bearing his name such as Hartbeat, a variation on the same theme, and Smart Hart. The series also inspired later TV shows such as Art Attack.
Tony Hart passed away in January 2009, but he left an enduring mark on the generations of children that watched and learned and wondered and were inspired by him. His influence was best summed up by Peter Lord, co-creator of Morph: "Tony Hart was a terrific artist - skilful, fluent and endlessly inventive. He could draw and paint beautifully and had a natural, elegant sense of composition and design. But I think of him primarily as a communicator. What an inspiring, inspirational career he had in TV - effortlessly encouraging young people to express themselves in every sort of visual medium. The different techniques he demonstrated were varied, surprising and delightful, and through the 'Gallery' he even established a dialogue with his viewers and their work. In person, he was amazingly modest about his talent and his achievements; and that TV manner - gentlemanly, kindly, and polite - was absolutely genuine and a reflection of the man."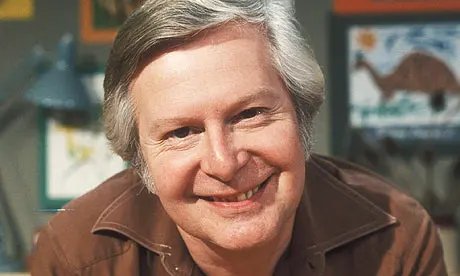 Published on July 23rd, 2020. Written by Marc Saul for Television Heaven.