Lost Christmas
2019 | United Kingdom
Christmas is a time for affirming, heart-warming stories, but that doesn't mean they have to be sickly sweet and cutesy. Some of the most beloved, and most uplifting Christmas stories have a decidedly grim set-up. A Christmas Carol is about people dying in poverty while the protagonist hoards his wealth. It's a Wonderful Life is about a man who's about to commit suicide. And the Nativity itself, in spite of being a mainstay of children's school plays, features a wave of infanticide. It's not all jolly robins out there.
Sometimes, the darker a story, the more uplifting it becomes, and this seems to be particularly true of Christmas tales. One such story is Lost Christmas, an often overlooked gem from 2011. A ninety-minute television film originally shown on BBC One, Lost Christmas is an urban fairy tale directed by John Hay (known for There's Only One Jimmy Grimble and the 2002 adaptation of Stig of the Dump) and co-written by him and David Logan, based on the latter's novel of the same name.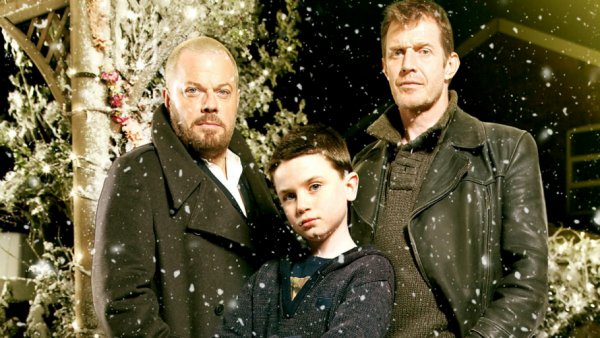 It's star draw was Eddie Izzard, who had broken out in mainstream acting from her phenomenal stand-up career with minor roles in cinema in the 1990s. Izzard had won acclaim with the lead role in the stage production of Lenny in 1999 and co-lead in A Day in the Death of Joe Egg in 2001, and notable cinematic roles around the same time in Circus, Shadow of the Vampire and The Cat's Meow (playing Charlie Chaplin), and by 2011 was a major screen name. However, while Izzard is the star of Lost Christmas, the central role is held by young Larry Mills (later of Lightfields), who portrays the ten-year-old Goose. (His name is actually Richard, but everyone calls him by his childhood nickname.) The film opens on Christmas Eve when Goose is gifted a puppy by his parents (as it wouldn't behave until morning), then hiding his father's keys when he is called out to an emergency in his job as a fireman. Instead, his mother drives him, leading to a sudden and horrifying crash when a lorry drives into them.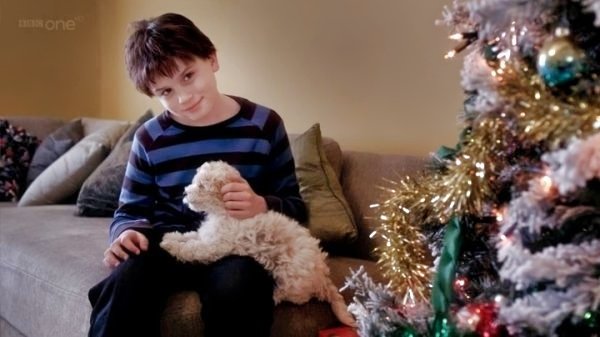 A year later, Goose is no longer the positive boy we just met. Since his parents' deaths, his life has unravelled, and he has turned to petty crime to try to make a little money to support his grandmother (Sorcha Cusack, Snatch, Father Brown, A Discovery of Witches) who is now his guardian but is suffering from dementia. He's fallen in with the wrong crowd, and sells his stolen goods to a fencer, Frank, once a friend and colleague's of his dad's whose life has fallen apart since his wife left him and he suffered a tragedy at work. Frank is played by Jason Flemying (also of Snatch and many other roles in cinema and television, up to 2019's BBC production of A Christmas Carol as the Ghost of Christmas Future). Flemying gives a real and sympathetic performance as Frank, who looks out for Goose even as he desperately tries to pull his life back together. Frankly, though, he's blown out the water by Mills, who gives an incredibly heartfelt and believable performance as Goose. He's exactly the right combination of mouthy little sod and lost little boy, and it's a real shame that Mills seems to have only acted for a couple of years after this.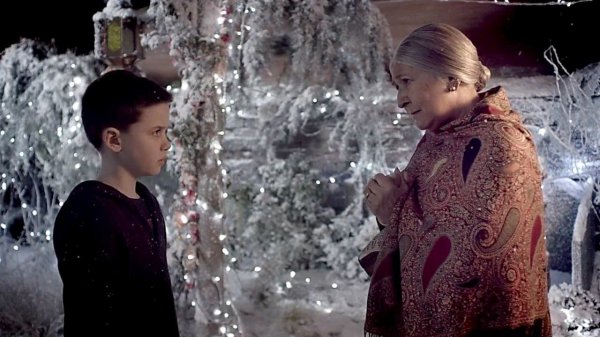 Izzard's role in Lost Christmas is as a mysterious drifter, who appears lying in the snow that night. He's wearing a name badge that says Anthony but that's the only clue to his identity, since he is suffering from amnesia, yet he has an enormous knowledge of seemingly unhelpful trivia that he'll drop at any moment. Anthony is discovered at first by Frank, but the next morning continually appears in people's lives as he wanders the streets. He's seemingly supernatural, but his origin is kept mysterious right until the end (it's possible to guess, if you're versed in the fantasy genre) but even then there's no explanation for how he came to be there. He has a strange ability to simply know things about the people he comes into contact with, performing a sort of psychometry when he holds someone's hand. He gains a sudden insight into people's stories and has an innate ability to find what they have lost – be it a trinket, a treasure or a loved one.
Izzard, as in many of her roles of the time, is in solidly masculine mode as Anthony, but brings a great deal of her recognisable personality to the character. Anthony's digressions and asides are very like Izzard's tangents during stand-up, but with a far more serious bent. There's an engaging, otherworldly quality to the entire performance, and at times it looks like Izzard is auditioning for the lead in Doctor Who, but it's largely more restrained than you might expect. Anthony's interaction with Goose is tender and hints at a powerful connection, but the wanderer's interactions with everyone are cautious and non-judgemental.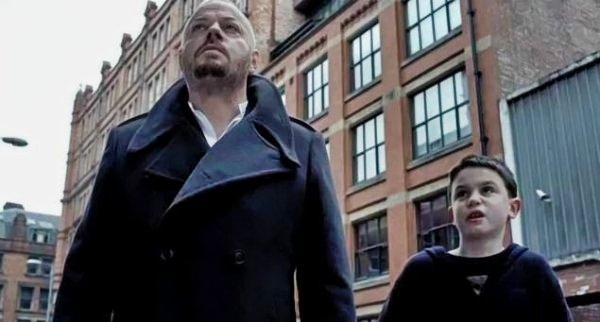 Anthony discovers his ability to reconnect people to the things they've lost when he encounters a woman who has lost her a bangle. Tracing this leads to Goose, who has stolen it, and is now himself trying to track down his lost dog. Encounter leads to encounter, with Goose and, to begin with, Frank following on. Frank's lost thing appears to be, at first, a valuable book which he mislaid before discovering its worth, but in recovering it, he begins to make amends with his family, recovering what he has really lost. Each encounter uncovers a story, introducing new characters whose lives are linked in unexpected ways. The book is in the possession of a doctor (the late, great Geoffrey Palmer) who is reunited with a letter from his wife on the night she left him. The trail of the bangle leads to a dodgy antiques dealer (Jason Watkins, Being Human, The Lost Honour of Christopher Jefferies), who loses out to Anthony's sleight of hand. Every new encounter, however brief, introduces a memorable character, and most have a hidden story of their own.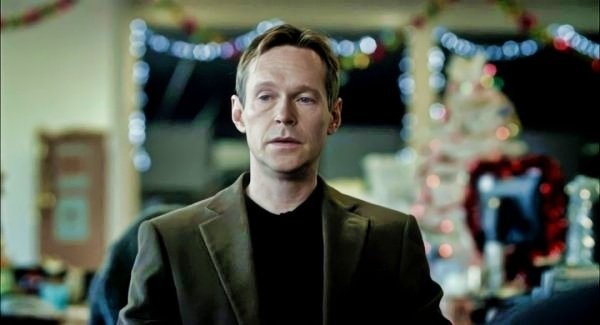 The tragedy at the heart of the story is brought full circle when Goose and Anthony track down the woman who bought the bangle. Helen (the excellent and undersung Christine Bottomley, Early Doors, The End of the ****cking World) lost her daughter the previous Christmas, when she ran out onto a frozen pond. It was Frank who tried, and failed, to save her, and Goose is convinced (rightly, it turns out) that if he hadn't hidden his dad's keys, not only would his parents have survived, but so would Helen's daughter, as his dad could have made the difference in saving her. To make the web a little more tangled, Goose's probation officer (Steven Mackintosh, Lucky Man, Wanderlust) is Helen's husband, and his own marriage and attitude to his cases have deteriorated since he lost his daughter. While Anthony's presence helps individuals find some peace and fix some aspect of their lives, the repercussions of Goose's decision are far bigger. However, Anthony's unexplained presence isn't the only miracle, and it seems there's a way for the repentant to turn back time.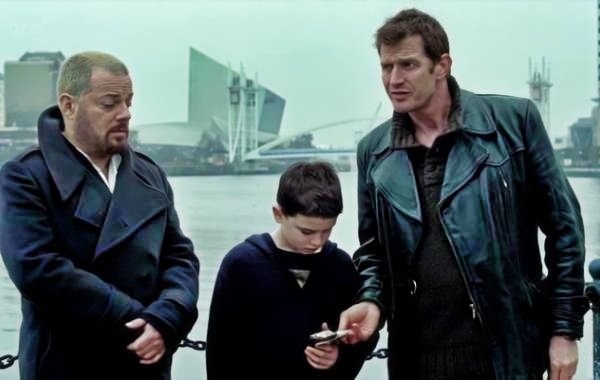 To say anymore would give away the final twist of the story, but needless to say, Lost Christmas ends on a satisfyingly happy note. Along the way, though, it deals with heartache and loss on a powerfully personal level. While the final revelations might be hard to swallow for some, they are earned by the protagonists and leaving the fantastic events unexplained makes it easier to accept them. It's not all doom and gloom up to the climax, though, and there are some quietly funny moments, even if they're tinged with the same sense of tragedy as the rest of the story. Setting the story on the streets of Manchester – not that you'd know from the variety of accents on display – adds a level of realism that counteracts the magical side of the story.
And it really is magical. Held up by some excellent performances, most notably Izzard and Mills, Lost Christmas is a moving and uplifting story of redemption that stands up well in the tradition of A Christmas Carol and its many offspring. Although pushed by the BBC on its first airing, it has since fallen into some obscurity, which is a shame. Lost Christmas deserves to be a mainstay of Christmas television.
Review by Daniel Tessier
Dan describes himself as a geek. Skinny white guy. Older than he looks. Younger than he feels. Reads, watches, plays and writes. Has been compared to the third, fourth, fifth, sixth, seventh, eighth, tenth, eleventh and twelfth Doctors, and the Dream Lord. Plus Dr. Smith from 'Lost in Space.' He has also had a short story published in Master Pieces: Misadventures in Space and Time a charity anthology about the renegade Time Lord. 
Dan's web page can be here: Immaterial
Published on December 29th, 2020. Written by Daniel Tessier for Television Heaven.