Marco Polo
1982 | USA & Italy
In 1979, Giuliano Montaldo set out to make an ambitious television miniseries, simply titled Marco Polo. Three years later viewers sat down to a four-part, 10-hour lavish production about one of history's most romantic explorers who among other accomplishments firmly established the "silk route" between Europe and the Orient, introducing precious Oriental marvels to the western world such as burning coal, paper money and block-printing.
The Polo family originated on the coast of Dalmatia. Brothers Niccolo (Marco's father) and Maffeo Polo had established a trading outpost on the island of Curzola, off the coast of Dalmatia; it is not certain whether Marco was born there or in Venice in 1254. However Marco certainly grew up in Venice, which at that time was the centre for commerce in the Mediterranean. Marco had a good education learning much of the classical authors. He was only 6 years old when his father and uncle set out eastward on their first trip to Cathay (China). By the time they returned Marco was 15 years old and his mother had already passed away. He remained in Venice with his father and uncle for two more years. At the end of 1271, receiving letters and valuable gifts for the Great Khan from the new Pope Tedaldo (Gregory X), the Polo's once more set out from Venice on their journey to the east, this time taking Marco with them. They passed through Armenia, Persia, and Afghanistan, over the Pamirs, and all along the Silk Road to China. They reached Peking in 1275 where Marco entered the service of Kublai Khan who employed him on various missions in the Mongol Empire. The were not allowed to leave until 1292 and eventually returned to Venice in 1295 after a trek that took in Sumatra, India, Persia, Trebizond and Constantinople. Marco's account of his travels, 'The Book of Marco Polo,' told Europeans for the first time about China's immense wealth, size and powerful neighbours. It was Marco's epic journey that scripwriters David Butler, Vincenzo Labella and Giuliano Montaldo set out to tell.
One of the highlights of the TV series were the authentically replicated costumes designed by Enrico Sabbatini of Italy. *It took Sabbatini three years to design 4,000 costumes and 3,500 handmade shoes, ranging from Mongolian boots made of goat fur to silken court slippers. His research required two trips to China where he visited museums and talked with historians in an attempt to re-create the 13th century before returning to Rome with thousands of square feet of silks, cottons and cashmeres and more than 1,000 furs. The embroideries were done in China, the hand-hammered armour was made in Italy and the jade was hand-carved for the Mongol belts and the breastplate of Kublai Khan. Even the undergarments were authentic.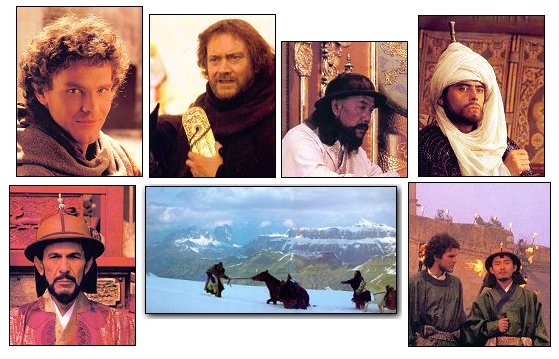 Burt Lancaster, who played Pope Gregory X in the series, said the costume he wore weighed 80 pounds. "We had a papal delegate working with us to authenticate details," he said, "and he told us the materials in our costumes were much richer than what the Pope himself wears today."* All the costumes were of museum quality and they were specially presented at the Washington Textile Museum where among the highlights was a ceremonial robe ornately embroidered with dragons in gold leaf at a cost of $7,000. It's no wonder that the cost of the series was in excess of $20m but co-producers RAI-Radiotelevisione Italiana, US sponsors Procter & Gamble and the Chinese Government felt it was worth every dollar.
Not every cent was spent on the costumes. Some of the filming was done at the Great Wall of China and in Peking's Forbidden City. Inner Mongolia, Fez and Marrekesh in Morocco were other location sites. The series was the first Western production to be filmed on location in China since WWII. There were also 180 speaking parts and 5,000 extras were used, including two regiments of the Mongolian Cavalry. As well as Burt Lancaster there was an international star cast that included Denholm Elliott, Anne Bancroft, John Gielgud, F. Murray Abraham, John Houseman, David Warner, Tony Lo Bianco, Leonard Nimoy and Ian McShane. And celebrated Chinese stage and film actor Ying Ruocheng, superbly cast as the mighty Kublai Khan, made his first English-language appearance. Starring in the lead role as Polo himself was newcomer Ken Marshall.
The music was scored by the famous Italian composer Ennio Morricone, who composed and arranged scores for more than 400 film and television productions, more than any other composer living or deceased. Morricone is best known for the distinctive and memorable soundtracks of Sergio Leone's spaghetti westerns 'A Fistful of Dollars,' 'For a Few Dollars More,' and 'The Good, the Bad and the Ugly.'
Marco Polo received its first U.S. showing when it was telecast by NBC from 16th through 19th May 1982. A "condensed" version, running approximately 270 minutes, was later made available in Europe and South America. The miniseries won 2 Emmy Awards for Outstanding Limited Series and Outstanding Costume Design as well as being nominated for 6 more. It was generally well received by its audience too, in spite of some historical inaccuracies: Many palace scenes were set in the Forbidden City, which was built under the Ming Dynasty (1368-1644) and not completed until about 1420, almost 100 years after Marco Polo's death. And Marco and Chinkin visit the Great Wall of China, which many historians point out he never visited-as he doesn't mention it in his writings. The series was released on DVD in 2004 but is no longer widely available except through some specialist dealers.
Published on January 3rd, 2019. Written by Laurence Marcus for Television Heaven.