Noah's Ark
1956 | United States
If you thought that Raymond Burr was television's first paraplegic character when he starred in Ironside, you missed Vic Rodman's performance in the 1956 NBC drama series Noah's Ark. 
Noah's Ark was the story of two veterinarians who work in a hospital where they treated sick animals. The series was created and directed by Jack Webb, the first series he had made since forming his own production company Mark VII Limited, which he was able to do thanks to his success as detective Joe Friday in Dragnet. Noah's Ark was filmed whilst Dragnet was still in production, so Mr Webb must have been a very busy man indeed. The series was made in cooperation with the Southern California Medical Association and the American Humane Association, to ensure that its stories were as accurate as possible.
Paul Burke starred as Dr Noah McCann and Vic Rodman's character was the wheelchair bound Dr Sam Rinehart, the elder of the two vets (Rodman had previously appeared in numerous episodes of Dragnet). Liz Clark, played by May Wynn, was their secretary-cum-all-round-assistant. The relationships between the trio were as much a part of the stories as the collection of animals that passed through their doors. The animal stories were based on current medical knowledge as well as experimental treatments. When a Monkey begins losing his teeth, Noah and Sam decide to experiment with a new method of dental transplanting to save them. The series also took a moral ground on hunting and was not averse to pulling on the viewers' heart-strings as in the case of a remorseful hunter who brings a fawn, that has been wounded by a ricocheting bullet, to the animal hospital to be "put away", or the case of the little girl who is given a puppy by her wealthy father as requital of his continual neglect for her.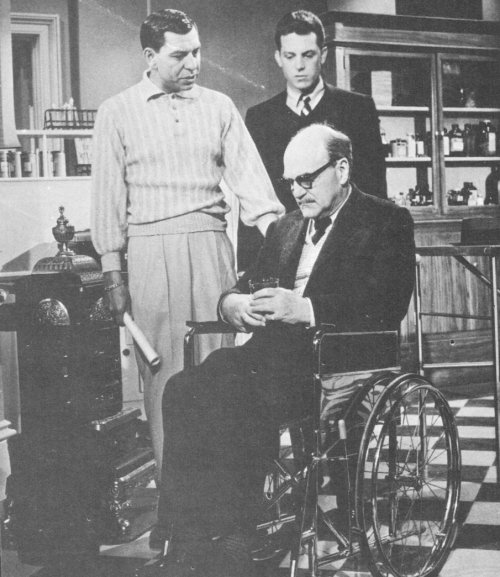 Paul Burke would later play a New York City police officer from 1960 to 1963 in ABC's superior police series Naked City, and enjoy a long career in a number of popular US shows, including Dynasty and Hot Shots. However, Jack Webb failed to turn Noah's Ark into a hit series which was oddly pulled from the screens after episode twenty-three of the twenty-four produced. That final episode has never been aired, and that includes in the 1958 rerun. Webb didn't have another hit series until 1966 when he convinced NBC to revive Dragnet. It played out for another 98 episodes.
Published on August 11th, 2021. Written by Malcolm Alexander for Television Heaven.