Running for two thirteen-episode seasons between 1964-1965, R3, its portrayal of scientists as everyday people with routine everyday personal problems, can now clearly be seen as very much the original prototype for the much better know 1970's series Doomwatch.
As with the latter series, while not strictly intended to be science fiction in the accepted sense, R3 often touched upon such themes that were still very much exotic notions, such as the unforeseen and dangerous side effects of radical new drug treatments, the arrival of meteorites from outer space, the replacement of men by machines in manufacturing and even post holocaust survival.
The first story "A State of Anxiety" dealt with anxiety and stress, a subject that was not as widely understood at that time as it is now. This was based on real research projects which were being undertaken at the time, but with the fantasy elements of R3 added - in this case one of the doctors has an idea for which 'might give us some answers for a change'-but first a suitable subject for complicated experiment, which is by no means entirely safe, is required.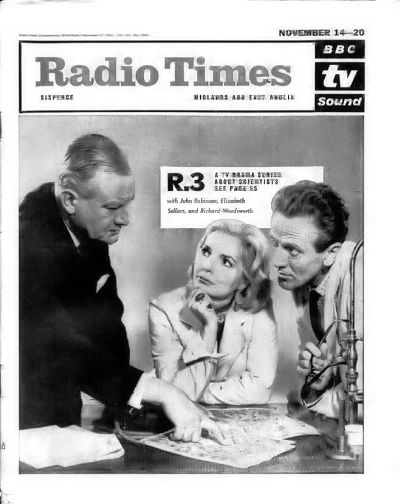 Taking its title from its location, the Ministry of Research, Research Centre Number Three, the R3 team was headed by Sir Michael Gerrard, (John Robinson, who was no stranger to unusual world threats having earlier portrayed the legendary Professor Bernard Quatermass in the 1955 production of Quatermass II). Other cast members for the first season included the talented Elizabeth Sellars as Dr May Howard, Richard Wordsworth (most famous as the infected astronaut Victor Caroon in 1955 movie version of The Quatermass Experiment) as Dr Peter Travers, Moultrie Kelsall as Dr George Fratton, Derek Benfield (Timeslip, Hetty Weainthrop Investigates) as Tom Collins, Janet Kelly as Betty Mason, Edwin Richfield (Doctor Who, The Avengers) as Pomeroy and Maxwell Foster as Porter.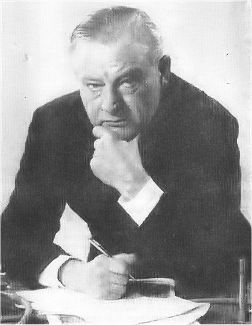 Apart from the home background and personal lives of those involved, which has its effect on their work, there are administrative headaches faced by the senior scientists such as a lack of funding, leading Sir Michael Gerrard to take his anger out on a civil servant sent by the Ministry: 'Damn it man, why must you begrudge us in this way? Why do you regard spending money on science as an immoral extravagance?'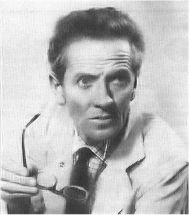 Fortunately for Gerrard and his fellow scientists the funding was not pulled by the BBC and a second series arrived the following year. Two new central characters were introduced with the beginning of season two as the show shifted gear slightly to highlight the more fantastical problems encountered by the department's troubleshooting section, central to which were Phillip Boult's Michael Hawkins (Hawkins is the father of Hollywood star Christian Slater), and a pre-stardom Oliver Reed as Dr Richard Franklin. Unfortunately, season two was not as well received by the viewing public and no more were made.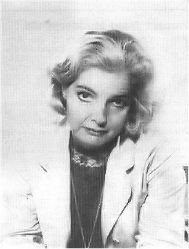 A literal galaxy of topflight creative talent contributed to the series, including writers such as N J Crisp, Bill Strutton, E Y Bannard, Bill Macllwraith, Donald Bull, Julian Bond and Neil Shand. Directors included: Andrew Osborn (who shaped Maigret into one of the BBC's most successful series up to that time), Terence Williams, Eric Tayler (who had produced the early BBC adaptation of Isaac Asimov's Robot classic, The Caves Of Steel, starring Peter Cushing in 1964), Moira Armstrong, Bill Hays and Paul Bernard. The series also boasted early examples of design work by a young Ridley Scott.
Yet another victim of the infamous and ill-judged purges that have left the archives of the BBC depleted of many valuable examples of its diverse and renowned drama output, sadly there are no episodes known to now exist from this influential and under-appreciated series.
Published on February 26th, 2020. Written by Peter Henshuls for Television Heaven.