The Caves of Steel
1964 | United Kingdom
An investigation which follows the murder of a robot specialist. Side by side a human detective and a robot follow the clues through the streets and tunnels of a future New York in order to bring the criminal to justice.
The Caves of Steel was broadcast as part of the anthology series Story Parade, which had begun on the first Friday night of BBC2 (24 April 1964 - the channel having opened its broadcasting doors just a few days before this). Radio Times magazine informed its readers that in its 'voracious search' for new drama for television it had pretty much plundered all literary and theatrical media - but had not, thus far, explored the field of the modern novel. That is, novels written 'within the last thirty years'. Therefore, Story Parade would devote itself entirely to those hitherto untapped sources under the adaptive pens of some of the leading dramatists of the day. Whether or not they lived up to that bold claim is a matter of opinion, although critical response to the series was generally favourable and in 1965 a second season was commissioned.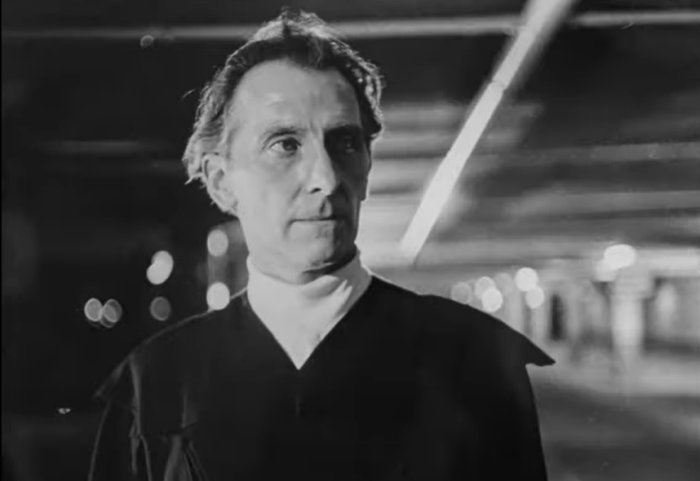 Story Editor of the series was Irene Shubik and producer Eric Taylor announced that they had employed the talents of 'an enthusiastic team of young directors and designers' as well as a number of new actors to the small screen who would be performing with more experienced stars such as Michael Hordern, Kenneth Haigh, Doris Hare, and Peter Cushing. Over the series run there were some familiar faces who would become even more familiar over the ensuing years. Dandy Nichols, Trever Banister, Yootha Joyce, Annette Andre, Denis Quilley, Dudley Foster, Jean Marsh and Geoffrey Chater were among them.
Novels chosen for the series were by such authors as Muriel Spark, Ira Levin, John Barrington Wain, Andrew Sinclair and Isaac Asimov. Where novels were not found, short stories that were capable of being adapted to the series' seventy-five-minute running time were also included. Asimov's The Caves of Steel was the seventh adaptation in the series and was broadcast on 5 June 1964. Shubik, who was an enthusiast of science fiction and a fan of Isaac Asimov in particular (once referring to him as "one of the most interesting and amusing men I have ever met"), was very keen to bring this story to the screen. Shubik had previously devised and story edited the science fiction anthology series Out of This World, which had adapted Asimov's short story Little Lost Robot in 1962. Director Peter Sasdy later directed a number of Hammer horror films as well as the Nigel Kneale television play The Stone Tape.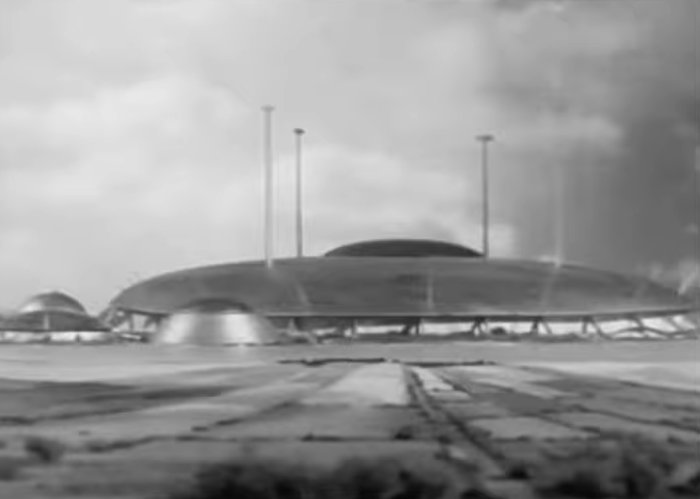 In Asimov's novel we are in New York, the future: a Spacer scientist from the Outer Worlds is murdered and Detective Elijah Baley is assigned to investigate. He has just 48 hours to bring the killer to justice before the aggrieved Outer World forces take their own revenge on New York. To help him, Baley is given a new partner, the positronic robot R. Daneel Olivaw, an agent of the Spacers. The NYC Police Commissioner Julius Enderby is secretly a member of the Medievalists, a subversive anti-robot group which longs for the past where men did not live in the 'caves of steel', vast city complexes covered by huge metallic domes, capable of supporting tens of millions of people who are enclosed from the open air.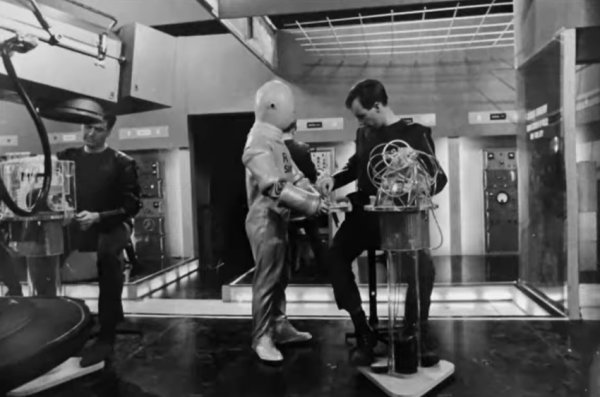 The screenplay was generally faithful to the original novel, although to give it a more dramatic ending the television version culminates in the death of the murderer by his own hand, whereas in the novel he agrees to work to convince the Medievalists to change their ways. The other major change is that the male roboticist Dr. Gerrigal is now presented as a female character. The play was repeated on BBC1 on 28 August 1964. As was common practice at the time, the master tapes of The Caves of Steel were wiped some time after broadcast and only a few short extracts survive, which is where some of the pictures on this page come from. It is possible that the tapes were wiped as recently as 1997 because a BBC documentary series hosted by Gillian Anderson titled Future Fantastic, broadcast that year, contained the extracts.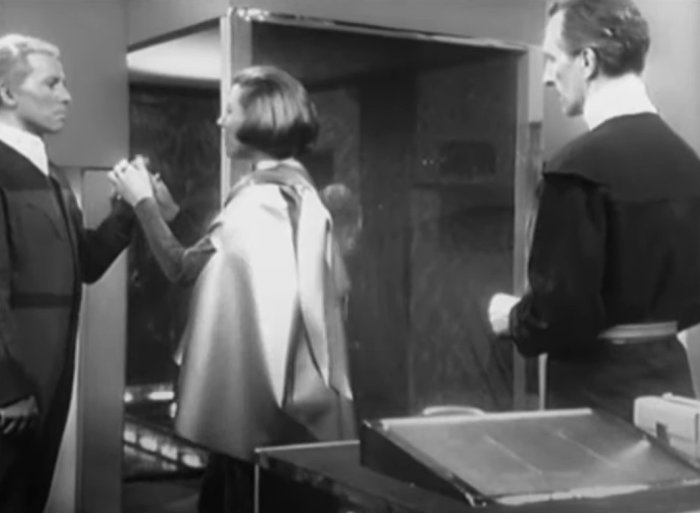 As it would be impossible to review this play without actually seeing the finished article, I have relied entirely on contemporary reviews to give a flavour of how the story was received. The Daily Telegraph said the play proved again that science fiction can be exciting, carry a message and be intellectually stimulating, while The Listener, citing the play as the best of the Story Parade series, described it as a fascinating mixture of science fiction and whodunit which worked remarkably well. However, Marjorie Norris writing in The Stage had an entirely different take on it:
'Isaac Asimov is one of the best-known names in current S-F, and the semi-detective story involving robots and their implanted thought and behaviour patterns crops up fairly regularly in his work. He calls for our sympathy for the highly developed mechanical brain as it becomes more human and as built-in reflex action approximates to human emotions; and he reminds us that all intolerance towards minority groups is based on fear.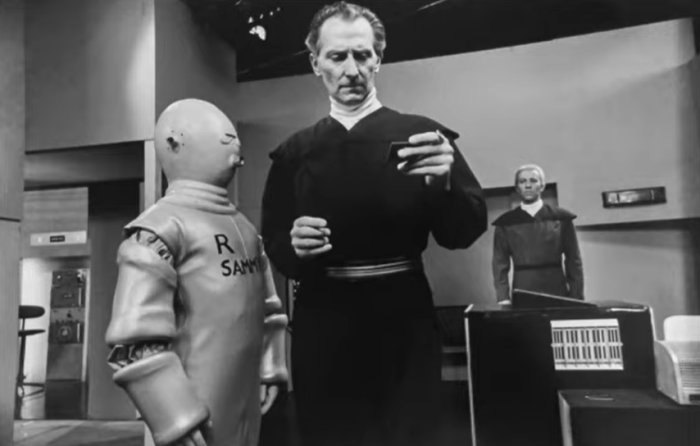 Terry Nation's adaptation lost this special quality - or rather, allowed it to be buried beneath plot details. As a result, The Caves of Steel edged closer to Dan Dare and away from Gulliver's Travels. The strip-cartoon likeness was heightened by Peter Sasdy's direction, which had us looking at the pictures rather than listening to the dialogue. Special effects, design, radiophonic music, costumes...everyone concerned with these had a ball. In the end, the trappings became more interesting than the story.
Four performances alone brought the humanity that the production lacked. Peter Cushing, the dedicated copper of the future, doing his duty despite personal considerations; Kenneth J. Warren, for once deceptively cuddly rather than obviously the menace; Naomi Chance, who struck the only encouraging note by playing her "robot expert" as a woman of charm as well as intelligence; and John Carson, compelled to remain poker-faced as the humanoid robot, but managing to win our sympathy for all that.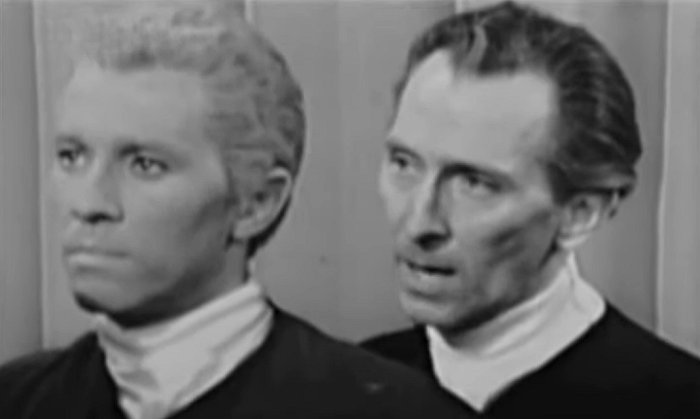 If The Caves of Steel had been shown in the Detective series, it would have stood out as an off-beat choice produced with great care and attention to detail. In Story Parade - which has featured some outstandingly good pieces of dramatic writing, it was a let down and didn't do the cause of S-F much good. It had me thinking wistfully of Quatermass and the Pit.
And it gave us the poorest group of extras I've seen in a long time, waving their supposedly threatening fists like a well-drilled chorus line.'
Unfortunately, this is not a case of where we can make up our own mind - unless there's another recording out there somewhere.
Published on March 22nd, 2022. Written by Laurence Marcus for Television Heaven.