Nineteen Eighty-Four
1954 | United Kingdom
During the early days of the infancy of British dramatic television, perhaps no single play illustrated the fledgling mediums hitherto unsuspected power to shock and galvanise an entire nation than the BBC's original live production of novelist George Orwell's Nineteen Eighty-Four. 
With great foresight, the BBC had purchased the television rights to Nineteen Eighty-Four soon after its publication in 1949, although it wasn't until 1953 that the first scripted version was ordered by then BBC Head of Drama Michael Barry from writer Hugh Faulks. In spite of Faulks' pedigree, and the fact that he had worked the script in consultation with Orwell's widow, Sonia, when Barry appointed producer Rudolph Cartier to oversee the project it was Cartier's choice to turn to 'Quatermass' creator Nigel Kneale for the finished version. Whether or not Cartier was unhappy with Faulks' script is not known but Cartier certainly had good reason to feel confident in asking Kneale for a rewrite, as the two of them had worked together the previous year on The Quatermass Experiment, which had been greatly received by critics and public alike. Originally the television presentation was planned to go out in April 1954, but both Cartier's and Neil's late arrival pushed the date back to early December.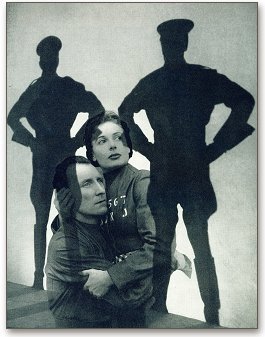 Cast in the leading role of Winston Smith was the young Peter Cushing, already coming to notice in a number of smaller television productions such as Anastasia, this was one of Peter's first major roles. And his performance only enhanced his growing reputation. Winston Smith is a member of the Outer Party, who works in the Ministry of Truth, rewriting history to accord with the Party Line. Throughout the course of the story, Smith's gradual unease at his work slowly transforms into dissatisfied dissent as he enters into a forbidden love affair with a co-worker, Julia. But tragically, both his love and his blossoming individual aspirations brand him as a "thought criminal" in the omniscient, strictly regimented eyes of the all-powerful Party regime, and in the bleak and unremittingly grim and hopeless world depicted by Orwell and his adaptors, there is no room for hope, nor happy endings. Rebellious tendencies are crushed out of hand, and the spark of individualism is casually snuffed out without question or pity.
In his introduction to the drama in Radio Times, prior to its transmission, Nigel Kneale wrote: 'Orwell guessed at a final evil to consolidate all others - the abolition of ideas through the destruction of words to express them.' However, Kneale's forewarning of the bleakness of the play did nothing to dilute the public reaction following its airing. Many viewers complained about the horrific and upsetting nature of the content. One viewer, according to the Daily Express, was so shocked, that she collapsed and died as she watched. In an interview with the same newspaper, Rudolph Cartier defended the production, stating defiantly that: "Our job was to shake, and if we have succeeded in shaking half of the nation then we have done the job we set out to do. It was right and wise to put this terrible vision before the largest possible audience - as a warning against totalitarianism in all its forms."
Political reaction, on the other hand, was divided. Five MP's tabled a motion in the House of Commons deploring "the tendency, evident in recent British Broadcasting Corporation television programmes, notably on Sunday evenings, to pander to sexual and sadistic tastes". In spite of calls to abandon a second staging four days later on 16th December (TV shows were not regularly taped in the early 1950's and repeat showings often had to be re-staging), the BBC Board of Governors stood firm voting in favour of a second performance. The furore and advanced publicity ensured that the Corporation had its biggest audience since the previous year's broadcast of the Coronation with seven million viewers tuning in. (A remarkable number considering ITV was still a year away and ownership of television sets in Britain at the time was still in the minority range). However, when it became clear what an important piece of drama this was, the BBC arranged for a telerecording to be made of the second performance and it is this (and not the original) that survives in the archives to this day.
Stark, grim, downbeat, yet a triumphant early indication of the power of television fiction when handled with intelligence, integrity, commitment, and most importantly talent, Nineteen Eighty-Four was one of the great early high-water marks of a medium which would go on to produce examples of the single drama that would, quite literally, help change the face of contemporary society. 

A BBC Production 120 minutes, black and white. First performance: Sunday 12 December 1954 (20.30-22.30 approx) Second performance: Thursday 16 December 1954 (21.30-23.30 approx). 

Published on January 12th, 2019. Written by Laurence Marcus & Paul Henshuls for Television Heaven.