Star Trek: Lower Decks
2020 | United States
The Star Trek universe continues with Lower Decks, which is, remarkably, the ninth full series in the franchise (the tenth if you include the short form companion series, Star Trek: Short Treks). While Short Treks featured two rather good experiments with animated episodes, when most people think of animated Trek they picture the 1970s Star Trek: The Animated Series. While this series is better than its reputation suggests, it's true that's it was a cheap, often poorly animated production and was very much aimed at kids. Lower Decks is something completely different: a fully animated sci-fi comedy series for adults.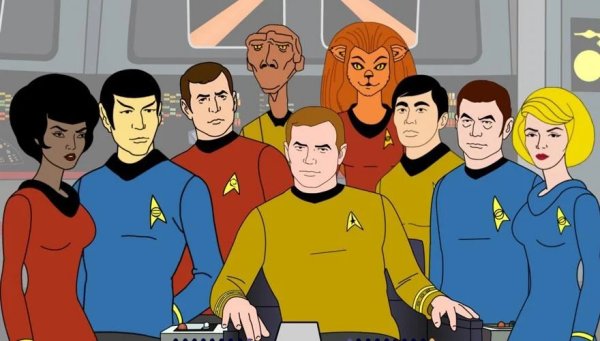 Animation is perhaps the best medium for sci-fi comedy, allowing writers to go wild with outlandish ideas without worrying about the effects budget. Animated by the wonderfully named studio Titmouse, previously known for acclaimed series such as Venture Bros. and Black Dynamite, and since responsible for the relaunched Animaniacs, the series looks fantastic. The series was created by Mike McMahan, who had previously co-created the sci-fi comedy Solar Opposites but is best known for his work as a writer on Rick and Morty. Because of this, a lot of fans expected Lower Decks to be the same sort of thing as Rick and Morty, and while the more gruesome moments do recall it, it's far less unpleasant or cynical than that series. The closest series,  in style is probably Futurama, which was always heavy in Star Trek references itself.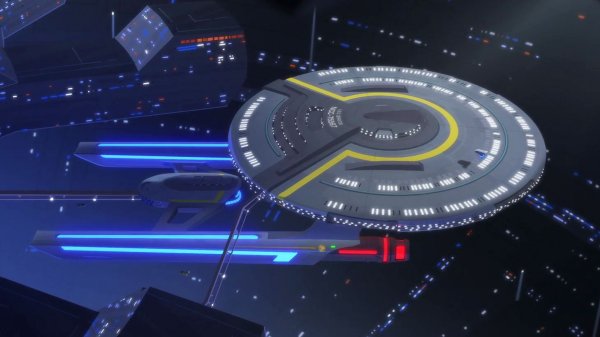 Lower Decks is set in the year 2380, which for those less-steeped in Trek lore, is the year after Star Trek Nemesis, the last of the Star Trek: The Next Generation films. It's visual style owes a lot to The Next Generation, from the font design to the new uniforms to the design of the central starship, the USS Cerritos. The Cerritos is a ship designed for "second contact": the less glamourous follow-up missions where Starfleet has to go in, make sure treaties are being followed, antagonistic aliens haven't started eating each other again, and that the spelling of planet names is correct on the books. While the "also-ran" nature of the Cerritos' mission is one of the main jokes of the series, this sort of diplomatic maintenance is actually a vital job. One of the running themes, particularly towards the end of the season, is how Starfleet (read: the stars of the big Trek series) swan in, make huge changes and then leave the various civilisations to it. The Cerritos brings in the clean-up crew.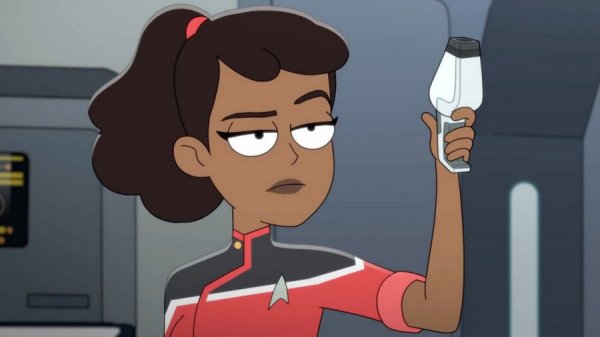 Following a less-regarded ship isn't enough, though, and Lower Decks follows four of the lowest-ranking members of the crew. This provides a completely different perspective to most of Star Trek, which largely focuses on the command crew of starships or similarly important people. The main ensigns are all dysfunctional but highly likeable and relatable, in their own ways. Tawny Newsome (Space Force, Brockmire) voices Beckett Mariner, a bolshy, overconfident woman with a chip on her shoulder, who's widely travelled due to a fairly lengthy Starfleet career, but who keeps getting busted back down to ensign after every promotion. This is implied to be deliberate, since she prefers the lack of oversight at the lower ranks. She's certainly one of the most resourceful and capable members of the crew, but she does enjoy slacking off and has stuffed the Cerritos full of contraband (largely illegal alcohol and alien weapons).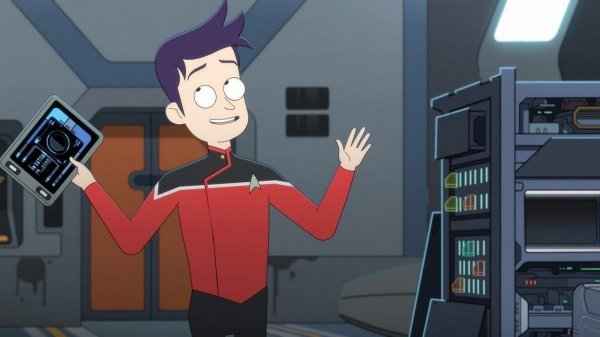 Mariner shares a strong friendship with the newly stationed Brad Boimler, a tremendously keen and career-focused young man who is desperate to impress the bridge crew and rise through the ranks. He's voiced by Jack Quaid, best known for his role as Hughie Campbell in the hit series The Boys (and also the son of Dennis Quaid and Meg Ryan, so film and, indeed, sci-fi, run in his blood). Boimler is hopelessly rulebound, and is initially given the job of keeping an eye on Mariner. It isn't long before they hit it off, though, and he learns that her approach works better than studious rule-following when they're out in the field.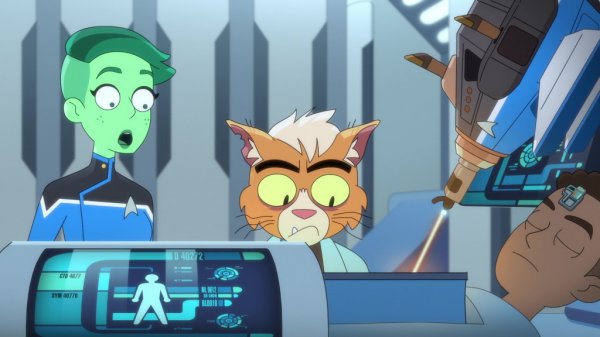 D'Vana Tendi, voiced by Noël Wells (Saturday Night Live, Kipo and the Age of Wonderbeasts, Mr. Roosevelt) is the only alien in the main four, albeit one of many on the crew (thanks to the magic of animation). Almost as career-minded as Boimler, yet somehow even more enthusiastic, Tendi is an Orion, one of the green-skinned people who've been appearing in Star Trek since the very beginning. They're usually slavers and pirates in Trek, something Tendi considers very stereotypical (many Orions haven't been pirates for over five years!"). She's adorable, and is best friends with Sam Rutherford, voiced by Eugene Cordero (The Mandalorian, The Good Place, Cray Ex-Girlfriend). Rutherford is a cyborg, enhanced with implants that provide all sorts of upgrades, but do mean he has to offline for app updates every so often. While Tendi works in medical, Rutherford works in engineering, and so they don't get to see each other as often as they would like. Rutherford also harbours a not-so-secret crush on Tendi, which is, you know, fair.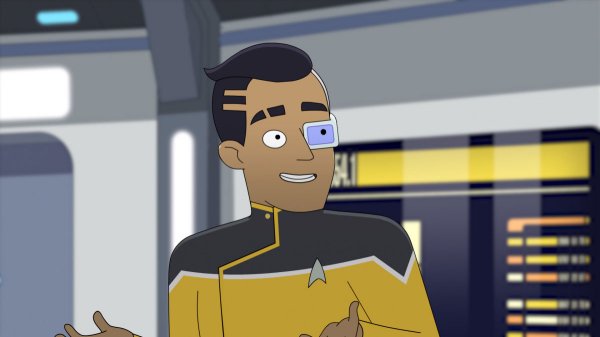 The series mostly follows Mariner and Boimler, although there's plenty of material for Rutherford and Tendi. In spite of the focus on the lower decks, we do see a lot of the senior crew. Tendi works for Dr. T'Ana, a grouchy physician much in the mold of Dr. McCoy or Dr. Pulaski, except that Dr. T'Ana is a bipedal, talking cat (actually a Caitian like Lt. M'Ress, one of many references to Star Trek: The Animated Series). T'Ana is voiced by Gillian Vigman (MADtv); she has a thing for the burly Bajoran security chief, Mr Shaxs (experienced voice artist Fred Tatasciore, whose credits are too numerous to list). The ship's First Officer is the arrogant, self-styled hero Commander Jack Ransom, a Riker-like horndog voiced Jerry O'Connell (Sliders, Jerry Maguire – he happens to be married to Rebecca Romijn, who is Number One on Star Trek: Discovery and the upcoming spin-off Strange New Worlds).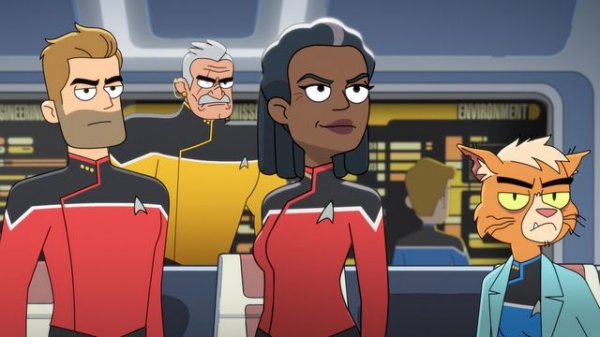 Commanding the Cerritos is Captain Carol Freeman, voiced by Dawnn Lewis (A Different World, Hangin' With Mr. Cooper), the first African-American woman to play the commanding officer in a Trek series. A likeable but no-nonsense commander, Freeman has a bit of a chip on her shoulder due to how the Cerritos is viewed by the more important ships of the fleet. She's also secretly Mariner's mother, something that both of them are keen to keep under wraps and a source of embarrassment for both of them. Their gradual reconciliation makes up a running thread in the first season.
The first season is comprised of ten half-hour episodes, each with a short mission or adventure that sees the lower deckers caught up in events over their heads. A running theme is that the four ensigns don't know the ins-and-outs of their missions, not being privy to the same information as the bridge crew. The episodes maintain a good mix of laughs and action, with some strong character development for the core characters.
While the comedy comes from both the characters and situations they find themselves in, much of it – perhaps too much – comes from its affectionate send-up and referencing of Star Trek itself. No aspect of the franchise is safe from a gentle skewering. Some of this is easily accessible to casual viewers; everyone knows what people must get up to in the holodeck, and that cleaning it out would be the worst job on the ship. However, an awful lot of the series is given over to geeky references to series and movies past. Not all of this is intrusive – the various aliens who show up are largely incidental colour, and it's just an extra something if you're enough of a Trekkie to recognise an alien who once appeared in the background of Star Trek IV. A lot of the jokes, though, rely on an exhaustive knowledge of the franchise – some episodes seem to be little more than streams of references, some of them really deep-cuts. This is great if, like me, you're a huge fan of the franchise with an overly detailed nerdy knowledge of it, but even a devoted but less obsessive fan, like my partner, was left bemused by much of the dialogue that had me laughing. What must this series must be like for a normal person?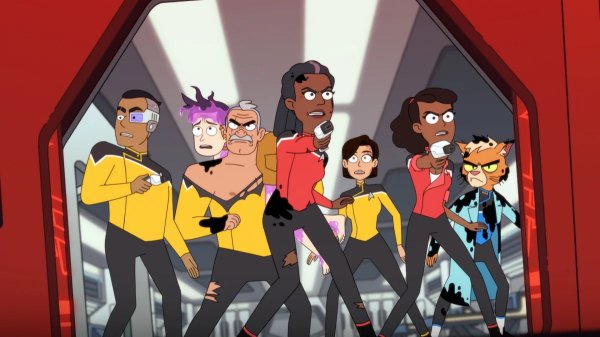 No, Lower Decks isn't aimed at casual viewers, or even general sci-fi fans. This is by and for Trekkies, through-and-through. If you're the sort of person who knows his Talarians from his Tamarians and gets a thrill from name-dropping characters from Star Trek: Voyager, then this is a joy. If you're the sort of viewer who's seen enough Trek to recognise cameos from Jonathan "Riker" Frakes, Marina "Troi" Sirtis and John "Q" de Lancie, then you'll enjoy it, but may find some things flying at warp speed over your head. If you're just a casual viewer wondering what this sci-fi cartoon is all about, I feel you'll be hopelessly lost.
Star Trek: Lower Decks is, at time of writing, only officially available in the US (on CBS All-Access) and Canada (on the CTV Sci-Fi Channel in English, and Channel Z in French). It has already won some critical acclaim for the Critics Choice Association, being nominated for Super Awards (a new award selection for genre cinema and television) for Best Animated Series, Best Voice Actor for Jack Quaid and Best Voice Actress for Tawny Newsome.
Review: Daniel Tessier
Dan describes himself as a geek. Skinny white guy. Older than he looks. Younger than he feels. Reads, watches, plays and writes. Has been compared to the third, fourth, fifth, sixth, seventh, eighth, tenth, eleventh and twelfth Doctors, and the Dream Lord. Plus Dr. Smith from 'Lost in Space.' He has also had a short story published in Master Pieces: Misadventures in Space and Time a charity anthology about the renegade Time Lord. 
Dan's web page can be here: Immaterial
Published on December 9th, 2020. Written by Daniel Tessier for Television Heaven.