The Flower of Gloster
1967 | United Kingdom
The first drama series to be filmed in colour by Granada Television (two years before ITV's regular colour service began), The Flower Of Gloster was about four youngsters who crew a narrow-boat from North Wales to London and their adventures on Britain's inland waterways. 
In fact, the series was largely experimental in more ways than one, the tales being a mixture of plotted storylines, natural history and improvisation. The lead characters played themselves (all the character first names were the names of the actors) and any chance to take in a place of historical interest on their journey (Woburn Abbey, Stoeke Bruene Museum - which portrays the heritage of 200 years of inland waterways) was taken up by the series producer Bill Grundy. This all mixed in rather oddly with the fictional tales of haunted forests and bovver boys. 
The plot involved Richard Doherty (Richard O'Callaghan), eldest son of Jim (Jim Doherty), a boatyard owner from Wales who is unable to deliver a new barge to London when he breaks his leg in an accident. So Richard takes the helm and is accompanied by his sister Elizabeth (Elizabeth Doherty) and they are soon joined by their young brother Mike (Mike Doherty) and their friend Annette (Annette Roberston), and for 13 weeks they traverse the waterways of west England passing towns, cities and villages.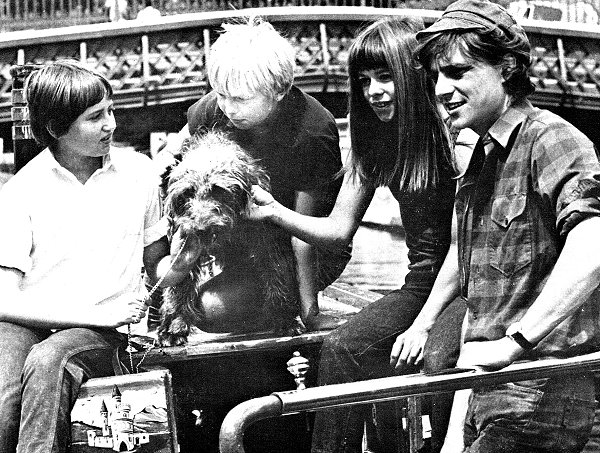 Chris McMaster, who the following year would bring a different type of children's action/adventure series to the screen when he devised Freewheelers, wrote the series. The name of the boat and series title was inspired by Ernest Temple Thurston's evocative account of a springtime journey by barge around the canals of Oxfordshire, Warwickshire and Gloucestershire, 'The Flower of Gloster' first published in 1911. Producer Bill Grundy went on to television notoriety when he interviewed the Sex Pistols on live television, inadvertently kicking off the whole punk rock era, and ending his own TV career.
Published on December 13th, 2018. Written by Laurence Marcus for Television Heaven.