The Fosters
1976 | United Kingdom
Originally billed as a 'sparkling new comedy series' about life in a typical south London black family, The Fosters was anything but typical, new or original. 
In fact, had this not been the first British series to feature an all black cast, and had it not given a first 'starring' role to Lenny Henry, it's odds on that the series would have long faded from the memory. 
In a roundabout and somewhat ironic way, The Fosters actually came to British screens via Till Death Us Do Part. Johnny Speight's series about the bigoted Alf Garnett was sold to the USA as All In The Family, which was then spun off into Maude, which in turn begat Good Times - and that was the basis of The Fosters. In fact, when the USA sold the format to the UK it was under the condition that with a little anglicising, the British script 'adapter' would use the original Good Times scripts. And this is where the series fell down - as the original US scripts were not that good in the first place. 
Those tuning in and expecting something of a cutting edge comedy (as 'Till Death' and 'Family' had been) were sadly disappointed. In fact, not only did the series fail to impress the audience it was undoubtedly aimed at, it also courted controversy from many critics as reinforcing racial stereotypes. It's a shame; because its cast of talented actors deserved much more.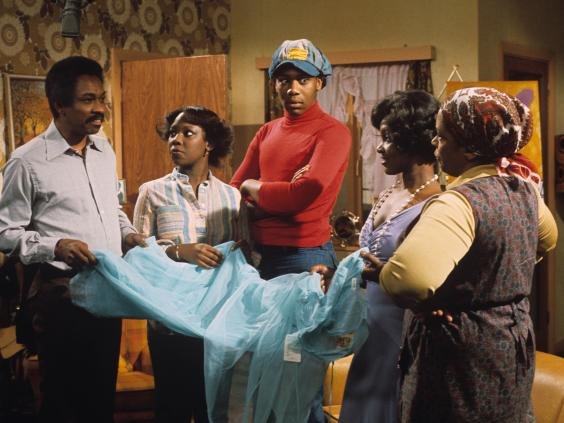 The Fosters were made up of easy-going dad, Samuel (Norman Beaton), and spirited mum, Pearl (Isabelle Lucas), both immigrants from Guyana who had made their home in a high-rise tower block (number 131) in South London. Here, against the odds and constantly struggling to make ends meet they raise a family that consist of artistic eldest boy, Sonny (Lenny Henry), teenage daughter, Shirley (Sharon Rosita) and youngest son Benjamin (Lawrie Mark). The other main character was near neighbour, Vilma (Carmen Munro), Pearl's friend and confidante from number 139. For at least three of the cast there were happier times on the television horizon. Lenny Henry (who at 17 had arrived on British TV as an impressionist on New Faces) became one third of Three Of A Kind before carving out a career as one of Britain's biggest and best-loved comedy stars. And 'Fosters' neighbours Norman Beaton and Carmen Munro were joined in matrimony for the far more deserving, first-class and award winning sitcom; Desmond's.
Published on December 13th, 2018. Written by Laurence Marcus for Television Heaven.