The Ghosts of Motley Hall
1976 | United Kingdom
Stately Motley Hall has been the ancestral home of the Uproar family since the 16th Century, but in recent years it has been allowed to fall into decrepit disrepair. Empty for twenty years since the death of the last Uproar, Sir Humphrey, who was killed by a kneeling elephant, the property is now in the hands of decidedly jittery estate agent Arnold Gudgin (Peter Sallis), who is desperately trying to offload it to a new buyer. Any new buyer! 
But Motely Hall isn't exactly empty. It is inhabited by a number of ghosts; General Sir George Uproar (Freddie Jones), the spooks' self-appointed leader whose Victorian military campaign ended in disaster when he led his men, and himself, to their deaths; Sir Francis 'Fanny' Uproar (Nicholas Le Prevost), an 18th Century fop, gambler and alcoholic; Bodkin (Arthur English), jester to the original Uproar, Sir Richard; the White Lady (Sheila Steafel), who has no recollection of who she is, or in fact, who she was; and Matt (Sean Flanagan) a stable-boy from the Regency era. Together they connive to ensure that Motley Hall stays 'in the family' (even if they are all deceased) and even when Gudgin finally does manage to sell the Hall, its buyer quickly has a change of mind and gives it to him as a gift!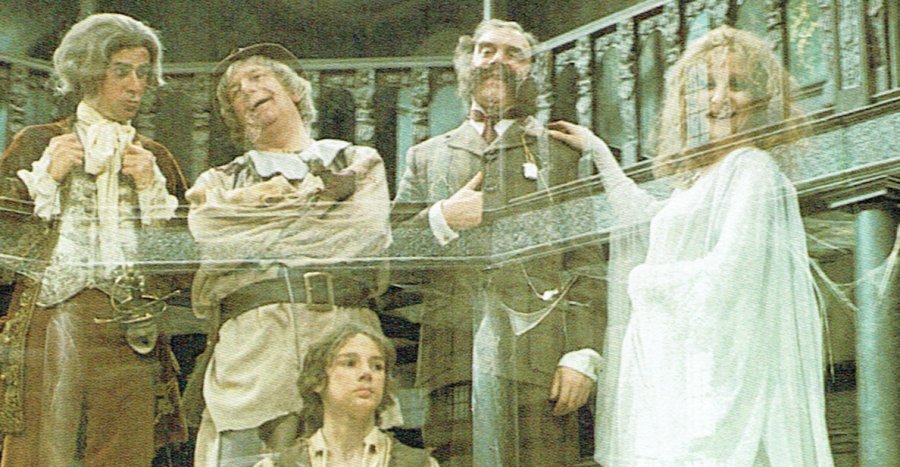 As well as potential buyers the Hall is visited by other spooks, several ghost hunters, a documentary film crew and some small-time crooks. Needless to say none of them hang around too long. The Ghosts of Motley Hall was created by Richard Carpenter, the man responsible for such classic shows as Catweazle, Robin of Sherwood and The Adventures of Black Beauty. Carpenter claimed that he'd seen a ghost years earlier at a theatrical boarding house in Liverpool and "it made me wonder whether they (ghosts) can see us?" This was the inspiration for the series and it fell neatly into the remit he'd been handed by ITV who wanted a comedy that "all takes place in one set with five or six people and maybe one guest every week." Sets were minimal, special effects were simple, but the scripts and the cast were spot on, making this a hugely entertaining children's series made in the best possible spirit.
Published on December 19th, 2018. Written by Laurence Marcus for Television Heaven.