The Inbetweeners
2008 | United Kingdom
Something that almost certainly hasn't changed across the ages is the schoolboy angst of starting a new school. All the usual doubts about making new friends and getting picked on remain as relevant today as they ever were. One thing that has changed however is the extent to which they are depicted on television, as demonstrated by E4/Channel Four's outrageous, irreverent and wildly successful show, The Inbetweeners which aired from 2008 to 2010.
We are introduced to the pupils and staff of Rudge Park Comprehensive School through the eyes of new boy Will McKenzie (Simon Bird) as narrator. Will's parents have recently divorced, forcing him from his public school and into the unfamiliar territory of Rudge Park's sixth form. He, along with three other lambs to the slaughter, wears a large badge signalling to the world that his name is Will and he is new. Rather than encouraging a positive welcome, it incurs the inevitable torrent of abuse from the established pupils of all ages. Will's demeanour, posh voice, desperate politeness and his briefcase all add to the ammunition fired at him.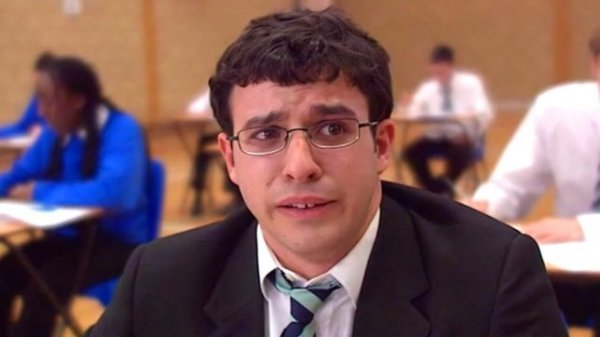 Of the existing boys, Simon Cooper (Joe Thomas) is the unfortunate one who gets assigned the task of shadowing Will around the school. Despite his attempts to keep Will at an appropriate distance, Will's social awkwardness and desire for making an impression means he is tough to shake and thick skinned enough to avoid all efforts to freeze him out from Simon's existing small group of friends.
That existing group of friends consists solely of Jay Cartwright and Neil Sutherland. Jay (James Buckley) is the most outspoken of the group. If ever the phrase 'empty vessels make the most noise' applied to a teenager, it is the perfect fit for the likes of Jay. Almost everything he says focuses on his experiences with girls, with excessive detail that is brutally disrespectful, usually inaccurate and most often, barefaced lies wrapped in as much vulgarity as he can manage.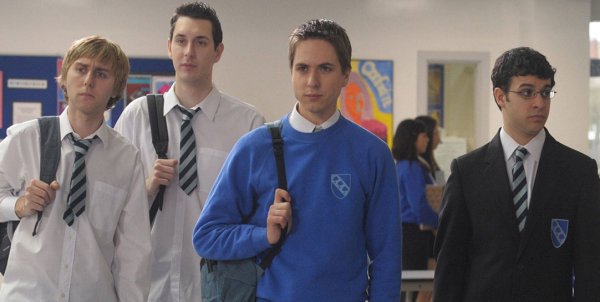 Neil (Blake Harrison) is somewhat the antithesis of Jay. He has the most experience of the four, but his dim-witted nature and gentler character makes him more fascinated in the fictitious adventures of Jay than in acknowledging his own achievements with the opposite sex.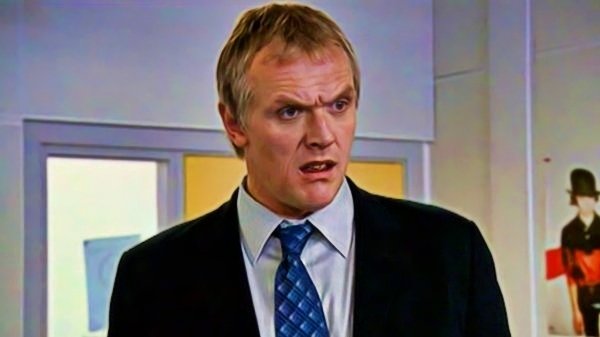 As with all good coming of age programmes and films, the quartet need an authority figure to rebel against. In the case of The Inbetweeners, that figure is a far cry from the Mrs McCluskey type stuffiness of Grange Hill fame. In Mr Gilbert, head of the sixth form, all the attributes are there for the scariest of authority figures. Played superbly by Greg Davies, Gilbert is a giant of a man whose physical size is matched by his utter disdain for the pupils at the school. Disliking both them and his job, his sarcasm and militant scrutiny of the pupils makes him both utterly unlikeable and hilariously vital to the show. Misfortune for the pupils is like oxygen to Gilbert.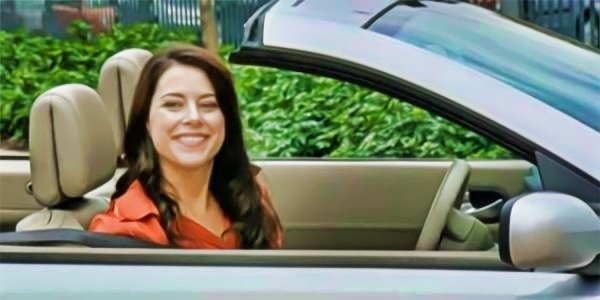 Across the three series, the main theme is how the boys stumble through their late teens, facing all the same angst and dilemmas that kids of that age do, but managing to do so with absurd bravado and staggering incompetence. Will's attempts to ingratiate himself with the most likely trio of potential pals fail dismally initially. They behave towards him as though they would lose their street cred, even though said cred is largely in their own minds – for they themselves are hapless gawky teens as hopeless in their lives as Will himself. Will's attempts would have fallen flat on their face in their first encounters, were it not for the appearance of his mother, arriving at school in her sports car and being considered fit enough to satisfy the lusting of Simon, Neil and Jay.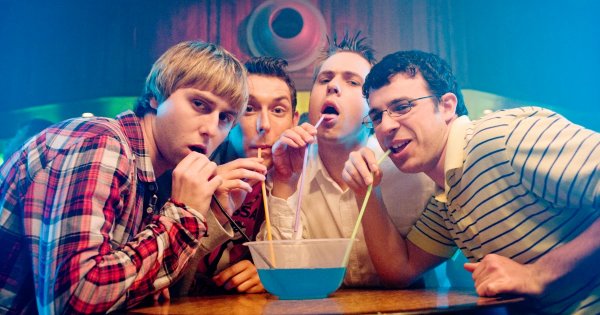 Having engineered his way into the small circle of friends, Will is soon gobbled up into their endless quest for good times with the opposite sex, normally succeeding far more than the mouthy Jay. Indeed of the four, Jay is actually the least successful despite his proclamations of his conquests. His is a character with the most outrageous lines, and it would be easy to find him annoying, but for the appearance of his Dad. Jay's Dad is brutal in his assessment of his son, continually deriding him for his failures with women and for the size of his most private parts, meaning that however boisterous Jay gets, the audience can have as much sympathy with him as they do with the others when his romantic efforts come crashing down.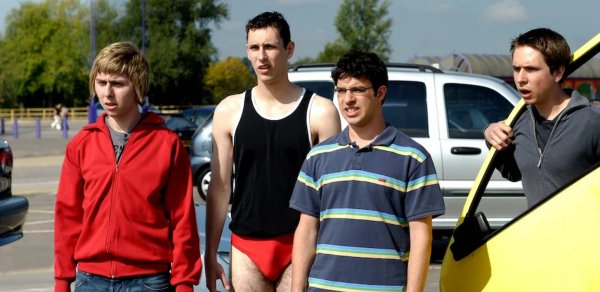 There are some fantastically cringeworthy moments in the 18 episodes – Simon getting so drunk that he vomits over a young child while declaring his love for Carli, the girl he continually pines for; Will chastising the people who jumped the queue for the front seat of a Thorpe Park rollercoaster, only to discover it's a trio of disabled children; and nobody could forget Simon appearing in a fashion show 'on display' from behind a pair of speedos. And facilitating their quest to satisfy their teenage lust, the babe-mobile that Simon was given by his father for passing his test – a yellow Fiat Cinquecento Hawaii, right up there with Mr Bean's Mini and Del-Boy's Robin Reliant as the most iconic of well-known yellow cars on television.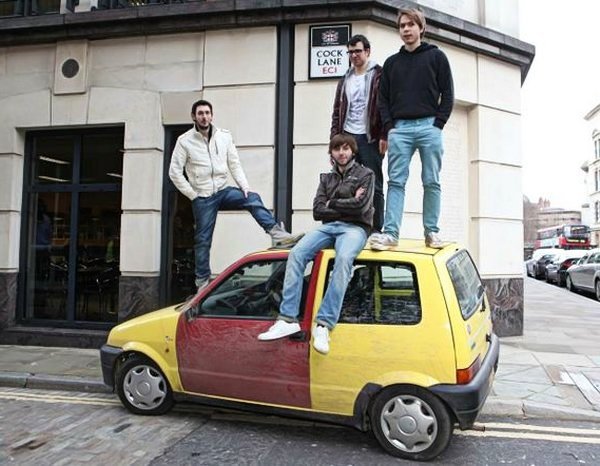 Although inevitably the boys' adventures had to come to an end, the three series did spawn two successful movies. For all its crudeness and in-your-face language, The Inbetweeners was extremely well written and hit a chord with its audience, winning plenty of awards. Writers Damon Beesley and Iain Morris pitched the quartet of lead characters at exactly the right level to generate sympathy and empathy from the viewers, setting them too far down the school food chain to be considered cool or bullies, but far enough up to make us marvel at their doomed attempts to claim some conquests during their most formative years.
Mr Gilbert, after a largely successful school party, sneeringly proclaimed the event, 'A fairly innocuous jamboree of adolescent nonsense,' which discreetly seems to sum up The Inbetweeners nicely…and who would argue with him?
Review by Brian Slade:
Born and raised in Dorset, Brian Slade turned his back on a twenty-five-year career in IT in order to satisfy his writing passions. After success with magazine articles and smaller biographical pieces, he published his first full-length work, `Simon Cadell: The Authorised Biography'
Brian is a devoted fan of the comedy stars of yesteryear, citing Eric Morecambe, Ken Dodd, Harpo Marx and Dudley Moore amongst his personal favourites. He was drawn to the story of Simon Cadell through not only `Hi-de-hi!' but also `Life Without George', a programme he identified with having grown up in the Thatcher era.
Published on June 24th, 2021. Written by Brian Slade for Television Heaven.