The Jeffersons
1975 | United States
Review: Michael Spadoni
One of the more popular spin-offs from the ground-breaking All In The Family, The Jeffersons centred on Archie Bunker's African-American neighbours and their new life as they "moved on up" to New York's Manhattan and away from the Bunker's working-class Queens.
George Jefferson (Sherman Hemsley) could be considered the "Black Archie", because he has the same disdain for whites as Archie did for anyone who was NOT white. Fortunately, he had long-suffering but headstrong wife Louise (Isabel Sanford) to keep him in line.
Americans met the Jeffersons during All In The Family's first season, when college student son Lionel (Mike Evans) was a frequent visitor to the Bunker household, followed soon after by Louise. George, who would not step foot in Archie's home, finally did so during the 1973-74 season. George and Louise moved up from the slums to start a small dry cleaning operation; it was successful enough for the Jeffersons to buy a house in Archie's all-white enclave of Queens.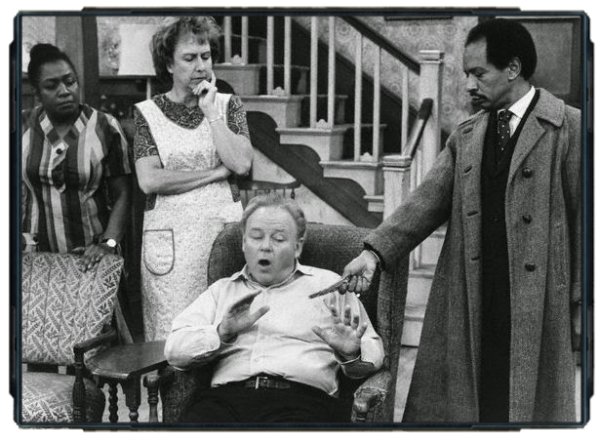 As the business became more successful (with more stores in the New York area), the Jeffersons said so long to "Bunkerville" (as George called it) and moved to an expensive high-rise condo complex on Manhattan's East Side. (The show's gospel-tinged theme song, "Moving on Up" by Jeff Barry and Ja'net DuBois, became one of the classic themes of US sitcom history and a true TV cultural icon).
When The Jeffersons premiered January 18th, 1975 as a mid-season replacement on CBS, the new family met eccentric Englisman Harry Bentley (Paul Benedict), whose back often went out and needed George to stand on his spine to relieve the pain. Also living above the Jeffersons was the Willis family-white businessman Tom (Franklin Cover) and his black wife Helen (Roxie Roker); the couple had a daughter, Jenny (Berlinda Tolbert). Much to George's dismay, his son Lionel began dating Jenny; the two finally married on a Christmas 1976 show. The Willis' provided fodder for George's racial putdowns, calling the pair the "zebra couple" and "Mr. Day and Mrs. Night". The Jeffersons was the first US series to depict a loving interracial couple.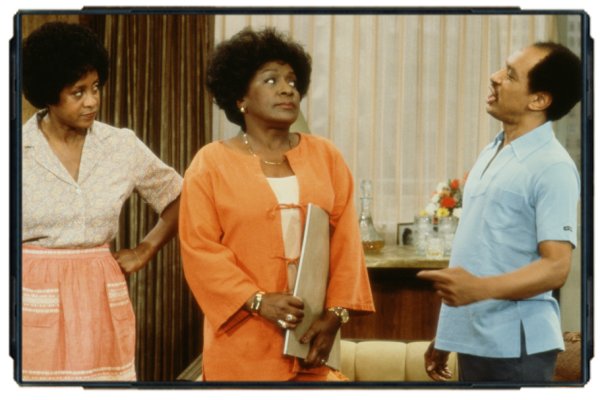 If Louise wasn't around to defuse George's bluster, there was the Jeffersons' maid, Florence Johnston (Marla Gibbs), who put down George at every turn; George would counter by calling Florence "lazy" and a bad housekeeper. Other characters included Ralph the doorman (Ned Wertimer), who would do anything to get a hefty tip from George; and George's mother (Zara Cully), known as "Mother Jefferson", who felt George could have married better-and didn't hesitate to let Louise know. (Cully died in 1978; the character was not replaced).
All this broad comedy gave CBS another hit from the Norman Lear factory; following All In The Family on Saturday nights, The Jeffersons became an instant top-five hit and stayed among the top 20 shows for much of its run. But its popularity came with criticism from both critics and leaders in the African-American community. Though it was praised for showing a successful black nuclear family at a time when a growing number of blacks were making strides in the corporate world, they faulted George's buffoonish character and were divided over the showing of the interracial Willis'.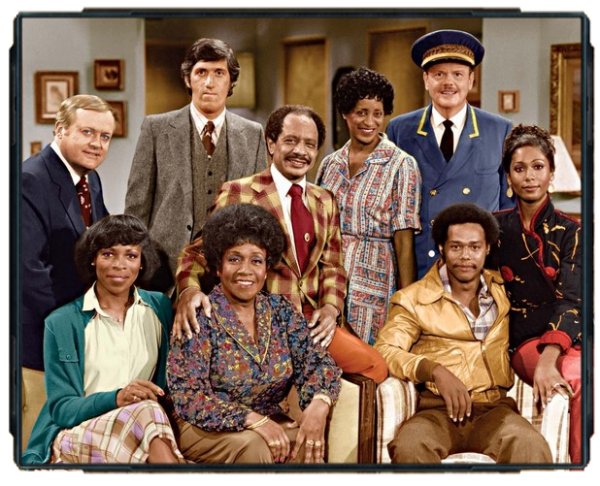 As the show moved into the 1980's, its humour became less racial and there was less talk of George and Louise's former life in the low-income projects. There were changes, both intentional and due to circumstance. Mike Evans left the show in the fall of 1975; the role of Lionel was given to Damon Evans (no relation). Mike Evans returned to the show in 1981 and stayed with it through the remainder of its run. Lionel and Jenny gave birth to a baby girl, Jessica, in 1980. But the couple separated a year later; the pair filed for divorce in 1985. Gibbs briefly appeared in her Florence Johnston character as the chief of a hotel's housekeeping staff in a spin-off series called Checking In (which also featured a post M*A*S*H Larry Linville as her boss, in a role not unlike Major Frank Burns). 
Checking In checked out after four weeks; Gibbs returned to The Jeffersons soon after. George's dry cleaning business continued to prosper, but The Jeffersons finally came to the end of the road in the spring of 1985, when it succumbed to NBC's action-adventure show The A-Team on Tuesday nights; final episodes were aired during the summer.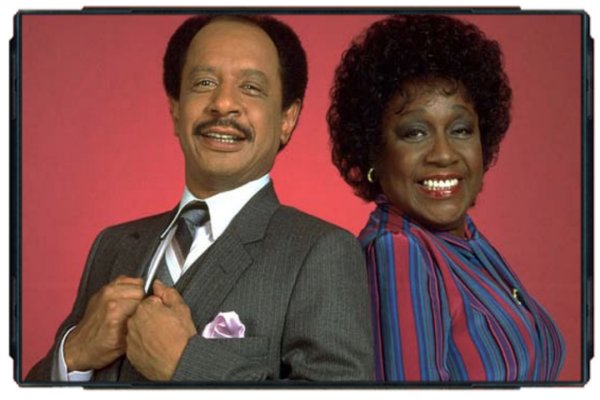 The Jeffersons at its best was funny with broad characters that proved that a black comedy could succeed on American television. It helped pave the way for other hit comedies with African-American families (most notably The Cosby Show; Family Matters and 227).
A Tribute to Michael Spadoni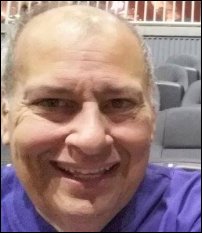 Michael Spadoni made his living as a radio news producer and writer in Las Vegas, Nevada.
As a child he said he was the first on his block to have his own TV set in his bedroom (an old Packard Bell console), and his family was the first on the block to have a colour set ("a 1965 Sears Silvertone 23 inch console with contemporary styling--mom's preference"). From an early age, Mike, like many of his generation fell in love with 'the box.'
Later, Mike entered the full high definition age with a 26-inch Sony Wega LCD set, an HD hard drive recorder, and a recorder for DVD and videotape--plus Dolby surround sound. "But there were times I missed my 1983 Mitsubishi 19-inch set that never failed me in the 20 years I owned it."
And like any other television fan, his cabinets were filled with tapes and DVD's of old television series and classic commercials. ("Not to mention a few newer favourites." - he would say).
Mike first started writing about US TV shows on Television Heaven's now defunct forum and his musings were so insightful and entertaining that I approached him and asked if he'd like to write a regular column for the main website. As a result 'Mike Spadoni's View from America' became a regular feature on Television Heaven for a number of years. He was also a regular contributor to the website writing with passion - reviews, articles and historical pieces in which his great passion for the medium shined brightly.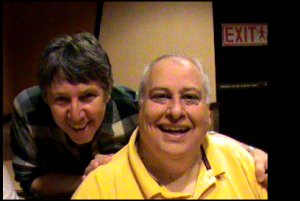 I finally got to meet Mike in person in 2011. We met up in Las Vegas with my family and Mike's partner, Kevin. It was all too brief and the one and only time we would meet, although we did Skype quite regularly. And then Mike was diagnosed with Cancer.
Michael fought his illness with hope, determination and good humour but sadly he lost his battle in August 2017. Many of Mike's contributions can be found on this website and a number of his reviews, many of which were TV shows that were never broadcast outside of the USA and which have been unpublished for a number of years, like this one, are now proudly displayed for all to read. I hope you enjoy them as much as I do and undoubtedly, as much as Mike enjoyed writing them.
Published on June 3rd, 2020. Written by Michael Spadoni (2009) for Television Heaven.