The Ugliest Girl in Town
1968 | United States
Back in the days when ABC was an also-ran network, it had the habit of scheduling one or two really bad shows on its fall schedule every year. Some were silly but caught on (The Flying Nun, for instance). Others were so bizarre, they defied description–not to mention how they got on the air in the first place.
Such was the case with The Ugliest Girl in Town–a 1968 sitcom that fused the world of fashion models and cross-dressing more than two decades before RuPaul and Supermodel. It was bad–and not in a "good" way, either. In 2002, TV Guide ranked "Girl" 18th on its list of the 50 worst television shows ever.
To describe the show was simple: Boy meets girl....boy loses girl...boy dresses up as girl to be with girl. Sounds silly? Read on.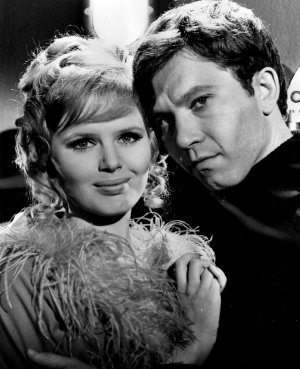 Timothy Blair (played by Peter Kastner) was a gofer at a talent agency who happened to meet actress Julie Renfeld (Patricia Brake). Sparks fly and love ensues after a series of events. Unfortunately, Julie must return to her native England, and Timothy can't afford to follow her. Then Timothy's brother Gene (played by Gary Marshall–NOT the producer and director of the same name) is contracted to take pictures for a London-based magazine. He screws up the photos and by desperation, Gene asks Timothy to dress up as a hippie (this was 1968, after all) and wear a wig with long hair.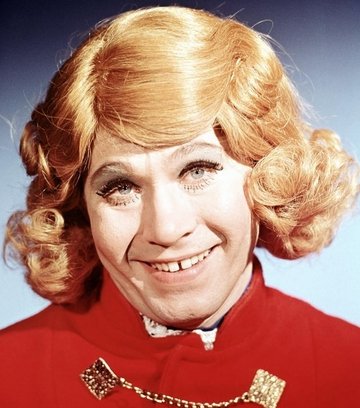 Some idiot at the magazine apparently thought Timothy with his fake hair was a WOMAN named Timmie, and figured "she" would become the next Twiggy. Of course, Timmie/Timothy and Gene head to swinging London for a series of photo shoots with talent agency chief David Courtney (Nicolas Parsons). Naturally, Timothy (as Timmie) finds Julie again, and the two resume their relationship.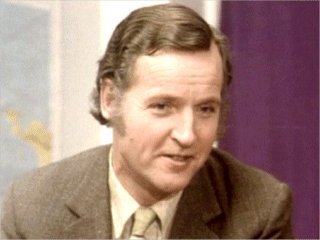 But again, another complication: Gene ends up owing money and Timothy/Timmie must stay in London to help pay his brother's debt. Plus, Courtney finds out Timmie is actually Timothy, and forces Timothy/Timmie to stay in the UK by threatening to report him to the police until Courtney makes his money from his hot new modelling find. The good news is that Timothy can be with Julie. The bad news is that Timothy can only be with Julie in public as Timmie–which leads to even more (unanswered) questions about two women spending so much "quality" time together!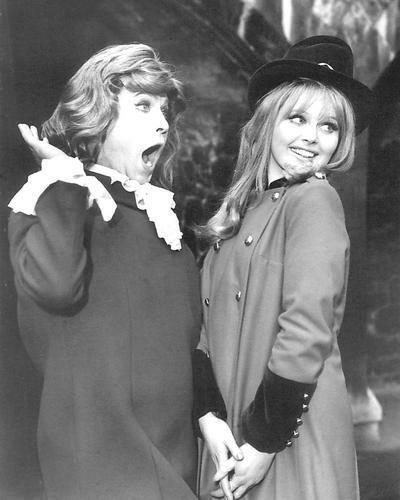 My suspicion was that "Ugliest Girl" was picked up by ABC because it was produced by Columbia's Screen Gems studio (which also produced The Flying Nun and ABC's biggest series hit of the time, Bewitched.) In fact, ABC slotted "Girl" on Thursdays at 7:30 PM, followed by The Flying Nun, Bewitched, That Girl and a short-lived British science fiction series called Journey to the Unknown. Another plus was that The Ugliest Girl in Town was filmed in London, which reduced production costs and made it a relative bargain. Topping it all off was the show's soft-rock theme song written by Howard Greenfield and Helen Miller, who also wrote such true pop classics as Gene Pitney's "It Hurts To Be In Love" and "Foolish Little Girl" by the Shirelles. Performed on the series by a group called the "Wall-O-Bees," The Ugliest Girl in Town premiered on September 26th, 1968. But viewers preferred to watch the more masculine Daniel Boone on NBC. As a result, Timothy/Timmy Blair and his adventures ended with the January 30th, 1969 episode.
Twelve years later, ABC would try the cross-dressing sitcom again with Bosom Buddies, which put Tom Hanks and Peter Scolari in drag at a hotel for women. It ran for two seasons, and launched Hanks' very successful film career. Not to mention the fact that Bosom Buddies was actually quite funny–unlike the femme fatality that was The Ugliest Girl in Town.
Published on October 4th, 2021. Written by Michael Spadoni for Television Heaven.