The Flying Nun
1967 | United States
Of all the fantasy situation comedies that aired in the 1960's, The Flying Nun was one for the books. A 90 pound Catholic nun who takes flight when the wind blows up her habit? Even My Mother The Car was only slightly less ridiculous. But for three seasons, a loyal audience tuned in every week to watch young actress Sally Field go airborne; her eagerness and freshness, which served her well in 'Gidget', made this slight comedy rather watchable. 
Based on the novel "The Fifteenth Pelican" by author Tere Rios, The Flying Nun was the story of Sister Bertrille (the former Elsie Ethington), an American novice nun assigned to the Convent San Tanco near San Juan, Puerto Rico. Her energy and grit to help solve the cash-strapped convent's problems endeared her to some. Sister Bertrille's major critic was her "boss", the stern Mother Superior The explanation for Sister Bertrille's flights of fancy was somewhat convoluted: "when lift plus thrust is greater than load plus drag, any object can fly". Translation: The young sister's light weight, the strong Puerto Rico winds, and her starched headdress and clothing allowed her to circle over the country like a bird. Her flying, combined with her tendency to get into unusual situations, formed the basis for the plots. 
The show's core audience was 12 to 24-year-old girls (and a few of their brothers, no doubt) who helped make the show a hit for the ABC network. As a result, Flying Nun merchandise was made available, everything from lunch pails to paper dolls. Field also recorded several albums linked to the series, including a vocal version of the show's theme song "Who Needs Wings To Fly?" Even before The Flying Nun went off the air on September 18th, 1970, some religious orders actually commended the series for "humanizing" the work of Catholic nuns.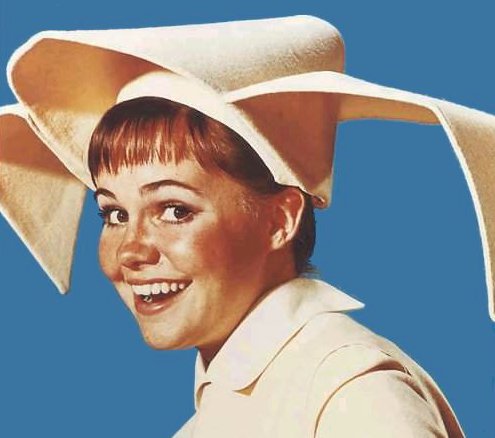 In later years, Field called the Flying Nun role a "good experience" (in part because she learned about acting from co-star Madeline Sherwood). But she was not happy about wearing a heavy nun's outfit every day, and not a happy camper about the slight scripts. During the show's run, Field married and became pregnant; her "condition" had to be hidden for a time until she gave birth. 
Three years later, Sally Field starred in what would be her last regular television series for nearly three decades. The Girl With Something Extra, which also came from the Screen Gems factory, was the story of housewife and newlywed Sally Burton, who had extra-sensory perception and could read minds--including the mind of her new hubby John. 
A few years later, with roles in the TV movie Sybil and such films as Norma Rae and Places In The Heart, Field was able to carve a new and successful phase in her acting career. She occasionally did television (appearing as a guest in made-for-TV movies and miniseries, along with guest appearances in such series as Murphy Brown and ER), but Field wouldn't return to series television until 2002, when she played a Supreme Court justice on the short-lived legal drama The Bench. 
With accolades and awards for her movie and television work, there's no doubt Sally Field, the former Flying Nun, has earned her wings.
Published on December 13th, 2018. Mike Spadoni.