Sanford and Son
1972 | United States
Included in Time Magazine's 2007 list of "100 Best Shows of All Time", Sanford and Son was based on the BBC Galton and Simpson sitcom Steptoe and Son. However, had a plan to make an American version of the award winning Britcom come to fruition as early as 1964, Sanford and Son as we now know it might never have been made.
In the UK, by 1964 Steptoe and Son had already secured its place in television history winning awards for the series itself, the actors Harry H. Corbett and Wilfrid Brambell, and the scriptwriters Alan Simpson and Ray Galton. Lauded by critics and fans alike, the original scripts had been adapted for radio and Pye Records had released a series of best-selling albums. The stars themselves had been enticed to the big screen, Corbett making the Galton and Simpson penned The Bargee, and Brambell, perhaps more famously, appearing as Paul McCartney's granddad in what was then seen as the ground-breaking pop-culture movie A Hard Day's Night.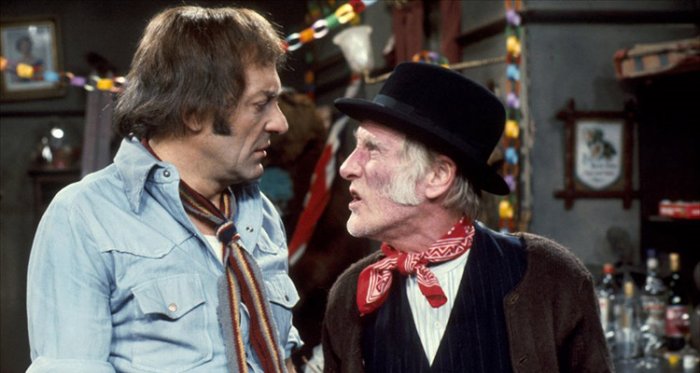 Such was Steptoe's high profile that a US film producer, Joseph E. Levine, founder of Embassy Pictures, decided to invest in a pilot episode for NBC. The US remake (for that's exactly what it was) was to retain its British title and two actors were cast for the roles of Harold and Albert: Aldo Ray and Lee Tracy respectively. The setting for the series was Chicago. In spite of filming the pilot, it was never shown on US television. Despite that, Levine retained the rights for an American version right up until 1971. Even before then, discussions took place to try another pilot, this time for Screen Gems, but the programme makers could not make up their minds on how to best portray the characters. "We spent two months writing a pilot." Said Alan Simpson. "But they couldn't cast it. They said it was too ethnic and didn't know where to set it. 'We can't set it in New York - they'd be Italian or Jewish. We can't set it in Chicago - they'd be Italian, too. We can't set it in Los Angeles, they'd be Mexicans. So it's a bit of a problem, really.' The writers suggested they do it with an all-black cast. "They said, 'that's a wonderful idea but if they are poverty stricken the network won't wear it. Black people have to be doctors or lawyers.'"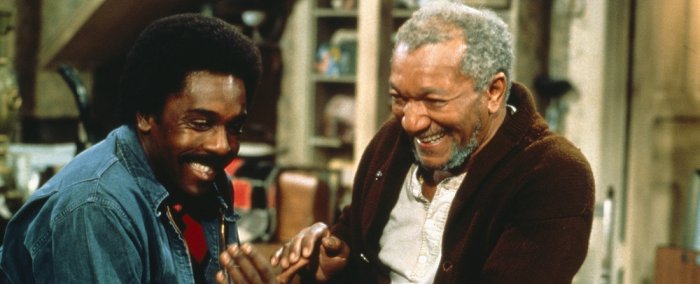 In 1971 US TV producer Norman Lear took up the relinquished rights to the show. Lear had previously created a huge hit out of another British sitcom; Till Death Us Do Part which he took to America and adapted as All In The Family. In Archie Bunker America had an iconic television character. Now Lear was on the lookout for another series that would duplicate this success. Lear set about making a pilot starring Bernard Hughes and Paul Sorvino. But like the previous pilot in 1964, this one was also considered a failure and never aired. Nevertheless, Lear persevered and decided to rewrite the characters as a black father and son and set it in Los Angeles. When Galton and Simpson told him that's what they'd suggested in 1967 they were told "Ah, but you couldn't do that then. You can now."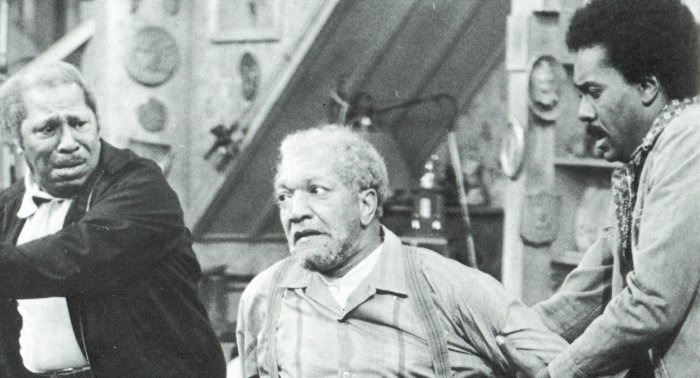 Actor Redd Foxx was cast as Fred G. Sanford, a 65-year-old widower and junk dealer living at 9114 S. Central Avenue in the Watts neighbourhood of South Central Los Angeles, California; alongside Desmond Wilson as his 30-year-old son, Lamont Sanford. Foxx portrayed Sanford as a sarcastic, irascible schemer who's frequent get-rich-quick ideas routinely backfire. Like his British counterpart, when things were not going well for Fred he'd feign a heart attack - 15 before the end of the first episode! He made a catchphrase out of his announcement to his long-deceased wife "I'm coming Elizabeth, I'm coming. This is the big one!" In his more melancholy moments he'd make long speeches to Elizabeth but in his more aggressive moods he'd take up the stance of a fighter, clenching his fists in the face of authority and muttering: "How would you like one across your lips?"
His son Lamont longs for independence, but, as in the British version in the same way that Harold Steptoe feels about Albert Steptoe, Lamont loves his father too much to move out on his own and leave the trouble-prone Fred unsupervised. Though each owns an equal share in the business, Fred is the boss, Lamont often finds himself doing all the work. Fred often insults his son, usually calling him a "big dummy." Lamont also insults his father, referring to him as an "old fool." However, the two share a close bond and regularly come to each other's aid. Unlike the British series Sanford and Son is not a two-hander and a regular supporting cast would often infringe on the two central figures. Ray Galton admitted: 'Our contribution to Sanford and Son was very limited. The first series was something like 14 programmes, 11 of which were based on our show. But after that it was turned into a gang show. They brought in aunties, friends, next-door neighbours...'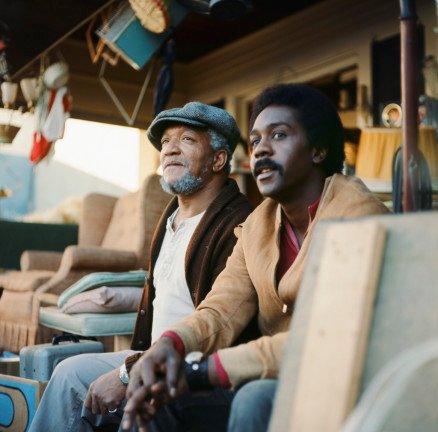 First airing on 14 January 1972, as a mid-season replacement to Jack Webb's failed show The D.A., Sanford and Son was an instant hit with US audiences. After its first 13 episodes, the show was picked up for another season. By its second season, the show ranked number two behind All in the Family in the all-important American TV ratings. However, by the end of the third season, there were already problems brewing behind the scenes.
By 1976, with a number of familiar faces having departed Sanford and Son, a clutch of new ones were drafted in. The final programme in the series, broadcast Friday 2 September 1977, ended with Lamont getting engaged to his sweetheart, Janet. The wedding was planned as the opening episode of the following season. But it never came about. Redd Foxx had made a firm commitment to a variety show for ABC, informing NBC, quite unceremoniously, that he would not be available for another season of Sanford and Son. NBC decided to continue the series promoting Desmond Wilson to solo star status, but this led to another pay dispute. With the prospect of becoming the main star of Sanford and Son Wilson demanded a huge increase in wages that NBC simply felt was more than he was worth. Rather than pay up, NBC simply cancelled the series.
However, NBC were still keen to continue with the Sanford franchise, especially as the show was still doing well in the ratings when it was cancelled. To this end, they created a spin-off. The Sanford Arms took some of Sanford and Son's best-loved supporting characters and promoted them to the forefront in a sitcom that found them running the Sanford Arms hotel. NBC were hoping that fans loyal to Sanford and Son would tune in and make the new show a hit. The series aired just two weeks after the last episode of Sanford and Son. It was off the air in less than a month. Determined not to write the franchise off completely, NBC enticed Redd Foxx back as Fred Sanford, but Desmond Wilson, still in dispute over salary, did not return.
The series lasted for three short seasons before the Sanford franchise finally came to a close in 1981. Redd Foxx passed away in 1991. During a break in rehearsals for his last sitcom, The Royal Family, he had a heart attack. The rest of the cast and crew thought he was doing his classic routine from Sanford and Son. But sadly, this time 'the big one' had come for real. Foxx never regained consciousness. Sanford and Son remains one of the most beloved sitcoms in American television history successfully crossing any racial barriers to be enjoyed by all audiences. When a US version of Steptoe and Son was first suggested in the 1960s the BBC said they would never show any other version other than the original. To this day Sanford and Sonhas never aired in the UK.

Published on May 24th, 2019. Written by Marc Saul (2014) for Television Heaven.