Two in Clover
1969 | United Kingdom
Two in Clover by Brian Slade
As Thames Television began to find its feet in 1968 in the infancy of its 14-year franchise, it began searching for new programming to supplement the more successful shows that it had inherited at its inception. With George and the Dragonhaving finished Thames decided to reunite Sid with the writers of the programme for a new sitcom, Two in Clover.
Vince Powell and Harry Driver were in the early years of what would become a powerhouse comedy writing team on the commercial networks. George and the Dragon had been a success in its four series on screen. Filming had already begun on the hit comedy Nearest and Dearest, a vehicle for Hylda Baker and Jimmy Jewell that would clock up seven series in a little more than five years. The Powell and Driver team was a remarkable one that would be cut cruelly short by Driver's early death in 1973.
Working alongside Sid James in the headline roles would be Victor Spinetti, already a star of film and stage. His connection with The Beatles had seen him appear in the group's first three movies, and at the time Thames were touting Two in Clover, Spinetti was busy bringing In His Own Write to the stage, the original work being a bizarre collection of poems and short stories from the mind of John Lennon.
Television fame for Spinetti had been limited to being a member of a collective, being part of the plethora of anarchic breakthrough artists at the turn of the decade, most notably It's Marty, Marty Feldman's hugely influential sketch-based comedy series.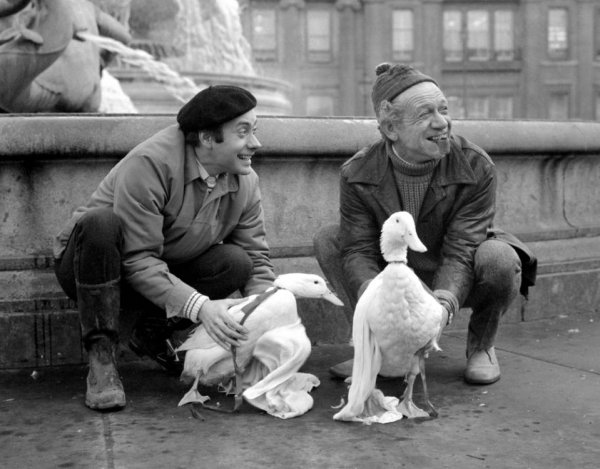 The premise for Two in Clover has been likened to an early version of The Good Life, but in actuality the aims of the leading pair are far less altruistic. The opening episode finds Sid and Vic, as they are known simply in the series, throwing in the towel on their city desk jobs. To ensure there is no doubt among its audience, the opening five minutes are given a voiceover to explain the pair's actions as they reach breaking point in their suit-and-tie careers and have very public meltdowns within their workplaces before resigning.
The next step for the pair is to pool their money and move to the countryside, buying Clover Farm, a dairy farm that is dilapidated but offers a simplistic life far removed from city pressures. After the opening explanations, the voiceover format is dropped and the regular sitcom format is returned. It quickly becomes apparent then neither Sid nor Vic is really cut out for the country life as they find the work involved in maintaining the farm far greater than they had planned. Furthermore, their attempts to find themselves a little female company are almost entirely doomed as they realise that the local entertainment consists of little more than bingo, beetle drives and dominoes at the only pub in the village.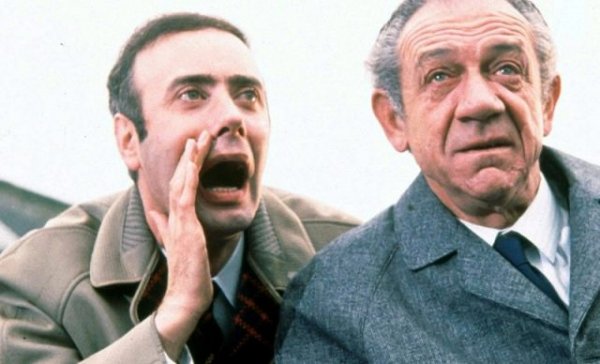 For the second series, the show was filmed in colour as the fledgling Thames franchise began to make strides forward. The format remained largely the same, although it was now filmed at a new location. Sid's ever-excessive workload meant that he was juggling filming the sitcom with matinee and evening summer season stage shows.
Although Two in Clover remains an entertaining if a little simplistic show, its strength was perhaps also a significant part of its demise. The comedy itself was not yet outdated – far less subtle comedies would follow it in the 1970s – but it certainly didn't look too well placed being performed in particular by Sid James. James was 16 years older than Spinetti, and while his was the star name of the pair, it was not lost on him that at 57 years old and with his trademark 'lived in' look, relentlessly pursuing the local female talent was beginning to look somewhat unpalatable. Vic was more dressing gowns and cigarette holders, while Sid was more focussed on a quick roll in the hay with anybody to show willing.
Sid was very much the gruff one of the pair when it came to romantic intentions. Such lines as 'this is my crumpet clobber' as he dressed up to woo the only apparent female in town looked somewhat out of place for his age. After two seasons, Sid James decided that he was uncomfortable enough with the look of his character in the show to pass on a third series, and so he headed off to the next Powell and Driver vehicle Bless This House, a far more appropriate programme for someone of James's age and popularity. For Spinetti, Two in Clover was essentially the only starring vehicle of his career to find an audience, although his career flourished on stage and screen for the remainder of his life.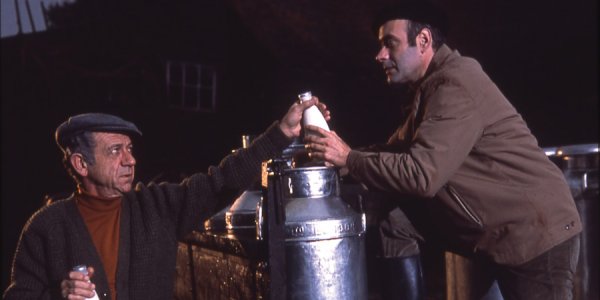 As it was only two series long, Two in Clover tends to be overlooked when people think of Sid James, understandably so given the vast body of work Sid left behind. But that shouldn't detract from the fun that it offers and the fine performance of its leading players. In other circumstances there could well have been further series of Two in Clover, but it is still available on nostalgia channels and DVD and remains a very pleasant stroll down memory lane.
About Brian Slade
Born and raised in Dorset, Brian turned his back on a twenty-five-year career in IT in order to satisfy his writing passions. After success with magazine articles and smaller biographical pieces, he published his first full-length work, `Simon Cadell: The Authorised Biography'.
Brian is a devoted fan of the comedy stars of yesteryear, citing Eric Morecambe, Ken Dodd, Harpo Marx and Dudley Moore amongst his personal favourites. He was drawn to the story of Simon Cadell through not only `Hi-de-hi!' but also `Life Without George', a programme he identified with having grown up in the Thatcher era. 
Published on March 31st, 2020. Written by Brian Slade for Television Heaven.