Vic Reeves Big Night Out
1990 | United Kingdom
Vic Reeves Big Night Out was perhaps one of the most weird and wonderful comedies to come out of the 1990s, but the origins of the show started way before that. 
The original concept for the Big Night Out began back in the 80s when Vic Reeves, or Jim Muir as he is really called, started a show for a friend in a pub in London. At first only friends attended, but soon word spread of the ever changing show that had its roots in the variety shows of years gone by. By 1986 Vic, or Jim's night was a regular fixture at the Goldsmith's Tavern. From only having a handful of audience members its popularity grew until the numbers trying to get in were more than the pub could handle. One of these was Bob Mortimer who was a solicitor with a surreal sense of humour and soon he was up on stage with Vic. In 1988 the show had moved to the Albany Empire and by 1990 the first TV series of Vic Reeves Big Night Out was aired on channel 4.
The show was met by a mixed reaction - people either 'got it' or didn't, but those who did couldn't wait for their weekly half hour of crazy characters, novelty acts and songs, in the main performed by Vic and Bob. Each show would open with a song, sung by Vic in a typically surreal way. One episode began with Vic climbing out of a top loading washing machine singing 'Stay with Me' by the Faces. In each show Vic would be sitting behind a huge desk decorated with fake horse brasses on the front and a collection of clutter on the top - much of this he managed to work into the show for comedic effect. He would then welcome on a range of acts to perform for the audience. But unlike the usual variety shows that you have probably seen, the acts Vic had were anything but conventional.
The acts that were seen on the show frequently included: the Ponderers who pondered over things, Graham Lister a jobsworth whose main aim was to ruin Vic in any way possible (he was played by Bob), Wavey Davey who waved at people (often as something terrible was happening to them), The Living Carpets, Tinker's Rucksack and Judge Lionel Nutmeg, played once again by Bob who would preside over any 'crimes' that might have been committed by a person watching the show. He would use his 'wheel of justice' to decide on the fate of any unfortunate audience member who was brave enough to get up on stage with them and 'confess' to their crimes. The show also featured Les who was played by Fred Aylward, with a shaved head and vacant expression Les didn't say much, but he was scared of chives and loved spirit levels. When he came on stage, dressed in a lab coat Vic would tell the audience a Les fact which became more and more bizarre as the series went on.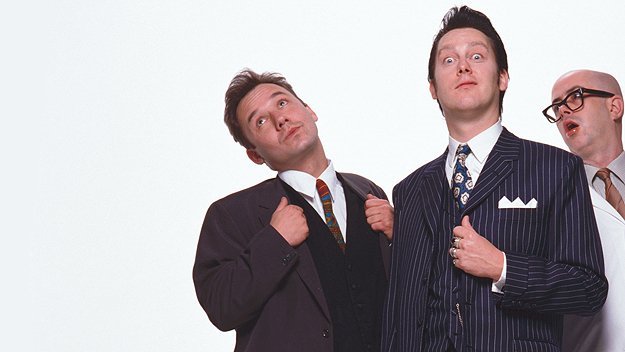 Morrissey the Consumer Monkey was one of the many puppets that Vic Reeves has used throughout the years and he was always popping up on The Big Night Out. He would come up from underneath the desk as Vic would control him, while Bob did the voice (he didn't sound anything like Morrissey by the way). He would tell the audience about faulty goods that he had encountered that week and more often than not they would be an item from the extensive Reeves and Mortimer range. This led to Vic and Bob trying to cover up their tracks. Much of the fun of Vic Reeves Big Night Out came from the fact that no one knew what was going to happen next, and in some cases it looks like Vic and Bob aren't too sure either! The result of this was a fun mix of humour, song, dance and pretty much everything else in between. While the show on DVD was given a 15 rating it was actually a PG programme, the fact that it was on after 10.30 was more to do with how many people channel 4 thought would watch it rather than concerns over the content.
Some of the episodes featured some names that would go on to be big names in the world of comedy including Paul Whitehouse, Charlie Higson and Caroline Aherne. They would come on dressed up as various characters and have to put up with whatever Vic deemed fit to subject them to. In most cases it was standing in the tiny section of fenced in grass which was called Novelty Island and was used as an area for acts to perform. Such was the popularity of the show that it was commissioned for a second series. Vic Reeves and Bob Mortimer went on to have several other popular shows including - Shooting Stars, Reeves and Mortimer and the recent House of Fools. Each show ended with a song - usually Mr Songwriter, sung by Vic as he tried to avoid being put off by Bob (sometimes as himself, sometimes as someone like Graham Lister), Les or anyone else who came on stage. 

Published on February 11th, 2019. Written by Joanne Kerrigan (2014) for Television Heaven.