No Job for a Lady
1990 | United Kingdom
When casting an actor from a comedy as successful as The Good Life there are always going to be challenges, particularly plucking one of the Leadbetters, depicted as they were as the Conservative status-obsessed upper class neighbours of eco-warriors Tom and Barbara Good. Paul Eddington was of course put into a career defining role of Jim Hacker in Yes Minister and Yes, Prime Minister. The bigger jump however was for Penelope Keith, who in 1990 appeared in her own political comedy, but in contrast to Margot her character was a Labour MP in the male-dominated House of Commons in No Job for a Lady.
We meet Jean Price MP in her early days in office having earned her place in the Commons courtesy of winning a bi-election by a majority of 507. Little seems to have prepared her for the challenges of balancing the life of an opposition MP with a home life while at the same time battling the sneering of the government's MPs and the sexism of operations within the House, despite this still being the time of Margaret Thatcher's reign.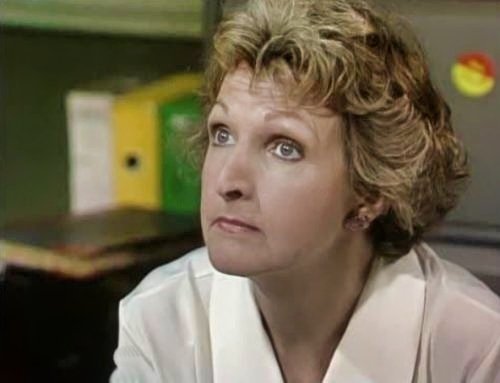 Price is a Labour MP, going against type somewhat for Penelope Keith's on screen career, having been the upper class Margot and of course also having played Audrey fforbes-Hamilton in To The Manor Born. Price is very keen to do well by her constituents, keeping her finger on the pulse of individual needs while accepting responsibilities that are now more national. To maintain that personal touch she needs the assistance of several people around her to keep the plates spinning. She shares an office with Scottish MP Ken Miller (Paul Young) who has been around long enough to know the do's and don'ts within the corridors of power.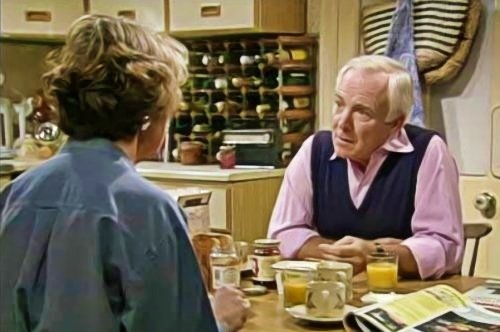 On a more personal level, Jean has an assistant in the form of Tim (Jonathan Dow) in the first series – with Paul Rattigan and Michael Cochrane taking similar assistant reigns in the second and third series. And all the time, keeping the home fires burning in a role reversal approach is husband Geoff (Mark Kingston), left to keep the house in order and spend his time wondering when Jean will be home.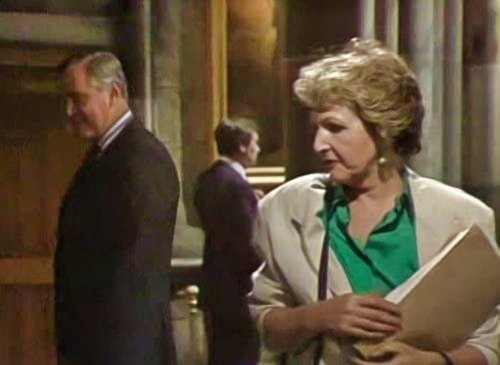 No political comedy would be complete without the enemy to clash with. In No Job for a Lady, the first two series see a familiar face for Jean's regular battles in the form of George Baker (at the same time also finding fame playing Wexford in The Ruth Rendell Mysteries). Baker's role is that of Godfrey Egan MP, a pompous fossil within the government whose majority is so substantial that he has lost all touch with the everyday people, and as such he regularly butts heads with Jean as she tries to reform the processes of government that he feels should be left well alone – especially by a woman.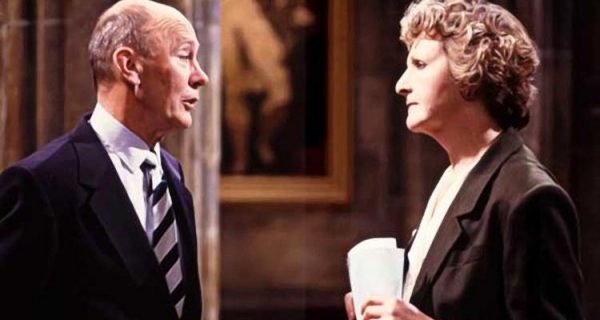 Last of the main characters is party whip Norman (Garfield Morgan), who Jean initially refers to as the warder. He carries a headmaster-like air as he attempts to ensure that all his MPs behave appropriately in opposition. Like Egan, he too has a rather old-fashioned view when it comes to women in parliament.
Much of the three series involves Jean going into bat for her constituents and finding barriers that the system has in place to stop her getting through any of her motions or helping her voters. Combined with the sexism, courtesy of the 'old-boys club' feel around parliament, Jean must battle for every win and break many walls to claim the slightest victory in such a fundamentally blinkered and institutionalised environment.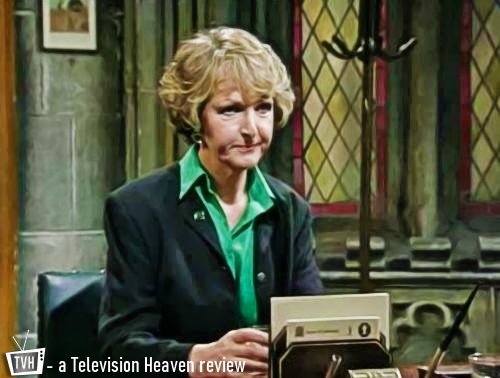 Looking back on No Job for a Lady it is somewhat inevitable that one of the first things to do is get past Margot Leadbetter. It's testament to writer Alex Shearer that Keith was cast as a socialist in such a contrast to Margot and it shows great faith in Keith's acting talents. It's remarkable how quickly the Margot skin is shed, and while Jean is not the most believable character for a Labour MP, Keith's performance across three series is a believable one that commands empathy from the viewer.
Shearer's scripts may not be as entangled and masterly as those provided for Yes Minister and its follow-up, but his lead character is battling in different ways. Hacker is mostly fighting Sir Humphrey in the classic Anthony Jay and Jonathan Lynn scripts. In No Job for a Lady, Jean is dealing with the particular challenges faced by women in parliament alongside the challenges of being an opposition MP trying to get a voice for her constituents. Despite hitting screens as Margaret Thatcher was coming to the end of her tenure, the topic was still a valid one and while not remembered with the same regularity as Hacker and company, No Job for a Lady is an intelligent political comedy with its own particular slant on the machinations of parliament and well worthy of Penelope Keith's talents.
Review by Brian Slade:
Born and raised in Dorset, Brian Slade turned his back on a twenty-five-year career in IT in order to satisfy his writing passions. After success with magazine articles and smaller biographical pieces, he published his first full-length work, `Simon Cadell: The Authorised Biography'.
Brian is a devoted fan of the comedy stars of yesteryear, citing Eric Morecambe, Ken Dodd, Harpo Marx and Dudley Moore amongst his personal favourites. He was drawn to the story of Simon Cadell through not only `Hi-de-hi!' but also `Life Without George', a programme he identified with having grown up in the Thatcher era.
Published on October 15th, 2021. Written by Brian Slade for Television Heaven.