Father Ted
1995 | United Kingdom
Surreal, silly and very very funny, Father Ted was a sitcom that not so much thumbed its nose at some of Irish cultures most sacred cows, but rather brazenly bludgeoned them to death with a gleefully wielded sledgehammer. 
Created and written by the team of Graham Linehan and Arthur Matthews -who would later go on and contribute their not inconsiderable comedy talents to both The Fast Show and Coogan's Run- the series charts the misadventures of chain smoking morally suspect Catholic priest, Father Ted Crilly (the late and sadly missed Dermot Morgan), who's been banished to a stark, desolate off-shore ecumenical limbo somewhere off the Galway coast, named Craggy Island, for numerous shadowy misdemeanours and even less shadowy character defects. Along with Ted is his young, inexperienced, child-like and likeable, but staggeringly stupid curate, Father Dougal Maguire (a perfectly judged performance of almost breath-taking empty headedness by young stand-up comedian Ardal O'Hanlon), and the alcoholically hazed, psychopathically monosyllabic retired veteran cleric, Father Jack Hackett (seasoned character actor Frank Kelly). Rounding out the central quartet is the excellent Pauline McLynn as the manically devoted parochial housekeeper, Mrs. Doyle.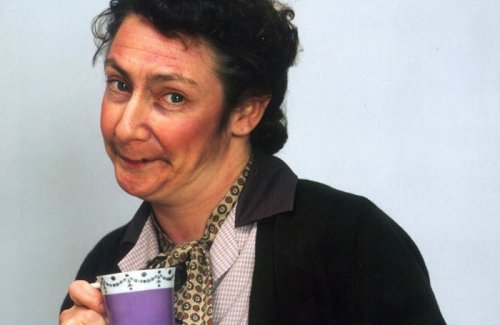 On the foundation fashioned from this basically simple scenario, writers Linehan and Matthews created a near self contained universe of inspired lunacy and comic invention, which more often than not revolved around Ted's (forever) just out of reach dreams of striking it rich and effecting an escape to the civilisation, and tantalising pleasures of the fleshpots of the mainland. Everything from the cult of celebrity through the blatant (but very funny) recycling of plots borrowed from every imaginable genre, to the lure of sex and existence of God Him/Her/Itself were routine grist to the comedic mill of the Craggy Island foursome during the course of the show's three seasons, which ran to enthusiastic audiences and critical acclaim on Channel 4 between 1995 to 1998, as was evidenced by its numerous prestigious BAFTA Award triumphs for such a relatively new series. And, although it was always intended that the series would come to a natural close with the third season, the hopes of die-hard fans that the run would be extended, or future specials would return them to the hapless inhabitants of Craggy Island were sadly dashed by the untimely and wholly unexpected death of star Dermot Morgan at the age 45 in 1998.
Although Father Ted's run was short by successful television comedy standards, its impact on viewers was both instantaneous and enduring. With both its characters and its numerous catch phrases gaining an almost iconic status in some quarters of the viewing population. Anarchic, sometimes controversial, sharply written, performed to perfection and most importantly, delivering a scattergun helping of consistent laughs, Father Ted was a prime example of modern situation comedy at its very best.
Published on December 11th, 2018. Written by SRH for Television Heaven.