The Morecambe and Wise Show
1961 | United Kingdom
Simply the best comic double act that Britain has ever produced, Morecambe and Wise were masters of their craft and became a beloved national institution. For almost two decades their Christmas shows dominated the ratings, becoming as much a part of the Yuletide celebrations as turkey and plum pudding, and to this day they still hold the record audience for a television variety show of 28 million viewers for their Christmas 1977 special.
But it wasn't always plain sailing for the duo who the British public were to eventually take to their collective heart and affectionately dub 'the boys'. Their first series, which aired on 21st April 1954, was panned by critics in such a savage way that they shied away from making another for over six years. They contented themselves on making guest appearances and in 1960 were much in demand when they made twelve visits to Val Parnell's Sunday Night at the London Palladium, performed six spots on Saturday Spectacular and four on Star Time-to the television audience of that era, with only two channels to choose from, it seemed as though Morecambe and Wise were on television every time they switched it on, so it was only natural for them to have their own show.
The first of the new series of shows on 12th October 1961, left them feeling unhappy with the formula that ITV, and their scripwriters Dick Hills and Sid Green, insisted on. But fate was to play 'the boys' a stroke of good luck. A strike by the actors union Equity robbed them of numerous guest stars and extras. Eric and Ernie (who were members of a different union) played all the different parts-giving them full audience attention. Sid and Dick themselves were included in many of the sketches, often bearing the brunt of Eric's jibes and ad-libs. More and more the boys own personalities began to shine forth it was this that won the audience over. The strike lasted for twelve weeks, the same length of the series and by the end of it Morecambe and Wise had established themselves as the most watchable light entertainment show on television. 

With the success of their first ATV series, Morecambe and Wise established themselves in the minds of the British television public along with their various catchphrases ('Get out of that!' - 'Tea Ern?'). The quality of their guests got better, and in December 1963 they recorded a show with The Beatles, treating the most famous pop group of all time with a total irreverence that they would become famous for in later years.
The shows were based very much in the old variety hall style of sketches, song and dance routines, and musical guests. Their stage personae would be Eric Morecambe as the mischievous but loveable clown, and Ernie Wise as the self-important but equally foolish 'straight man'. Such was the quality of their shows and the professionalism of their performances that over the years they were able to attract guests from every corner of the entertainment industry including Tom Jones, Sir Laurence Olivier and even a former British Prime Minister (Harold Wilson), all of whom became the butt of their jokes. In Eric's words "...they (famous people) are literally lining up to be insulted."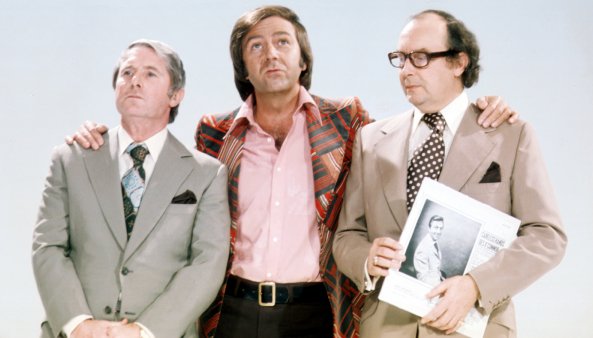 At the end of the 1960s Morecambe and Wise left ATV for pastures new at the BBC, and new scriptwriter Eddie Braben got an immediate grasp of what made the boys tick. His scripts developed Eric and Ernie's own personalities even more. Ernest Maxin succeeded John Ammonds as producer/director in 1974, keeping the formula for the shows the same with a little more emphasis on song and dance/comedy routines. Award followed award for Morecambe and Wise, from BAFTA (1969, 1970, 1971, 1972 and 1973), Variety Club of Great Britain (1974, 1976 and 1978), Radio Industries Organisation (1971 and 1972), Water Rats (1970 and 1974), The Freedom of the City of London (1976) and OBE's (1976). Their 'Christmas Specials' became the highlight of the year for most viewers and in 1977 they broke all records when over 28 million viewers (at the time more than half the population of the entire country), tuned in to watch their show on the 25th December.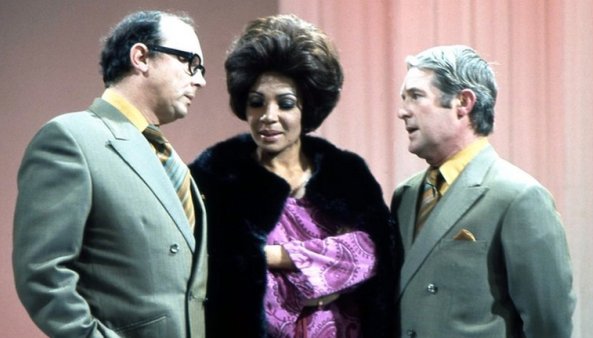 In the late 1970s they switched back to ITV but their days were sadly numbered. Eric had suffered from ill health since a heart attack in 1968 and in 1984, during a period in which Britain seemed to be losing some of its all-time greats of the comedy stage, his woefully untimely death brought down the final curtain on a golden age of comedy partnerships. Ernie passed away in 1999 after a long illness, and while the lads themselves are no longer with us their legend lives on in the form of repeat showings and DVD recordings.
As long as the need for laughter endures so Morecambe and Wise will continue to entertain us. They brought sunshine to quite literally generations of appreciative fans... and we adored them for it.

Related Article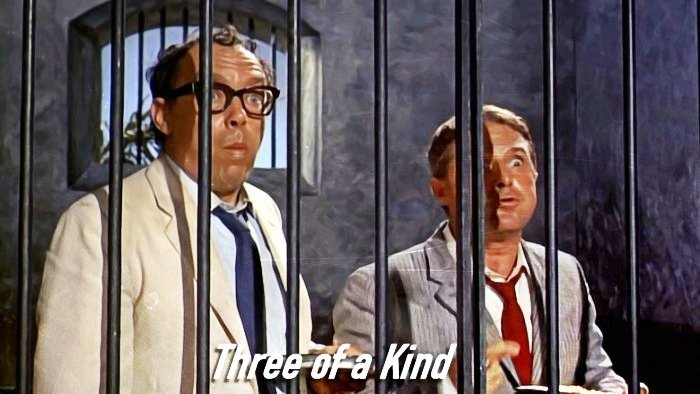 Published on January 8th, 2019. Written by Paul Henshuls & Laurence Marcus (1999 / 2005) for Television Heaven.