With the arrival of the Thames shows on DVD at the end of 2021, Morecambe and Wise fans now have access to everything that remains of the boys work…even if you do need a video recorder to watch their live show! The emergence of the work Eric and Ernie did at Thames provides at last an opportunity to compare the work with that done at the BBC, something that hasn't been a fair comparison in the absence of the commercial work from home viewing media. But what of their other effort at Thames, the television movie Night Train to Murder? That has been readily available alongside the Rank cinema releases and has widely been disregarded as a poor swansong, so it is perhaps appropriate to revisit and see if it holds up better just as its Thames series counterparts did.
When Morecambe and Wise shocked the BBC by leaving them at the height of their popularity, one of the most common reasons aside from the money was said to be the promise of a movie. The boys had been unimpressed with their three-movie spell with Rank. It rankled with Ernie more than it did Eric. While Eric had exacting standards, the theatres and television work were where he felt they were best suited. Movies and success in America, despite their frequent spots on the Ed Sullivan Show, were of minimal interest. Ernie, however, was always turned by the glamour of Hollywood's heyday. He excelled at the musical extravaganzas in the BBC shows and he still felt there was merit in having another try at capturing the boys magic in a film.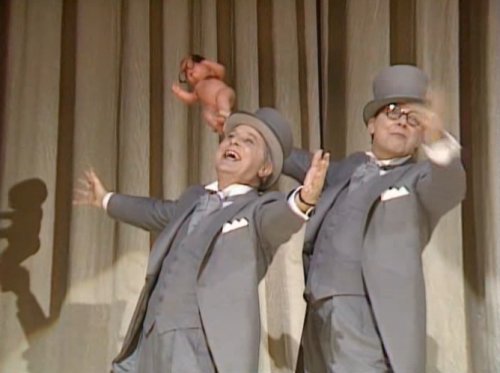 We meet Eric and Ernie in 1946 at a theatre in Carlisle. They are, as they joked many times in their later career, a cheap music hall act. One night after their show, Eric's niece Kathy (Lysette Anthony) arrives for a visit after her father left town.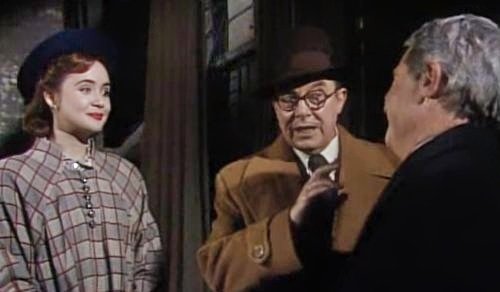 When she returns with Eric and Ernie to their digs that night, a visitor comes calling. Mr Mackay (Fulton Mackay) is a solicitor acting on behalf of Kathy's Great Uncle Robert Austin, who has passed away. In an eccentric farewell, Robert has sent a record of him requesting remaining living relatives to meet at Austin Hall, the family mansion, where the following night at midnight, his last will and testament will be revealed. Initially reticent, the revelation that the family fortune is £10million is enough to convince Kathy that she should attend, so Eric and Ernie insist on joining her.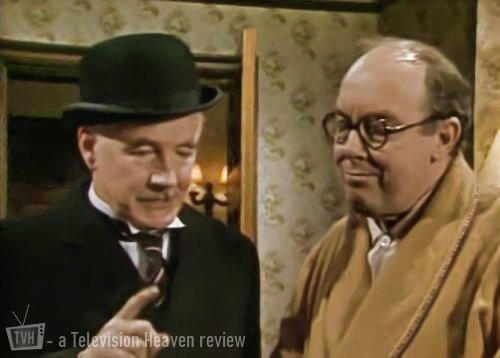 On the train journey with the three along with Mackay, Kathy meets Uncle Felix (Richard Vernon), who tries to warn her that she is in great peril, but he is unable to dissuade her from the visit. She arrives at Austin Hall to be greeted by the other remaining relatives, Aunt Flora (Margaret Courtenay), cousin Zelda (Pamela Salem) and second cousin Milton from the USA (Kenneth Haigh), along with the obligatory mysterious butler Rivers (Roger Brierley).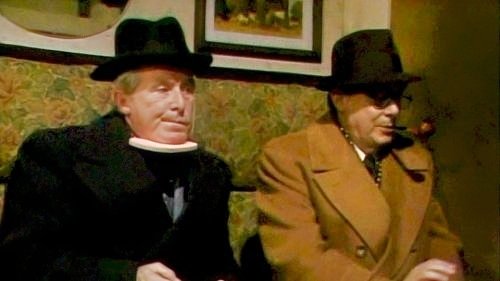 In true whodunit style, the mansion is a mysterious one, with secret passageways opened by fake candlesticks, with stairs leading to a network of underground corridors and rooms. As time ticks away towards the reading of the will, members of the Austin family begin to meet their maker, with a masked figure in the background first seen in Carlisle at the theatre seemingly set on wiping out all claimants to the family fortune. All the while, the evening pans out in exactly the same manner to that of the book Ernie is reading, Passport to Death.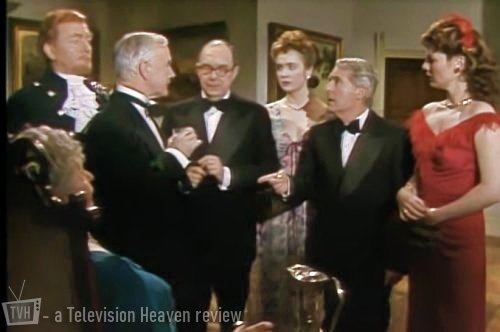 Eric and Ernie always worked best with an audience. Whether their flat routines or the plays wot Ernie wrote, Eric in particular fed off the crowd and there was always a feeling of intimacy and spontaneity around their routines. Just as with the Rank efforts, trying to succeed in a movie format robs them of much of that, so it is clear that Night Train to Murder will suffer in its comparisons. It is, however, very different to the Rank movies. The Magnificent Two, The Intelligence Men and That Riviera Touch were all made during the pair's years at ATV doing Two of a Kind, so with writers Dick Hills and Sid Green on board for both, their characters were largely the same as their then small screen presence…Ernie was the dominant energy, Eric the buffoon.
Night Train to Murder has similar reflections in as much as the Eric and Ernie we see are the ageing music hall entertainers, but unlike the Rank films, none of their television team are with them. Ernest Maxin didn't jump with them from the BBC to Thames, producer John Ammonds left the set-up before their final Thames year, and most importantly, Eddie Braben was not involved, leaving Joe McGrath to writing and directing duties.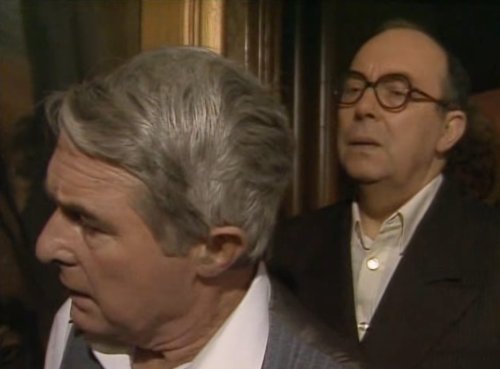 Given the age of the duo when filming in 1983, the pace of Night Train to Murder is inevitably slow which does take away some of the impact that their television shows had. However, there is a gentleness to the piece that perhaps on reflection seems somewhat kinder to Eric and Ernie's memory than it seemed at the time. The Victoria Wood tribute to Morecambe and Wise, Eric & Ernie, focussed on their music hall days and Night Train to Murder does give us a tantalising inkling into what those days may have been like. We see Eric's ventriloquist doll, Charlie, in the background of their dressing room and there are scenes in the piece directly lifted from their live act, such as Eric's warning to Dame Flora not to clamber onto the stage trying to touch Ernie, because at his age things are liable to drop off.
The plot is rather nonsensical, but there are decent performances from the supporting cast…there are just elements where you believe that with a little of Braben magic, more could have been achieved. After all, how many of Ern's plays were set in period costume dramas with supporting players? Was it really that bad though? It's nostalgic, but there are still elements of the boys in there when they are doing routines together that raise a smile, it's just that when the plot tries to make any strides, those moments get taken away.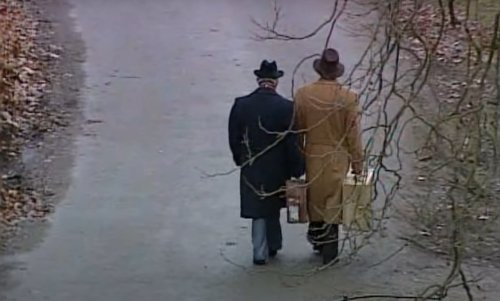 Eric and Ernie were unhappy with the final product, Eric in particular. He actually convinced Thames to can the airing, so it was only released posthumously. The common criticism was the slowness, but it was a reflection of the stage of their career. Night Train to Murder is unlikely to convince anybody unfamiliar with the work of Morecambe and Wise to become a fan, but to the devotees, it does carry a warmth and nostalgia element to convince one that it's certainly not as painful a watch as even the boys themselves might have believed.
Review by Brian Slade:
Born and raised in Dorset, Brian Slade turned his back on a twenty-five-year career in IT in order to satisfy his writing passions. After success with magazine articles and smaller biographical pieces, he published his first full-length work, `Simon Cadell: The Authorised Biography'.
Brian is a devoted fan of the comedy stars of yesteryear, citing Eric Morecambe, Ken Dodd, Harpo Marx and Dudley Moore amongst his personal favourites. He was drawn to the story of Simon Cadell through not only `Hi-de-hi!' but also `Life Without George', a programme he identified with having grown up in the Thatcher era.
Published on January 4th, 2022. Written by Brian Slade for Television Heaven.