There are very few stars from television's golden age who instantly put a smile on your face. As talented as the likes of Bob Monkhouse and Bruce Forsyth were, one person probably eclipsed them all for just such feelings of warmth and happiness…the late Des O'Connor.
Des O'Connor's story was a proper rags to riches one. There were no entertainment connections handed down through the generations – his father worked the bins, his mother cleaned for a living. It was a childhood of struggle, with little money and Des shackled to callipers until he was six years old. In what would be typical fashion for his life and career, Des chose to just smile and laugh about the challenges.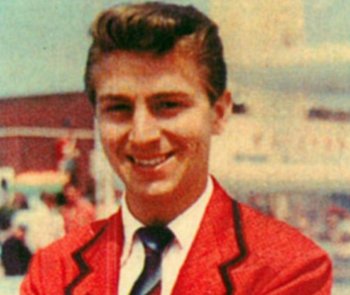 After a brief flirtation at a sporting life with Northampton Town FC, Des discovered his penchant for entertaining while on national service with the RAF. Allegedly caught by his supervising officer while mimicking him, he was ordered to enter a talent contest that he duly won. The bug had bitten him and once demobbed he took the path many an all-round entertainer would take, that of becoming a redcoat at Butlin's.
In 1958, Des achieved a modicum of success on television, becoming one of the hosts of the little known Granada quiz show, Spot that Tune, which would eventually morph onto Tom O'Connor's huge success, Name That Tune. Des was only co-host, but he was successful enough to get his own variety show offered to him in 1963. The Des O'Connor Show would propel Des into a different world as his stock grew and his fame went worldwide.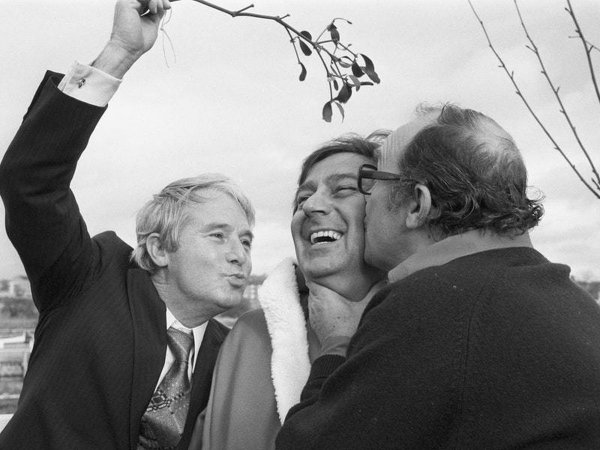 Around ten years earlier, while performing together on the same bill in Hull, Des had become friends with two stars in the making. By 1963, the career of those two entertainers was blossoming. Morecambe and Wise were motoring on ATV with Two of a Kind, and Des confided to Eric Morecambe that he wanted to be an international star. 'I'd like to have an affair with Brigitte Bardot, but we can't have everything can we?' quipped Eric. When Des said he would achieve this by becoming a recording success, Eric retorted that in response, he would join the Royal Ballet! But Des was soon to achieve exactly what he'd wanted.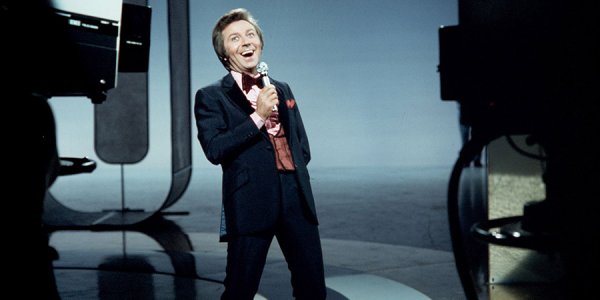 The Des O'Connor Show combined all elements of variety, and Des himself was adept at comedy and singing in particular. As the show gathered momentum it was picked up for syndication around the world, completing eight series and a number of specials by 1973. Des was now a household name, even if it wasn't always of his own doing. In 1972, Morecambe and Wise made a quip in a sketch with Pete Murray, ironically one of the co-hosts with Des on Spot that Tune. When Ernie answered the telephone and turned to tell Eric that he had great news, Eric responded, 'Has Des O'Connor got a sore throat?'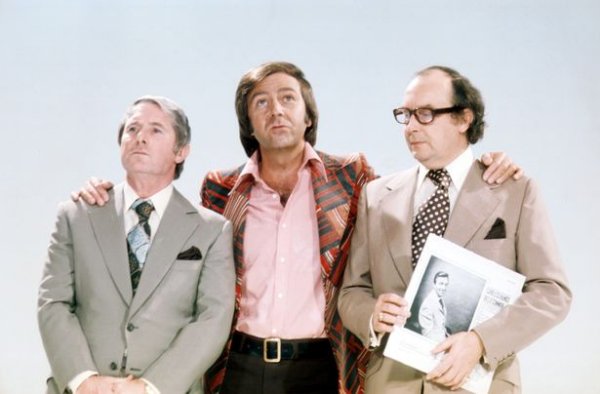 Des appeared on The Morecambe and Wise Show a number of times, allowing the audience to see just how much friendship there was behind the barbs the boys would aim his way. The jokes had started as far back as 1953, so it was a solid friendship that allowed them to mock Des in the affectionate way that they did. But by the time they were sending up their pal, Des O'Connor had already become the international star that he'd yearned to be, and it was helped by hitting the top of the charts in 1968 with I Pretend. He would go on to record 36 albums and sell millions of records.
In 1977, four years after his variety show ended, the BBC offered Des O'Connor his own chat show. It would run for six years with the corporation and then become a mainstay for ITV through to its end in 2002. Des didn't want his chat show to be an interview programme. The heavier more inquisitive nature of Parkinson wasn't what he was going for. He wanted to have 'fun conversations' which was perfect for someone with such a generous and easily drawn out laugh. Coupled with some moments of variety and song, this was the perfect vehicle for Des for 25 years.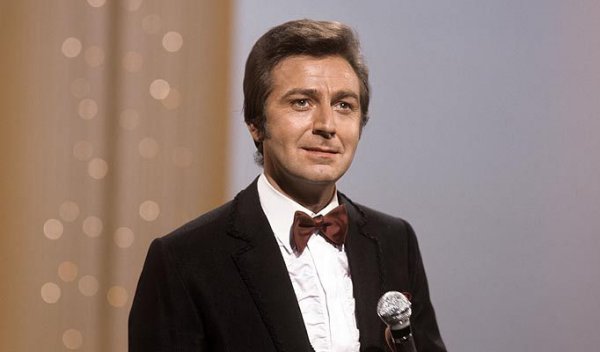 One of the most remarkable things about Des O'Connor Tonight was how it managed to survive the changing face of British television comedy. When it started, the comfortable sitcoms were still thriving, and the top comics of the day were still at their peak. When Channel Four appeared on the scene in 1982, bringing alternative comedy to the fore, Des's comfortable sofas seemed inevitable fodder. Comedy from the likes of Ben Elton, French and Saunders and the Not the Nine O'Clock News gang would spell the end for some.

Perhaps what kept Des O'Connor Tonight safe from the new breed of harsher comedians was the fact that rather than try to resist them, Des embraced them. For the entire run of his show, comedy was the key element, and Des would offer a route into the business for new comedians from both sides of the Atlantic. Alan Davies, Bradley Walsh, Joe Pasquale – just a few names among the many who would find their first real fame courtesy of a spot on primetime commercial television, bringing mirth from their host as they offered up their material.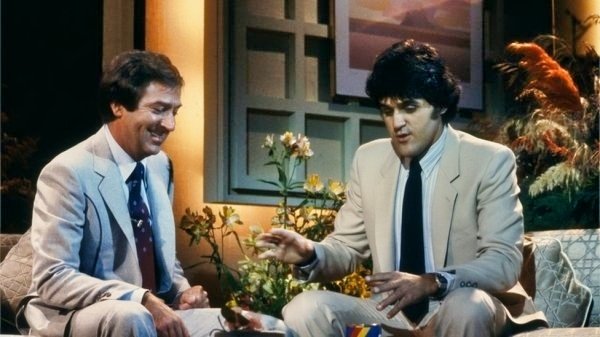 It was the same for the Americans. Robin Williams, David Letterman, Jay Leno, Billy Crystal…heavy hitters from across the pond benefitted hugely from visits to see Des. Indeed, comedian Kelly Monteith received his own series from the BBC off the back of his guest appearance on Des O'Connor Tonight.
Des's edict of just wanting fun conversation oozed out on screen. To the older guard of comics now in their twilight years, he was respectful and sweet. To the younger comics, he was generous with his time, allowing them full remit to perform their scripted material. And all the while, Des would be rolling around on his sofa, crying with laughter. Nobody ever sat next to Des on his sofa, but it was always in full use as he regularly corpsed to one side, clearly loving every second of his guests' performance.
When Des O'Connor Tonight ended it appeared that its host had done all he needed to do. He hosted his own contribution to the hugely successful An Audience With… specials for ITV, and won a Special Recognition Award at the National Television Awards, both in 2001. Had television seen the end of Des as he turned 70? Not a bit of it.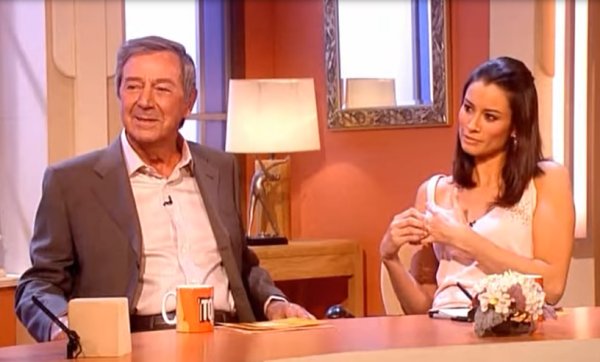 In 2002 he was invited to host ITV's daytime television show, Today with Des and Mel alongside comparative newcomer Melanie Sykes. Des's laid back style was perfect for daytime chat, and while he was no longer pulling in massive audiences on primetime television, Today with Des and Mel was another huge success. It won Best Daytime Show in 2003 and it was somewhat of a surprise when it was axed four years later.
After a few years hosting Countdown, now well into his seventies, Des returned more to theatre performances, but he would still take guest appearances on television, with his final effort being an appearance on the ever-zany Harry Hill's Alien Fun Capsule in 2017 at the age of 85.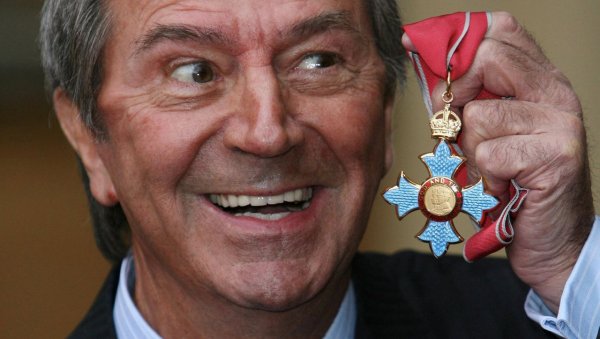 It's perhaps fitting that his final appearance should carry the word fun in it. That's pretty much where Des's focus was for the entirety of his career. Seemingly devoid of any show business ego, fun was key for him. It was impossible to find a bad word against him, and understandably so. He wept tears of laughter for many decades on television, matched only by the tears of sadness when he passed away at the age of 88 in 2020. As modern comedians queued up not just to pay tribute, but to thank him for his generosity and support in their own careers, it was clear that the nation held a special place in its heart for Des O'Connor…not short, for Desperate (sorry Eric!)
Review by Brian Slade:
Born and raised in Dorset, Brian Slade turned his back on a twenty-five-year career in IT in order to satisfy his writing passions. After success with magazine articles and smaller biographical pieces, he published his first full-length work, `Simon Cadell: The Authorised Biography'.
Brian is a devoted fan of the comedy stars of yesteryear, citing Eric Morecambe, Ken Dodd, Harpo Marx and Dudley Moore amongst his personal favourites. He was drawn to the story of Simon Cadell through not only `Hi-de-hi!' but also `Life Without George', a programme he identified with having grown up in the Thatcher era.
Published on June 12th, 2021. Written by Brian Slade for Television Heaven.