Victoria Wood As Seen on TV
1985 | United Kingdom
Comedienne, actress, singer and songwriter, screenwriter, producer and director, the 14-time BAFTA TV Award nominee Victoria Wood OBE was one of the stand-out stars on British television over several decades, her observational comedy tickling the ribs of the nation until her untimely death in 2016.
It had been clear for a while that Victoria Wood was a tremendous talent, not just as a performer but a writer too. She'd found success in 1974 when she won the New Faces show, a kind of 1970's version of Britain's Got Talent complete with judging panel. It took a little while before she had a massive hit on her hands, though she did get a regular spot on That's Life. More success followed as she began working with Julie Walters and Wood and Walters grabbed plenty of attention.
1984 saw her joining the BBC and Victoria Wood - As Seen on TV was born. It was to be a show that played to all of her strengths. There'd be a bit of stand-up, plenty of sketches and witty songs that you just wish you'd thought up. The series was produced and directed by Geoff Posner, who had enjoyed success with hits such as Not the Nine O'clock News and The Young Ones. He was a big fan of Victoria Wood and her ability to look at everyday subjects in an hilarious way. "it's quite unique to hold a mirror up to ordinary life and make it so special," he said. Pat and Margaret and her wonderful sitcom dinnerladies.
Of course, she had Julie Walters on board and also wanted to work again with Duncan Preston who had been part of her Wood and Walters series. Patricia Routledge was the spinster from Cheadle 'Kitty' being posh long before Mrs Bucket came along, Celia Imrie turned everything into gold and Susie Blake was superb as the cynical snobbish TV announcer with such wonderful lines as "We'd like to apologise to viewers in the North. It must be awful for them." Others appearing in the series include Anne Reid, Henry Kelly, Pete Postlethwaite, Maureen Lipman, Dora Bryan and even Frank Bruno.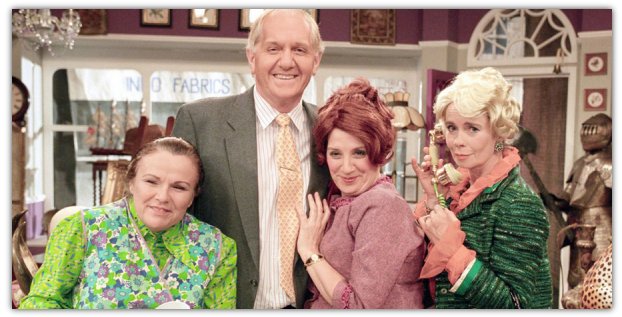 The series was first show in 1985 and ran until 1987 with just 13 episodes being filmed. So many wonderful characters were created by Wood for this show, none more famous than Mrs Overall in Acorn Antiques. This was Wood's homage to the low-budget soap operas, particularly Crossroads and the BBC radio soap opera Waggoners Walk. The scenery moved, cues were missed, and the storyline barely made sense. The short sketch took on a life of its own with spin-offs including a stage musical. Acorn Antiques: The Musical!, featuring the original TV cast played to sell-out audiences on its limited 16-week run. In 2004, in a poll on its website, Channel 4 voted Acorn Antiques the seventh best comedy sketch of all time. Other soaps weren't safe either with Wood famously appearing as Ena Sharples in a spoof of the early days of Coronation Street, alongside Julie Walters as Martha Longhurst and Lill Roughley as Minnie Caldwell. Sitting in the 'snug' of the Rovers Return Ena tells them the "gossip" she has heard about the show's plotlines for the next two decades.
There were so many memorable sketches including Walters in fine form again as the worst waitress in the world who kept her two customers longing for some soup. It's nigh impossible to not laugh when watching her spill the soup as she tries to get through the door. Then there were the songs such as 'The Ballad of Barry and Freda ("Let's Do It"). Each episode ended with a documentary and anyone planning to swim the English Channel was probably put off for life by 'Swim the Channel.' That was the hilarious tale of a teenage girl whose dreams in life were to swim the Channel and meet Bonnie Tyler.
The show deservedly won recognition at the BAFTA's but that also led to the end of the series. Wood found the sketch show format tiring and was worried about the expectancy viewers had after the show had won its fourth award in 1987. She decided to "just put the thing away." Wood returned to stand-up, plays and eventually a sitcom.
The series won Favourite Comedy Series in the 1996 Auntie's All Time Greats as the BBC celebrated its sixtieth anniversary. More fan awards continued in 2001 when it won the Best Sketch Show in the Radio Times Comedy Poll. As Seen on TV cemented Victoria Wood's reputation as Britain's wittiest female comic of her generation.
Published on February 11th, 2019. Written by Steve Ashfield (June 2018) for Television Heaven.