War on Crime
1951 | United Kingdom
One of the first crime series on British television, War on Crime was a six-part docu-drama produced by Robert Barr and written by Guy Morgan and Percy Hoskins. 
The idea for the series came about when Morgan was conducting research at Scotland Yard for a Twentieth Century Fox film, and realised the potentially dramatic material that was available in the Metropolitan Police's crime files. He discussed the idea with Barr, and they enlisted Hoskins, a former crime reporter for the Daily Express, who was on good terms with a number of senior police officers. The first episode, 'Gold Thieves', recounted the true story of a bullion robbery in 1948 at Heathrow Airport, where thieves tried to steal gold bullion to the value of a quarter of a million pounds, but were ambushed by officers. 
The second story, 'Woman Unknown', was introduced, like all the others in the series, by a voice-over. In this case, it told viewers: "This is the story of a murder. A murder, apparently, without a clue. Unpremeditated and followed by meticulous skill in concealment, the detection of which, for sheer tenacity and perseverance, has few equals in the records of Scotland Yard." Having set the scene, the story then unfolds in dramatised format, using actors to show the original police investigation in the case of a woman's body, washed up in a London canal, and how they go through the processes of identification, the means of finding out how she died, and by whose hands. The murder, for petty theft, of an Oxford widow, was reconstructed to show how the culprit was finally brought to justice entirely by circumstantial evidence. 
Another programme in the series revealed the use of pathology in crime detection, and was based on the real facts behind a number of sensational murder arrests, including that of John George Haigh, the acid-bath murderer.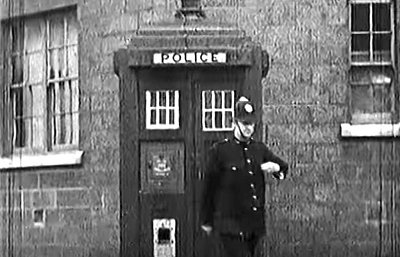 Each programme was introduced with the caption 'War on Crime' with a flashing light atop a police box rising behind it, and a policeman walking by the box. War on Crime was broadcast monthly, and its influence can be clearly understood on police procedural series' that followed it in the 1950s and beyond. 
Published on February 11th, 2019. Written by Laurence Marcus for Television Heaven.