Zero One
1962 | United Kingdom
This series about the 'Interpol of the air' was devised by former detective constable and real-life airline security expert, Donald Fish and was inspired by his book Airline Detective. 
Fish had been a DC in an area containing the now defunct Croydon Airport when he was offered a chance invitation to take a flight. This sparked an interest in aviation in the young officer and when the Second World War broke out he served with M.I.5 investigating aircraft sabotage. Fish visualised the need for airline security when peacetime conditions would necessitate a scheme for foiling international crooks using the airways for their crimes. After the war he formed International Airline Security Service and approached the then major airline B.O.A.C. with a detailed paper on the subject. He was offered the job of organising the first airline security scheme covering all of B.O.A.C.'s post-war routes. One of his most successful coups was the tracking down of a group of gold smugglers, a case that he used as the basis for his book. 
The name of the series derived from the call sign of Airline Security, 'Zero One', and Nigel Patrick assumed the role of Donald Fish, although the writers changed his name to Alan Garnett. The series concentrated on the human-interest angle, avoiding air crashes to focus on the security of passengers and cargo, suspense, action and characterisation with a gentle overtone of humour thrown in. 
International Security had a local man at every international airport in the world, all nationals of the country in which they operated. The international flavour was heightened by Garnett having an American assistant, Jimmy Delaney (US actor Bill Smith) and an Indian secretary, Maya (Polish born actress Katya Douglas who had lived in India for fifteen years).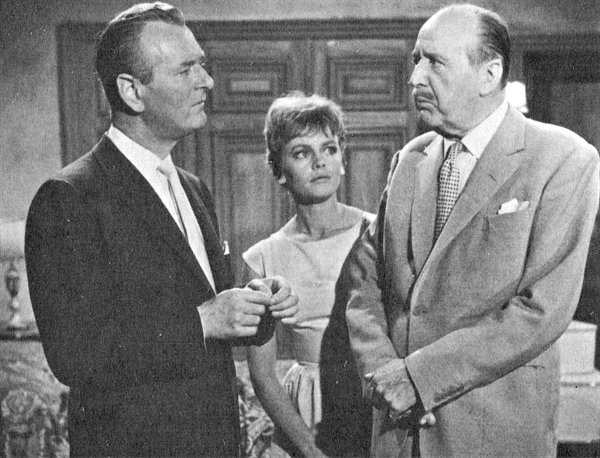 The series was fortuitous in having a number of top-line guest stars when it started in early 1962 as an Equity strike stopped a lot of performers from appearing on independent television for many months, and so the likes of Cecil Parker, Charles Tingwall and Margaret Rutherford, who would otherwise be tied to rehearsals or other series, were available for the first dozen episodes, enabling Zero One to establish itself as a TV series with a reputation for quality guest artists. 

Published on February 13th, 2019. Written by Laurence Marcus for Television Heaven.